Shopping in Bangkok is pretty much a tourist's professional sport. Bartering is a way of life and everyone is trying to get the best deal they can. Many people prefer to shop at the markets in Bangkok to get a better bargain and save money.
Sure, the markets in Bangkok aren't air-conditioned, but you will save money and walk away with some heavily discounted items. Here's my round of up of my favourite markets in Bangkok that I visit every time I come back to Thailand shopping.
Train night market Ratchada
This night market is out of the way from the normal shopping districts so you will either take a tuk-tuk or taxi there or get off at the Thailand Cultural Center MRT and follow the crowds to the markets behind.
Be warned, while these markets do have some great deals on clothing and accessories, it is also VERY busy! I noticed a lot of Chinese tourist groups there who walked in massive mobs following a flag which was often quite annoying.
To get away from the crowds there are plenty of bars that actually kick off a bit later after the shops start to get quiet. So you can do that backwards and make the most of your shopping time, by starting with a cold beer in peace and quiet, and then moving to the market stands to spend large when the crows have moved on.
The food section at the train night market Ratchada is really extensive! It is worth visiting for the food alone. There are lots of options for Thai food, seafood and Chinese food. As with all Thai night markets, there is also the weird and the interesting on offer too. Crocodiles and insects headline the menu on some of the food stalls.
Open 5pm- 1am Daily
55 9 Ratchadaphisek Rd, Khwaeng Din Daeng, Khet Din Daeng, Krung Thep Maha Nakhon 10400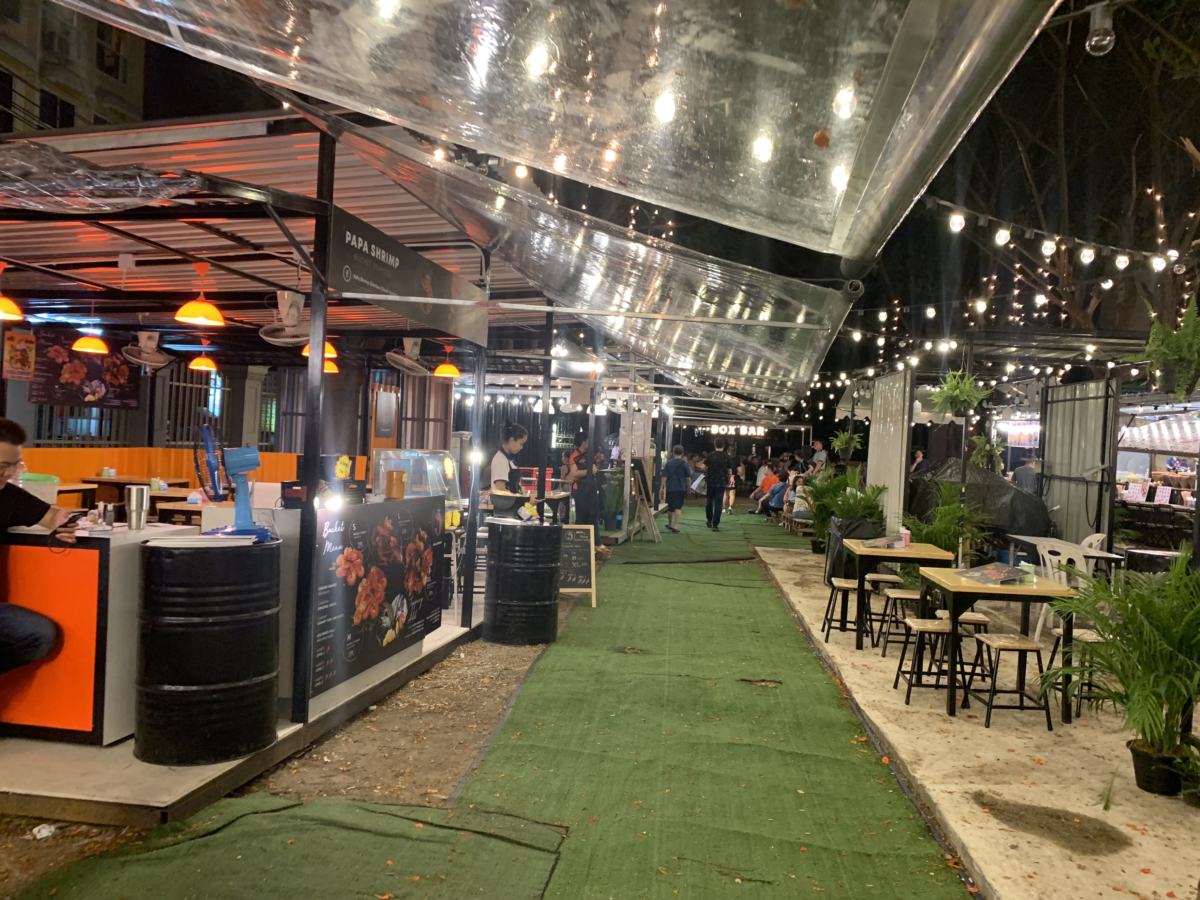 Artbox market Sukhumvit
The hipster crowd hangout at Artbox night markets in Nana. It's right between Nana and Asoke BTS stations, so it's super easy to get to and find. There is a live band every night from open until close plays familiar beats along with some great local music.
Most of the crowd are Korean and Australian, with plenty of English and American tourists and ex-pats visiting the markets every night for a bit of entertainment and dinner. The food here is very western, with a couple of Thai food stalls, but many offer American style plates such as pulled pork and Fried Chicken. There are plenty of drinking options too, with well-priced cocktails and craft beers.
If you are feeling adventurous, Artbox Market is also home to an axe-throwing contest! Let us know how you go with that!
The middle row is for shopping, and while the market is small, the shopping options are a bit "nicer" than some of the other markets. You will find great gift items here with products being better made. The prices are good, and bartering is expected at some stalls. Many market stalls here also list the prices on items, which I kind of like.
Open 3pm- midnight Daily
Sukhumvit 10 Alley, Chuvitgarden, Khet Khlong Toei, Krung Thep Maha Nakhon 10110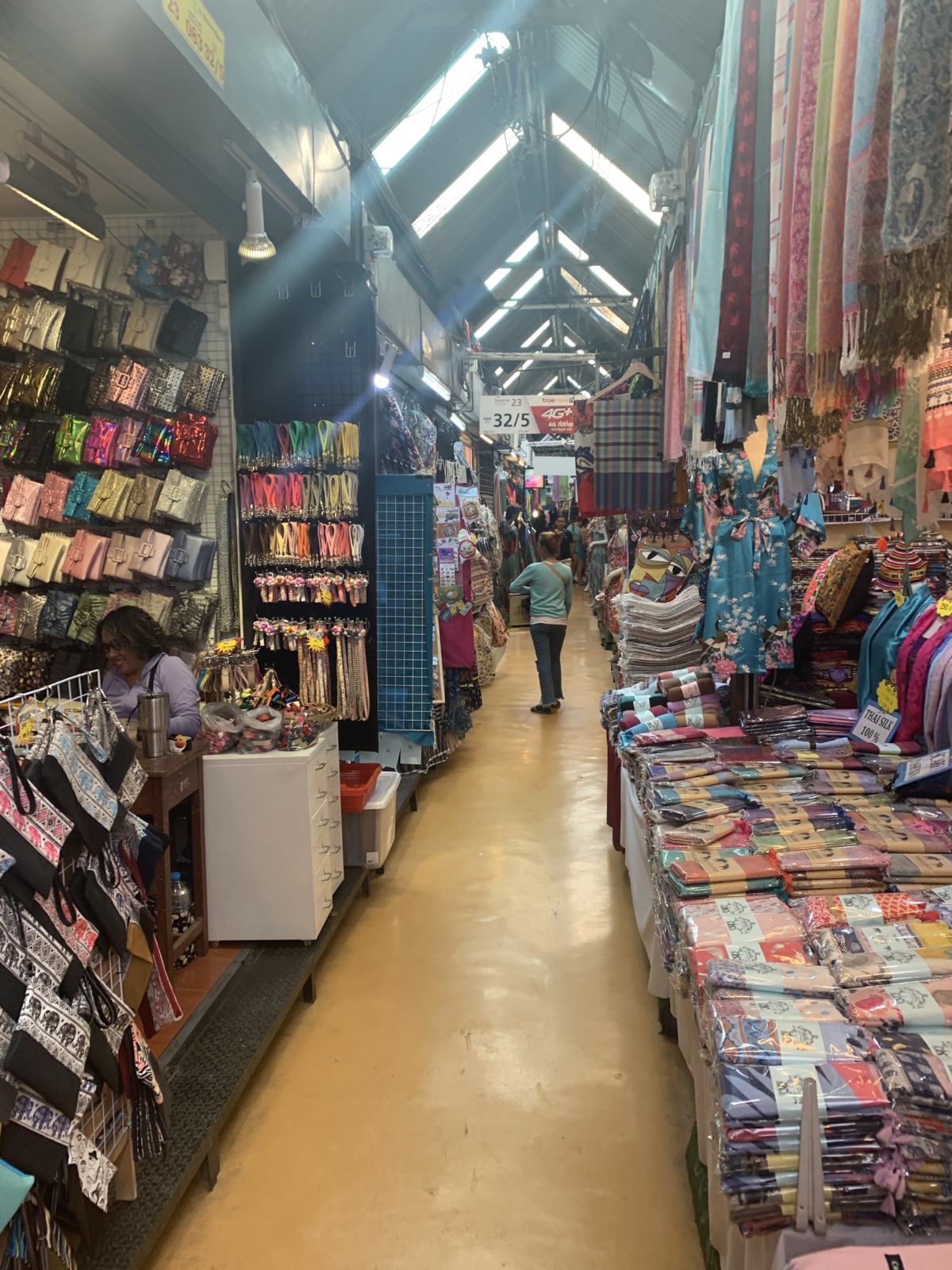 Chatuchak Weekend Market
Chatuchak weekend markets are probably one of the most famous markets in all of Thailand, and very few tourists will pass through Bangkok without visiting them. The markets are open during the week, however, the number of stalls operating is much less and the atmosphere is rather dull. The weekends is when the markets really kick off for tourists looking to spend large and buy lots of discounted clothing, homewares and shoes.
The distance you need to cover to see everything is immense. Expect to miss a lot of it even if you spend the whole day there. Chatuchak weekend market is spread out but subdivided into different sections. If you know what you are there to buy, and can skip everything else and just head to the area with those things in it.
Food and drinks are dotted throughout Chatuchak weekend markets, so you are never too far away from a cold coconut or fruit smoothy when your find the temperature too much. There is no air conditioning, so be prepared to sweat!
The bargains are easy to find at Chatuchak markets. Haggle hard as the stallholders expect you to barter. If they don't budge enough on your price, just be polite and walk away. Sometimes, they will call you back to give you a lower price. I often find that if they don't, it's because the price offered really is too low for them to make much of a profit. It's then that I get realistic about the price and meet their bottom price.
Open 6am-6pm Saturday and Sunday
Mo Chit BTS station or Chatuchak Park Station exit 1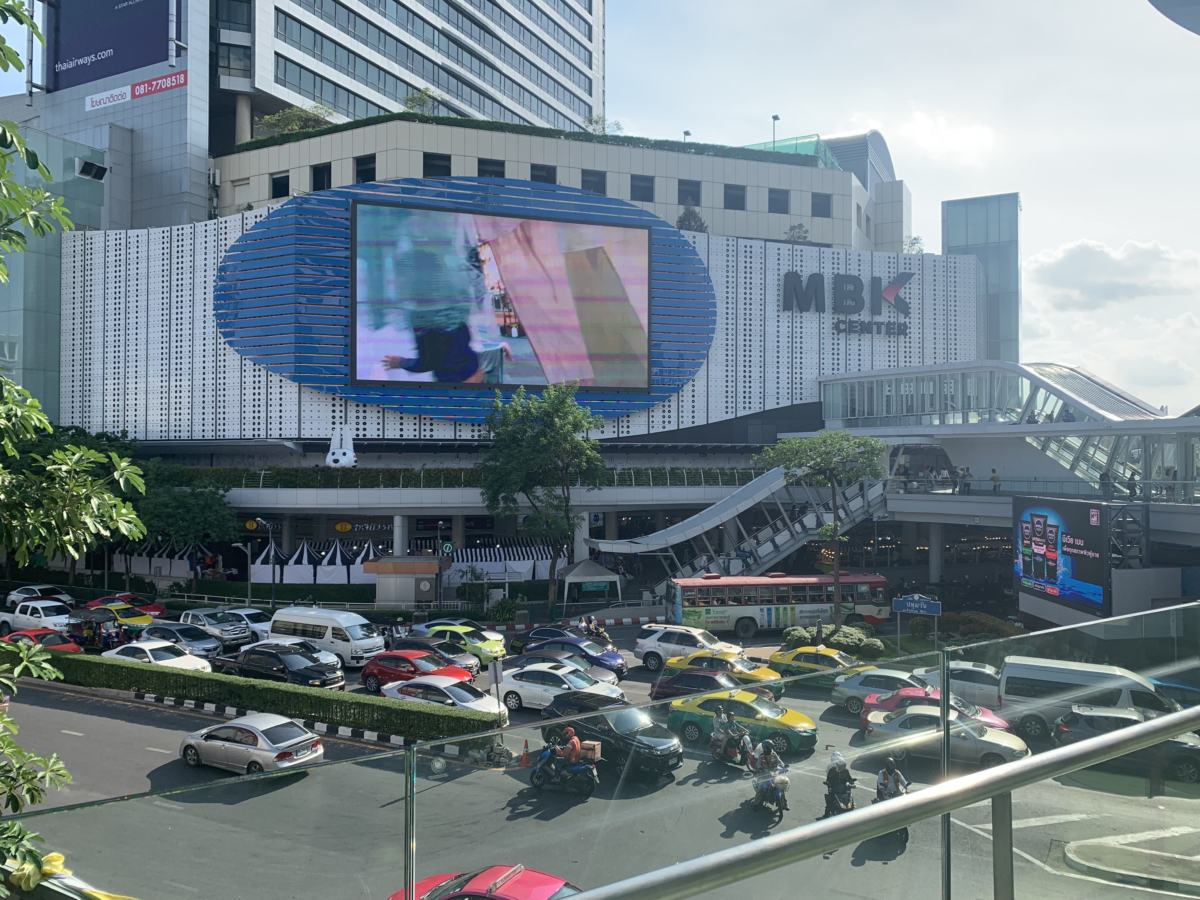 MBK Mall (Mahboonkrong)
Technically, not a market. MBK is a shopping mall with glorious air conditioning located in downtown Siam, Bangkok. But, the vibe is that of a Bangkok market, and the shops inside are set out similar to a marketplace. You are expected to haggle just as hard as you would at other marketplaces, so I'm including this in my list. Also, I love the fact that it has aircon!
I usually come here to buy cheap clothing and shoes. It's also a great place to pick up discounted luggage if you feel like you have shopped too much while on vacation in Thailand.
There are plenty of dining options inside too, from 60 baht Thai food dining in the food court to steak restaurants right next to the food court. There is something for everyone. I usually go for sushi as there are plenty of Japanese dining options here.
On the top floor is the entrance to the cinema. You can watch movies in Thailand language here, many with subtitles. It's a great place to drop your preteens off while you get a bit of time alone shopping elsewhere in the building if you need it.
Pratunam market
Pratunam Market is a haven for counterfeit goods and other knockoff branded items. They sell other things too, namely clothing and shoes. So if you are looking for some cheap teeshirts or shorts, ladies' dresses and elephant pants, Pratunam markets will have you covered.
Many of the store holders are Indian/ Thai, so there are tailors dotted through the markets too. It's also a great place to pop by with ill-fitting clothing to get them tailored or altered. It will be done on the spot and usually for a few dollars apiece.
Expect to barter hard. Always ask for the best quality or AAA quality if you are buying items such as handbags. There are different levels of "fakeness" which the stallholders will explain to you as you try to buy a Dior or Chanel handbag.
Open 10am daily
16/5 ซอยแสงกาญจน์ Khwaeng Thanon Phaya Thai, Khet Ratchathewi, Krung Thep Maha Nakhon 10400
Other great shopping bargains in Bangkok
While you are in Thailand it could be worth popping to a dentist. They offer heavily discounted dental work compared to many countries around the world. I had veneers done here, and explain the process in my post about getting veneers in Bangkok.