The Phuket weekend markets are held every weekend in Phuket Old town. If you looking for a fun evening out with your family, partner or even solo, you will find something at the markets to do.
It is packed with bustling stalls offering discounted fashion, gadgets and more. Save some room for dinner too, as the street food market style stores here will have you well-fed in no time.
Market orientation
The Phuket Weekend markets are the biggest markets on the island, but still, they are manageable. They are not as big as the Chatuchak weekend markets in Bangkok, so don't worry, you won't be overwhelmed.
The stalls are all located together and take up around 70% of the total area of the markets.
The other 30% is the food markets which are all clustered together at the far end of the property.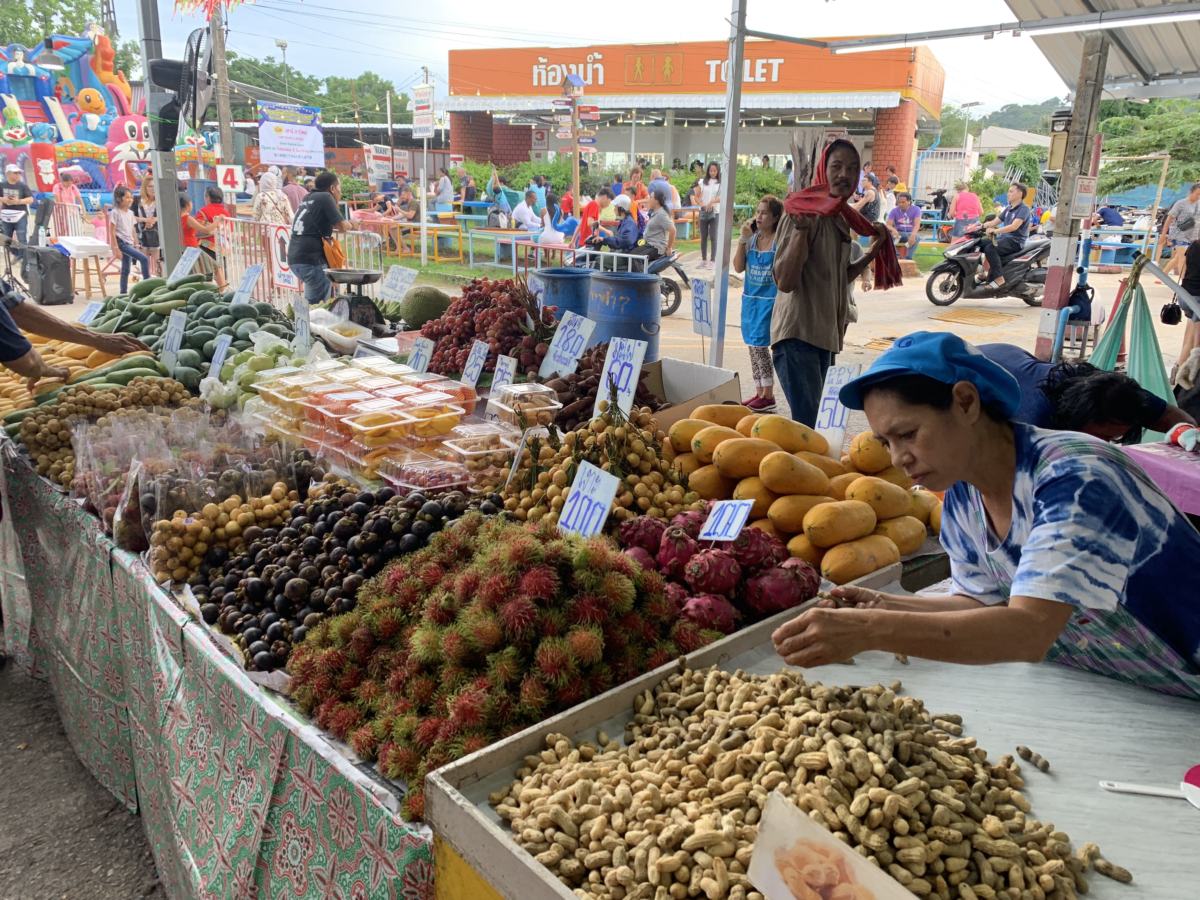 The food at the Phuket Weekend night markets
The food markets end of the Phuket weekend markets was full of delicious dining options. Everyone from Vegans to Gluten-free eaters will be satisfied with the food on offer. There was plenty of Thai street food: noodles, soups, bbq. And also plenty of great seafood stands with fresh seafood displayed on ice out the front. Choose your fish and get it BBQ'ed in minutes. Fussy eaters will be happy to see western food options such as a kebab stand and fried chicken.
There were several fresh juice stands and a sushi stand. Dessert options included a crepe bar, mango sticky rice and fresh-cut fruits.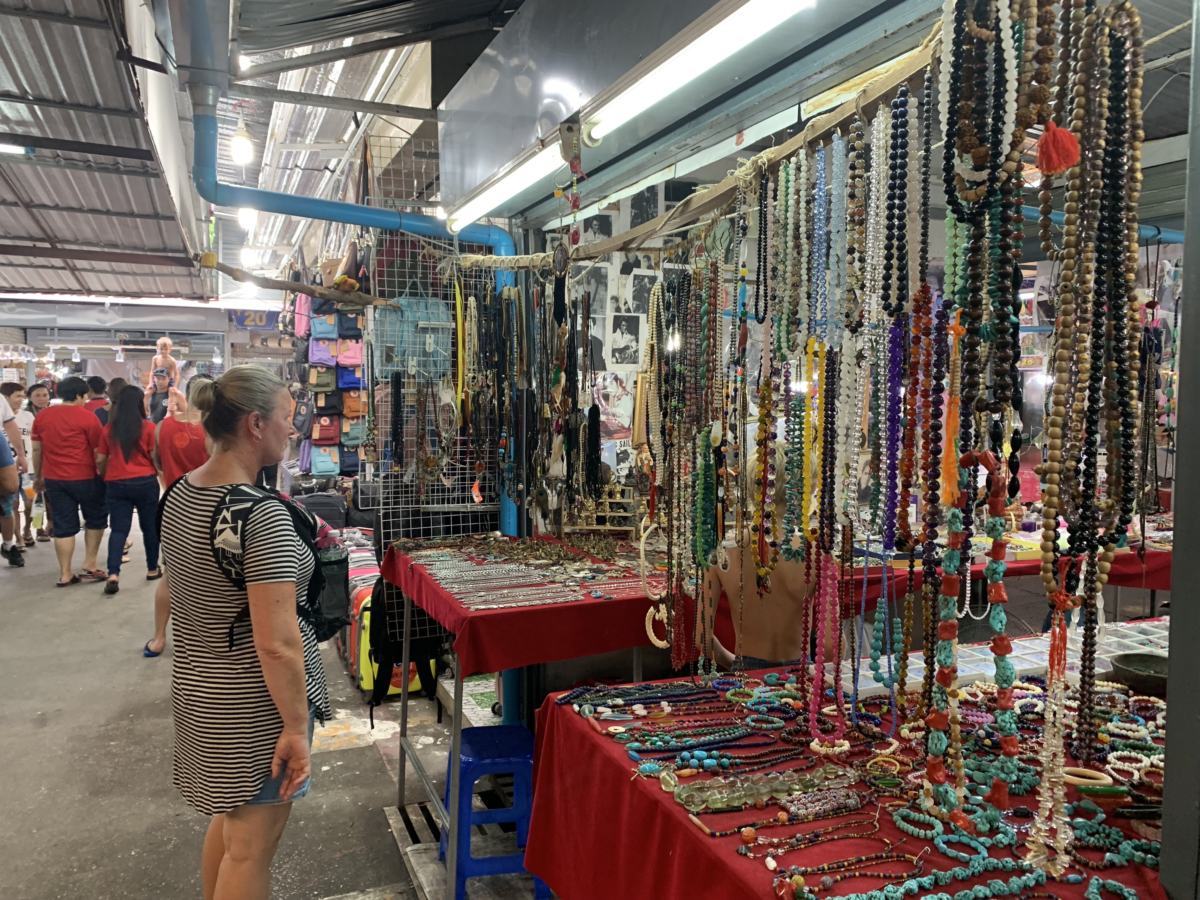 What to buy
There are plenty of things to buy at the Phuket weekend markets. Foreign tourists are the main people shopping at the markets, so you will find plenty of great fashion items. Sunglasses are only 100 baht without bartering and good quality sportswear was also well priced. They have watches that are obviously counterfeit, but they look great, along with handbags and purses.
Most of the fashion items were really good quality and had western styling. Many tourists were buying the sports shoes and fitness gear as it all looked just like the pieces you would pay four or five times more for back in Australia.
Teeshirts were especially popular with men shopping. Some of the stalls had very modern graphics printed on them, that again would normally sell for several times more in Australia.
RELATED: 5 markets to check out in Bangkok
They had other knick-knack items too like children's toys and gadgets. There were quite a few phone stands selling phone cases and screen protectors. A screen protector for an iPhone x max was around 150 Baht, other phone types would be cheaper.
For the ladies, there were pashminas and beach towels along with bikinis and beach bags for sale. The ever-popular rattan bag from Instagram was being sold for just a few dollars. Beaded necklaces and fashion jewellery were also popular.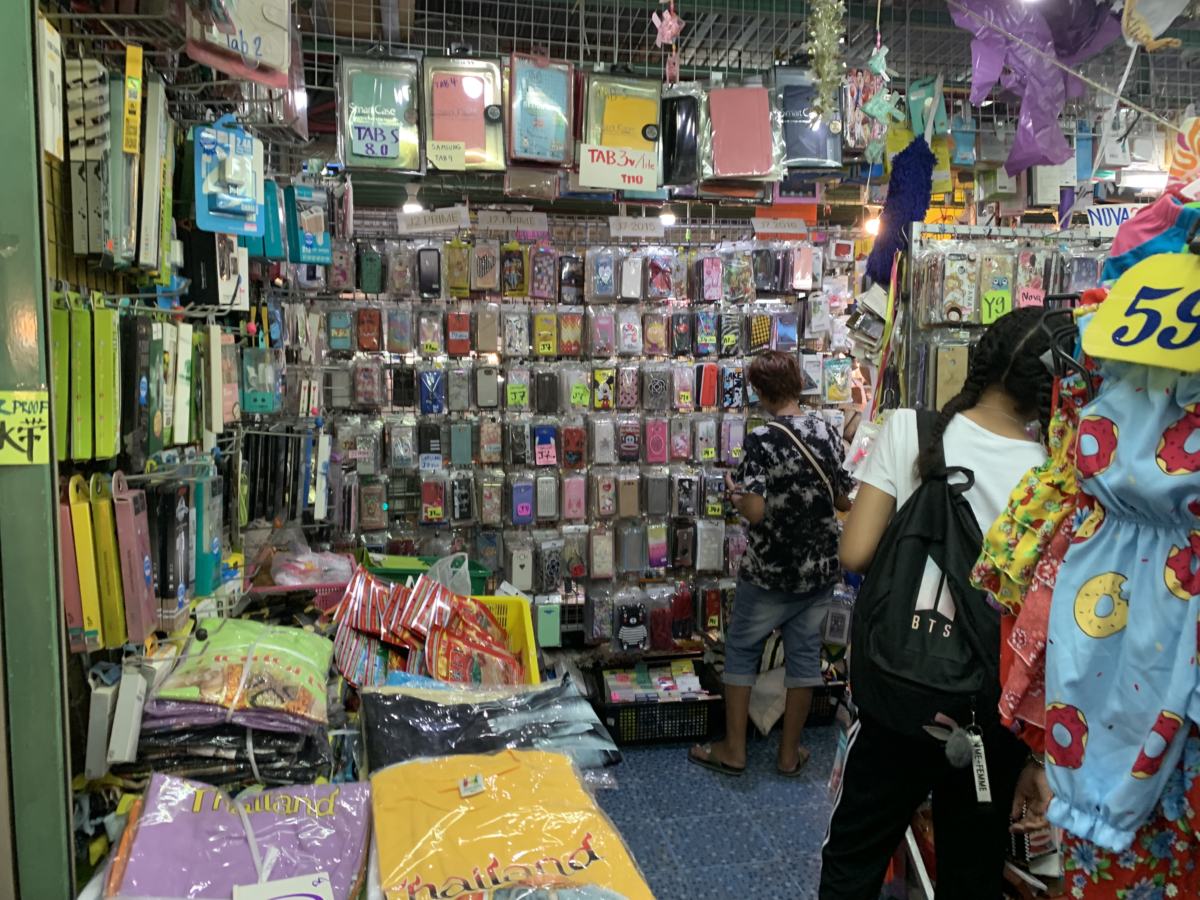 Getting there
Take a taxi from your hotel, and ask for the Phuket Weekend Night Markets. Every taxi driver on the island knows of it, so you won't have any trouble getting there this way. Depending on where you are staying, it could take anywhere from 20 minutes to 45 minutes to get there with weekend traffic.
There is a local bus that travels around the island and is super easy to use. Look for the Phuket bus signs at the designated stops. The bus usually comes past every 20 minutes in main tourist beaches such as Karon, Kata and Phuket. It looks like an open-sided truck, with seating along the sides. Just get on, and pay when the driver stops later to ask for payment.
It is inexpensive, and the price varies depending on where you get on and off.
The selection of shopping was one of the better I have seen at markets in Thailand.
These Weekend Night Markets in Phuket seemed to concentrate on the things that tourists would like to buy and make it easy to buy everything. The prices were not wildly inflated and often the prices were shown to attract buyers. I think they are operating quite smart, to be honest.
Many tourists are uncomfortable with the bartering system, and these markets seemed to do away with the haggling a lot more than the Bangkok markets. When the price they offer first up is decent, it's easier to just pay it and be happy, than spend 10 minutes bartering over $1.
The markets in Phuket were also almost entirely covered. This meant the temperature was kept down a fair bit and shopping was a more pleasant experience.
There was plenty of local Thai shopping here, and of course, there were plenty of stalls that were in line with what a local would buy. Ultimately, I see it as a great tourist destination and a cheap market area for tourists.
The Phuket Weekend Night Markets had a steady stream of tourists walking through so shopkeepers didn't tend to hassle us at all, which was a nice experience. I was able to walk around without being grabbed and accosted to buy things.
All in all, I think they have really tried to tailor this market space to foreigners and tourists and it works. It's pleasant and enjoyable. There are great bargains to be had and the food was delicious!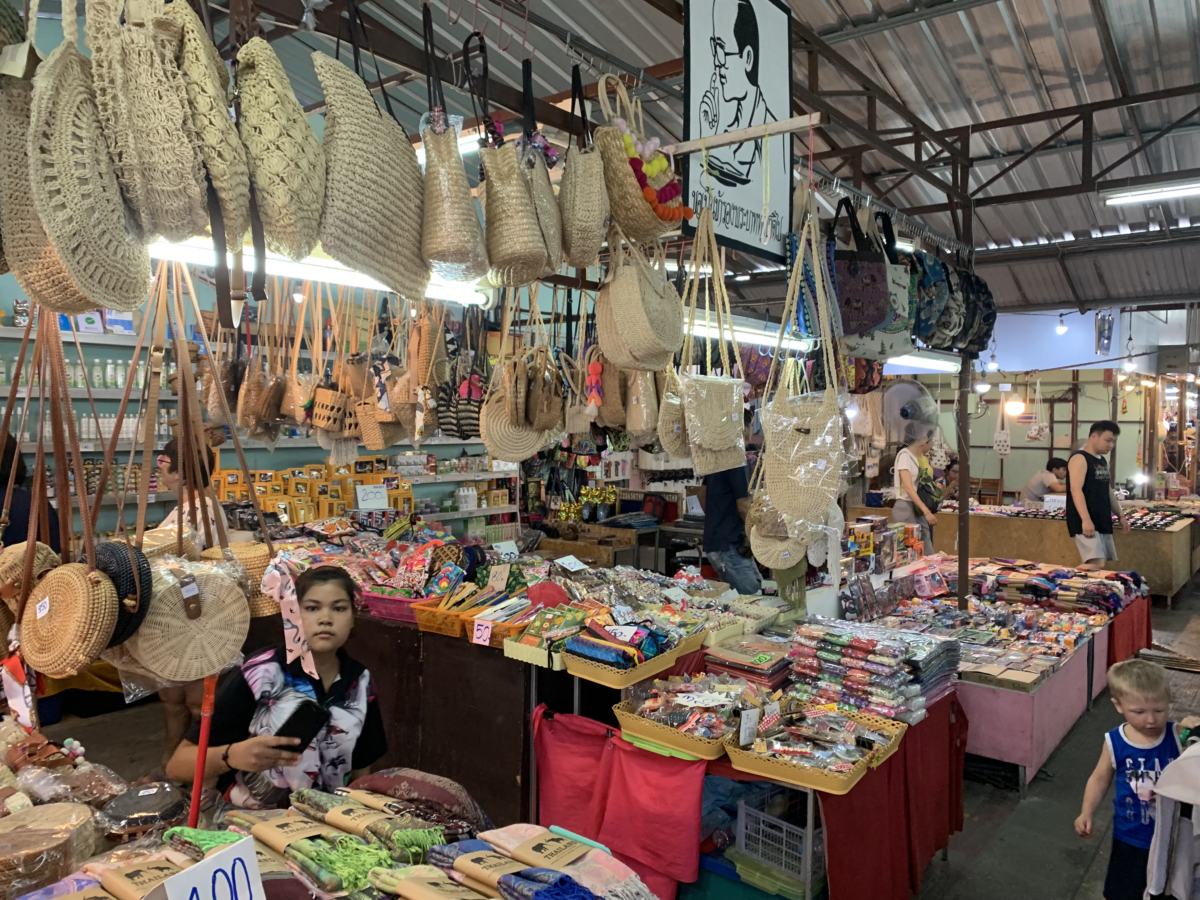 Contact
Address: 7 ถนน ดีบุก Tambon Wichit, Amphoe Mueang Phuket, Chang Wat Phuket 83000, Thailand
Opens at 4pm- 11pm Saturday and Sunday.