It's no surprise that I love the Ministry of Crab restaurants. I have spent plenty of time in Sri Lanka and have eaten at MOC Colombo numerous times.
I was excited to check out the Ministry of Crab Manila restaurant while I was in town for a few days. I'd been craving a good meal of Sri Lankan crab for a while, and I wasn't sure when I was going to get back to Colombo to have it again.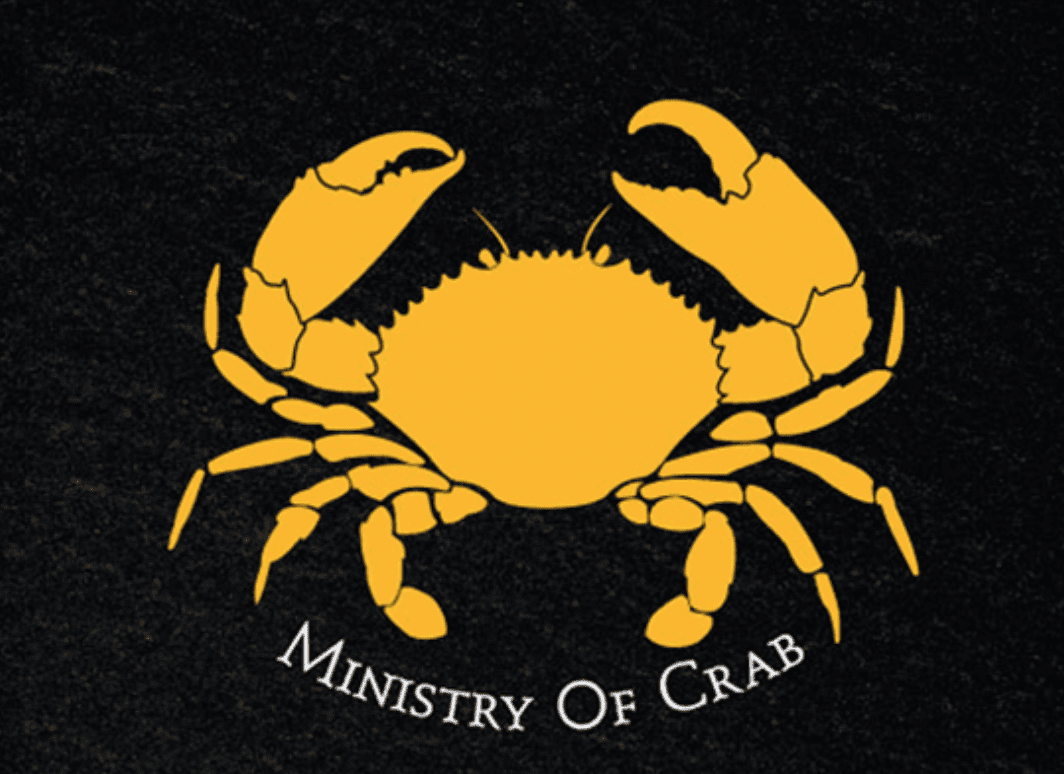 What to order at The Ministry of Crab Manila?
The menu is extensive, so I totally understand if you get food envy and want what your friends have ordered. The best way to combat this is to share plates.
The Ministry of Crab menu is designed for sharing and works really well if you have a large group of friends or family sharing the meals with you. I went by myself, so I was only able to try one crab flavour this time. Thankfully, I have tried every flavour before, so I didn't feel like I was missing out too much.
I ordered the smallest crab because I was dining alone. And went with the Garlic Crab sauce. Again, since I was dining alone, I wasn't bothered about the garlic breath later.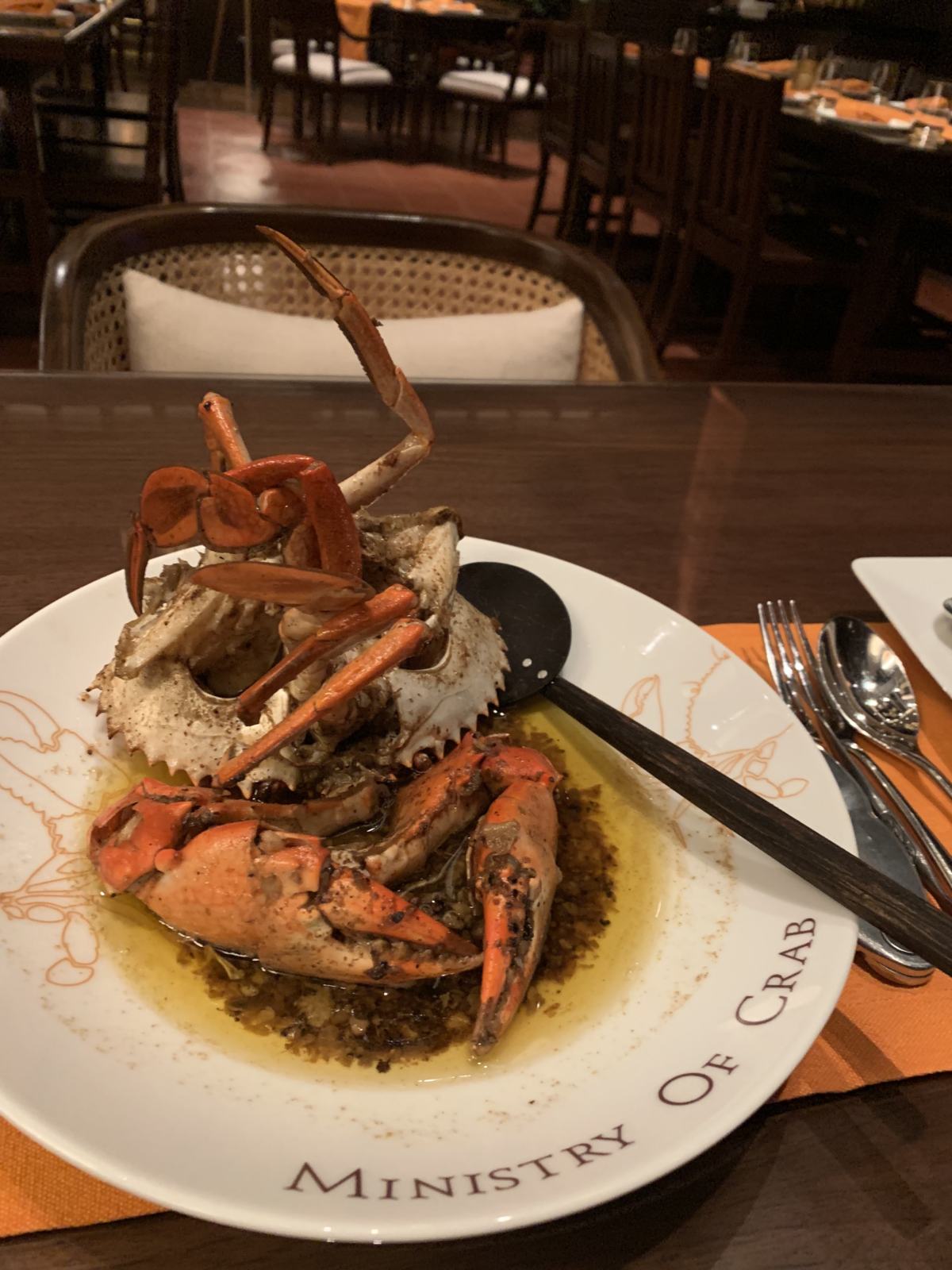 I also ordered an Ebi Shioyaki. This is the salt grilled prawn. it was delicious!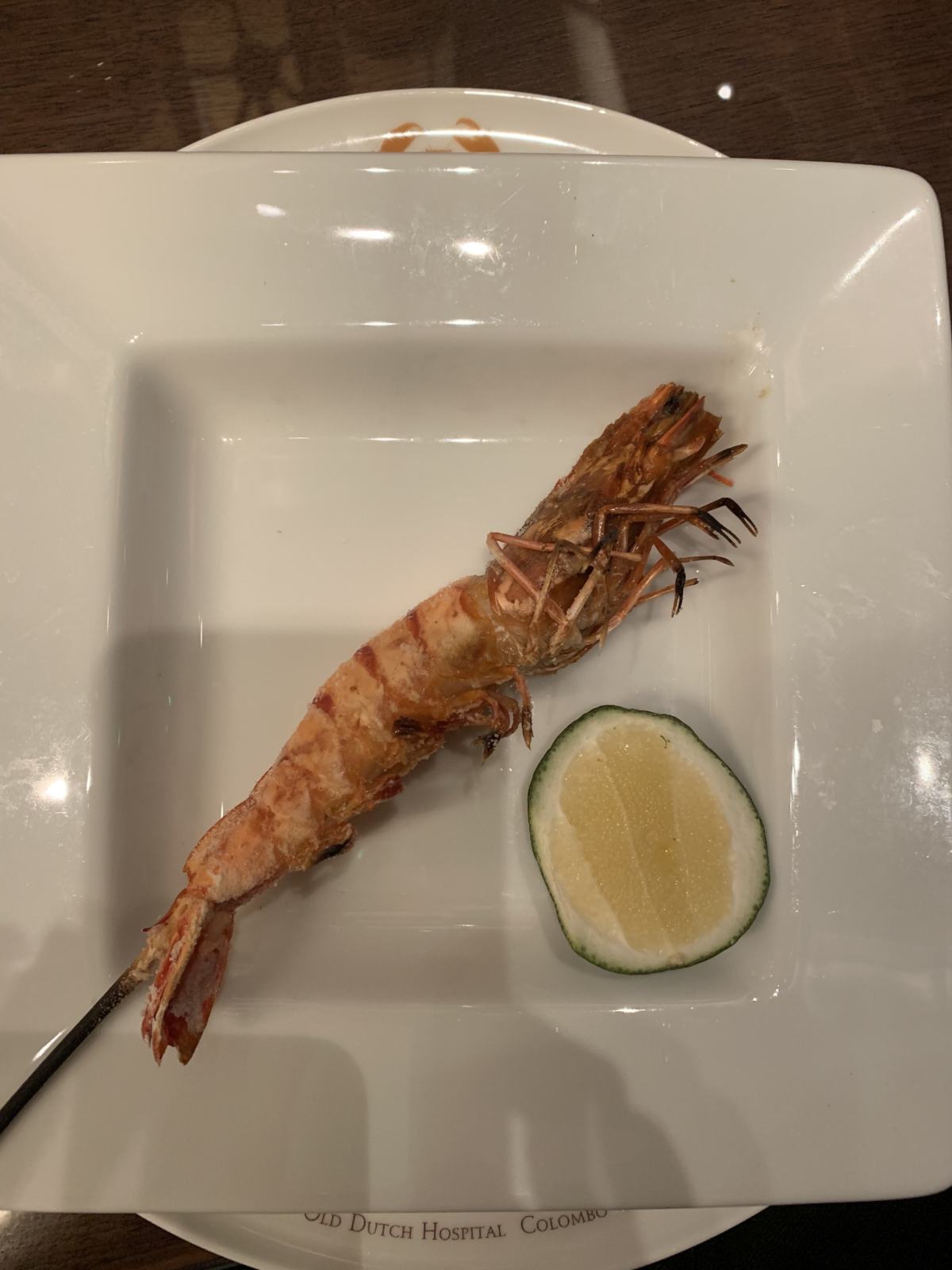 History of Ministry of Crab Restaurants
MOC as it is affectionately called started in Colombo, Sri Lanka by Japanese/Sri Lankan chef Dharshan Munidasa and cricket legends Mahela Jayawardene and Kumar Sangakkara.
The Ministry of Crab brand has evolved in recent years to include pop up restaurants in Singapore, London and the Maldives among others. It has expanded to permanent restaurants in Manila, Shangai and Mumbai. I hear whispers that more may be opening around the world soon too!
The Ministry of Crab Colombo has made it into Asia's top 50 restaurants, again this year. Sitting at 29th spot. Perhaps the Manila branch will give that a run for its money in the 2020 competition 😉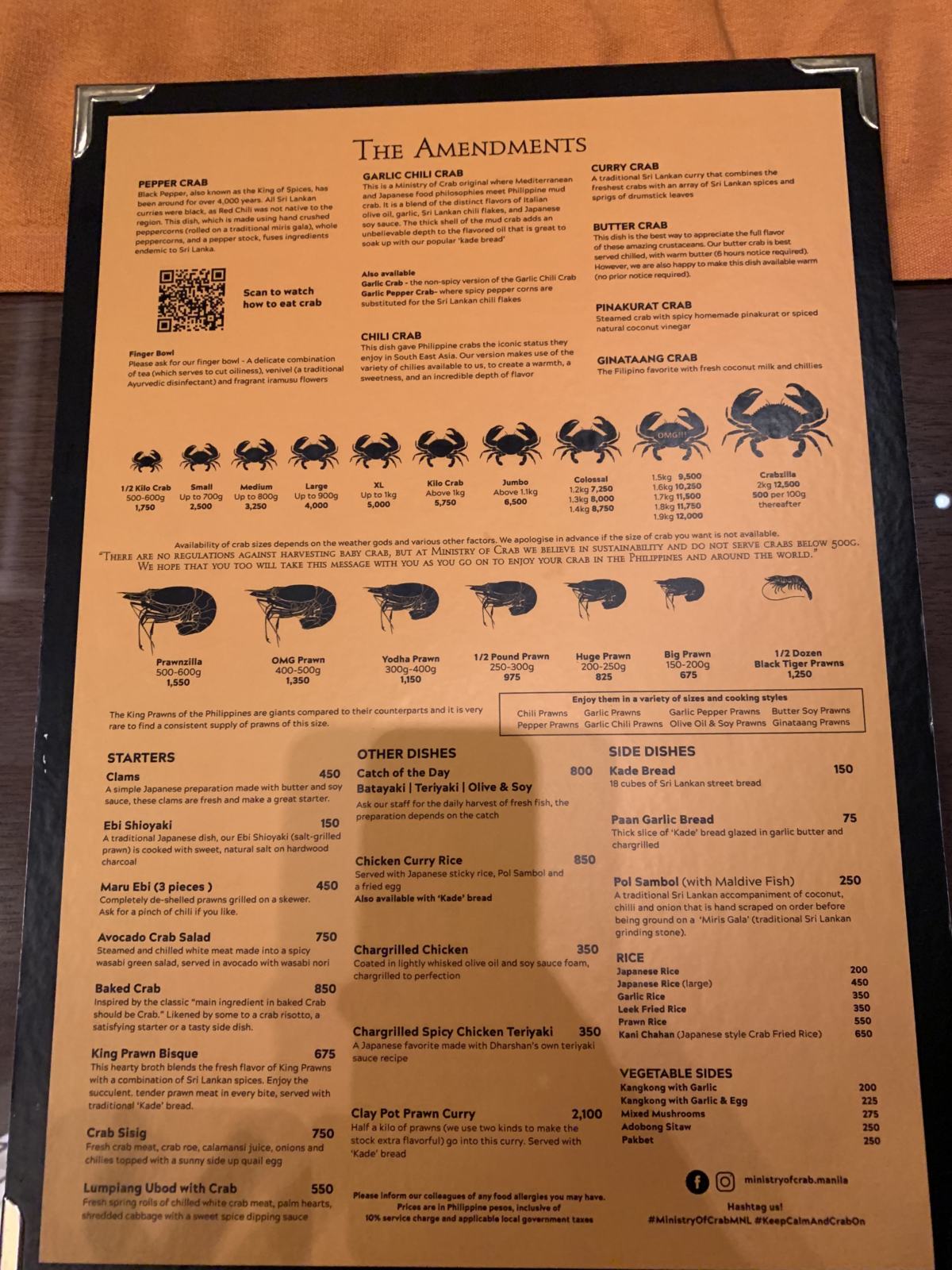 Full disclosure, friends of mine own the Ministry of Crab, and I was allowed to stagé at the Ministry of Crab Colombo restaurant a few years back. I still paid the full price for my meals and drinks and have never been asked to write or say anything about the restaurant or meal. But I am because I liked it 🙂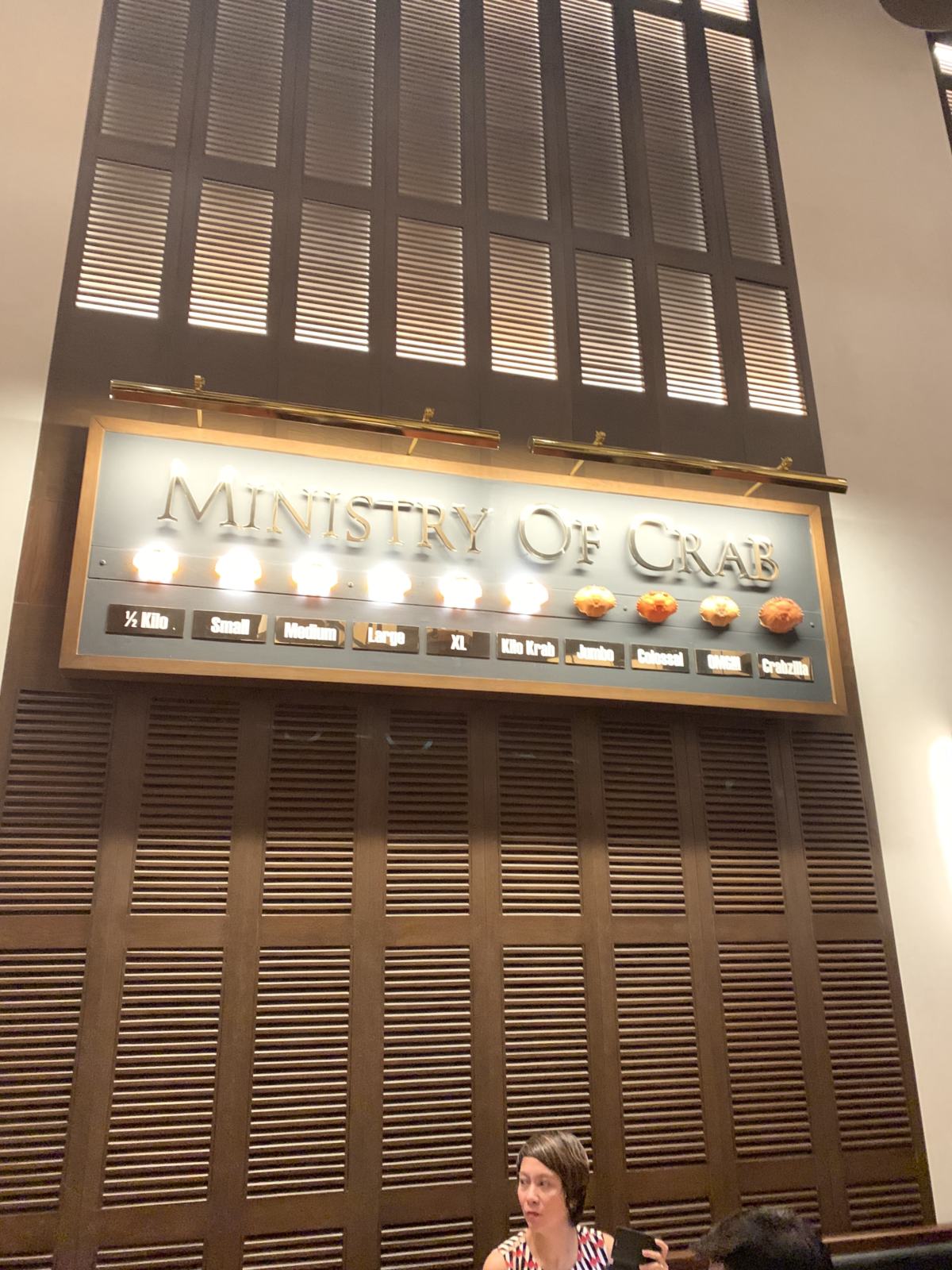 Contact details for the Manila restaurant
MINISTRY OF CRAB MANILA
Shangri-La at the Fort, Manila, 30th Street corner 5th Avenue, Bonifacio Global City, Taguig.
Open Daily from 6.00pm to 10.30pm (one seating only)
Telephone: +(632) 820-0888
E-mail: slfm@shangri-la.com
Instagram: @ministryofcrab.manila
Facebook: Shangri-La at the Fort, Manila
Website: www.shangri-la.com
#MinistryOfCrabMNL
#KeepCalmAndCrabOn