Shenzhen China is a shopper's paradise. A shopping mecca if you will! Shop until you drop at discount stores all under one root. Cheap Chinese products are easily found here. It's a great option for a day trip from Hong Kong, let me show you how to do it!
Shenzhen is home to thousands of imitatiotyn designer items such as Dr Dre Beats, Tumi luggage, Tiffany Jewellery, Louis Vuitton and Chanel handbags, DVDs and electronic goods.
Getting there to Shenzhen:
Getting to Shenzhen is easy.
From Hong Kong take the East Rail line headed to Lo Wu. The one-way trip takes around 1 hour from the Kowloon side of Hong Kong.
There is a first and second class ticket option. Be warned, second class fills up fast and you may be left standing for the entire trip. Every 4 minutes a train comes, so if one is too full, you can always wait for the next one.
On arrival at Lo Wu station, follow the signs for the international visitor and visa application. You will need to allow around 1 hour here to process your tourist visa. This will allow you to cross the border for up to 5 days.
To save time and to avoid being ripped off with the currency exchange office make sure you have Chinese Yuan already exchanged. A visa will cost you 168 Yuan depending on your nationality. Some nationalities are unable to get a special visa, so please check before coming.
Once you have been processed, you are free to leave the train station and start shopping!
Luohu Shopping Mall:
Luohu's main shopping centre is located to your right as soon as you exit the station. If you don't want to be hassled by touts, act like you already know what you are doing and where you are going. Act confident and head for the entrance.
Luohu Commercial Centre is 5 floors of small cubical stores displaying their wares. You will get sick of the repetition. But the good thing is, if the price is too high in one store, you can be sure you will find the same item just 30 meters away in another.
Do not be afraid to walk away!
Some great buys include small makeup bags, and Cath Kidston coin wallets, all for under 20 Yuan each.
Dr Dre beats and buds ranged in price considerably. The quality between each stall was remarkably different, so check what you buy carefully. A decent copy should be around 70Yuan with a lot of bargaining- while the more "plastic" pairs are well under 50RMB.
Electronics and cell phones vary widely in price and quality. Have some idea of what you are looking for before you step foot into Luohu shopping mall. You will get eaten alive otherwise, and no doubt walk out of there a few hundred dollars lighter with a product you didn't want to buy!
Luggage is another great buy and handy to cart your shopping around. Samsonite is no longer available, but Tumi and no-name brands are still cheap. A no-name cabin case will be under 100rmb, while a decent quality (no doubt fake) Tumi with 4 rotating wheels comes in just under 200RMB.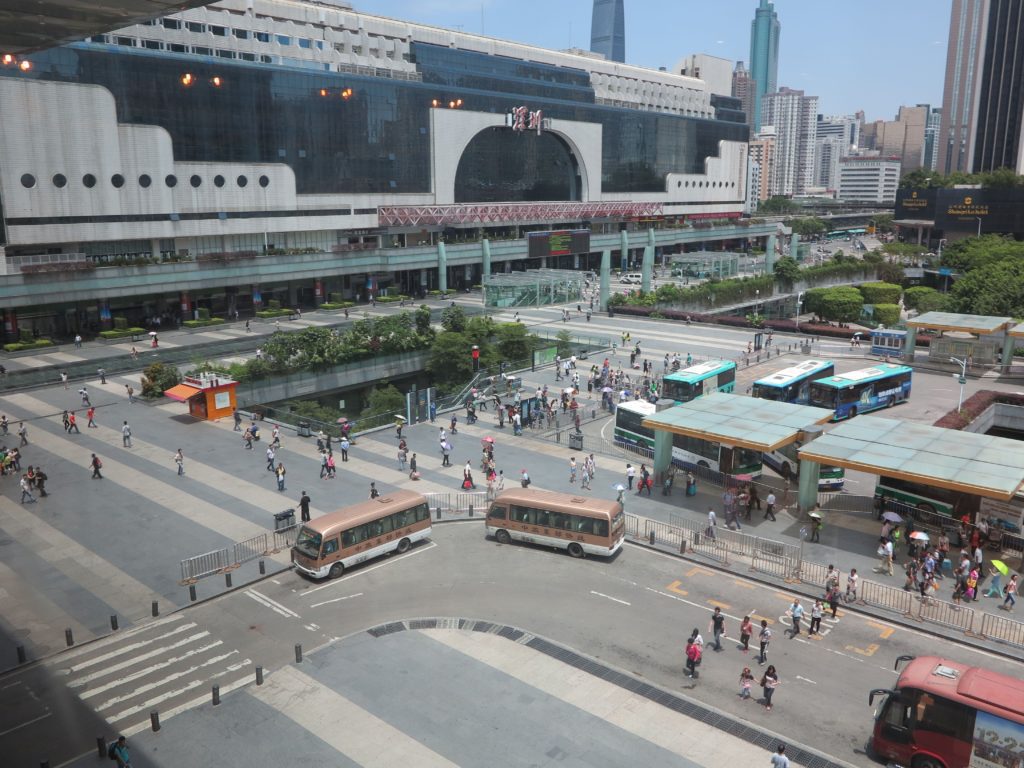 What clothes can I get in Shenzhen?
If you have time to get a suit or dress made, head to the top level first to visit the tailors. They all display fancy cocktail dresses and dapper suits but can make anything in between too.
A tailored suit will be well under $200 here, but bargain hard, and inspect the quality of the fabric, and the samples you are shown.
If you're looking for ready to wear clothing, you will find this throughout the entire building. Some stores offer real designer gear with the labels cut out. These are generally seconds, samples or old stock, so don't get too excited or expect to find a Givenchy ball gown.
It's mostly odd shirts and casual dresses that are Ex Gucci or Karen Walker. Many stores have business shirts by Paul Smith, knock offs, but good quality for around $10 a shirt.
Save more money by buying multiple items. It is easier to barter when you are purchasing more.
Fake designer silk scarfs (think Hermes and Dior) are also a good buy. They are small and light and make great presents. Expect to pay around 10RMB for one. Paul Smith teeshirts are also in many stores and look to be either fantastic copies or the real deal for under 50RMB.
Jeans are everywhere in Luo Ho with multiple copies available, from almost any current designer brand you can think of. They range in price from $10-$30 a pair.
If you have larger feet, do not expect to find much in Shenzhen to fit you. Their sizes generally only run-up to a European 38. Ugg boots (a terrible knock off version) were under 100RMB, but I still feel this was a massive rip off. I just wanted to get out of the shop! Bargain harder, and I reckon they will sell for less than 50.
What jewellery do they sell?
There is an area for jewellery at one end of the building. They will have a lot of no-name stuff on display, but look harder and you will see the fake Tiffany, Dior and Hermes options.
I grabbed a Cartier Love Bracelet for 100RMB, but again, once they show you the first copy, ask for the better version, or the AAA quality one. Suddenly you will be presented with a more refined version of the item, and you will notice one will feel more "real" or just be a bit "sharper".
I opted to pay a little extra for the AAA version, and am pleased I did! The bracelet has been worn for several months now without being removed, and there has been no green discolouring or marking, and it still looks new.
If you are worried about safety or are a bit apprehensive about making the trip to Shenzhen, you can do the day trip with an organised tour from Hong Kong. If you like to nab a bargain on your own though, just jump on the train. It really is a safe and easy day trip option from Hong Kong, and you will save a fortune!!
After you are done shopping in LoWu shopping mall, where will you go next? There's an ice festival in Harbin every year, in North China, if you wanted to do something a bit different.