Shopping in Nepal is like a sport in Thamel, Kathmandu. Run the gauntlet of the narrow streets and avoid the touts, scooters, and rouge taxi drivers to drive a hard bargain.
But you might be wondering what exactly to buy while you are in Nepal. What makes a good gift for friends and family when you get back home? What use a yak blanket anyways?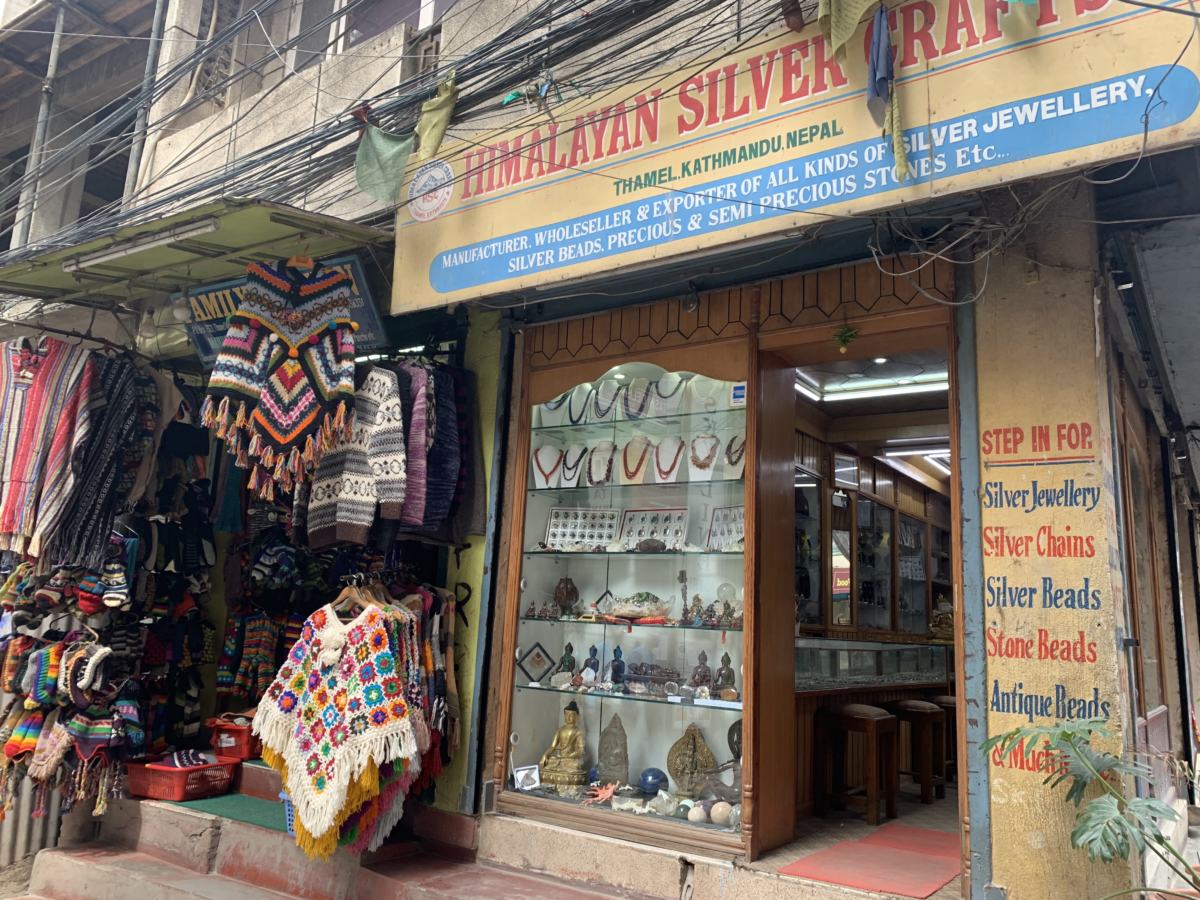 Shopping in Nepal: The basics
Bartering, haggling and bargaining are all a part of the game. Especially when you are shopping in Thamel, Kathmandu. Expect the shop sellers to highball you first to see how much you are willing to pay, much like the sellers in Shenzhen, Bangkok and Phuket.
The streets aren't really laid out in the usual Asian shopping style with everything grouped together, instead expect to walk all over Thamel and find the same types of shops repeating as you go.
There is no real rhyme or reason to it. You may see a cluster of 2 or 3 art shops together, and the rest are scattered around. This is normal, and it does make it a bit easier to gauge the prices I think.
Ask about the prices at one place, and walk away knowing the benchmark before hanging at a similar shop just around the corner.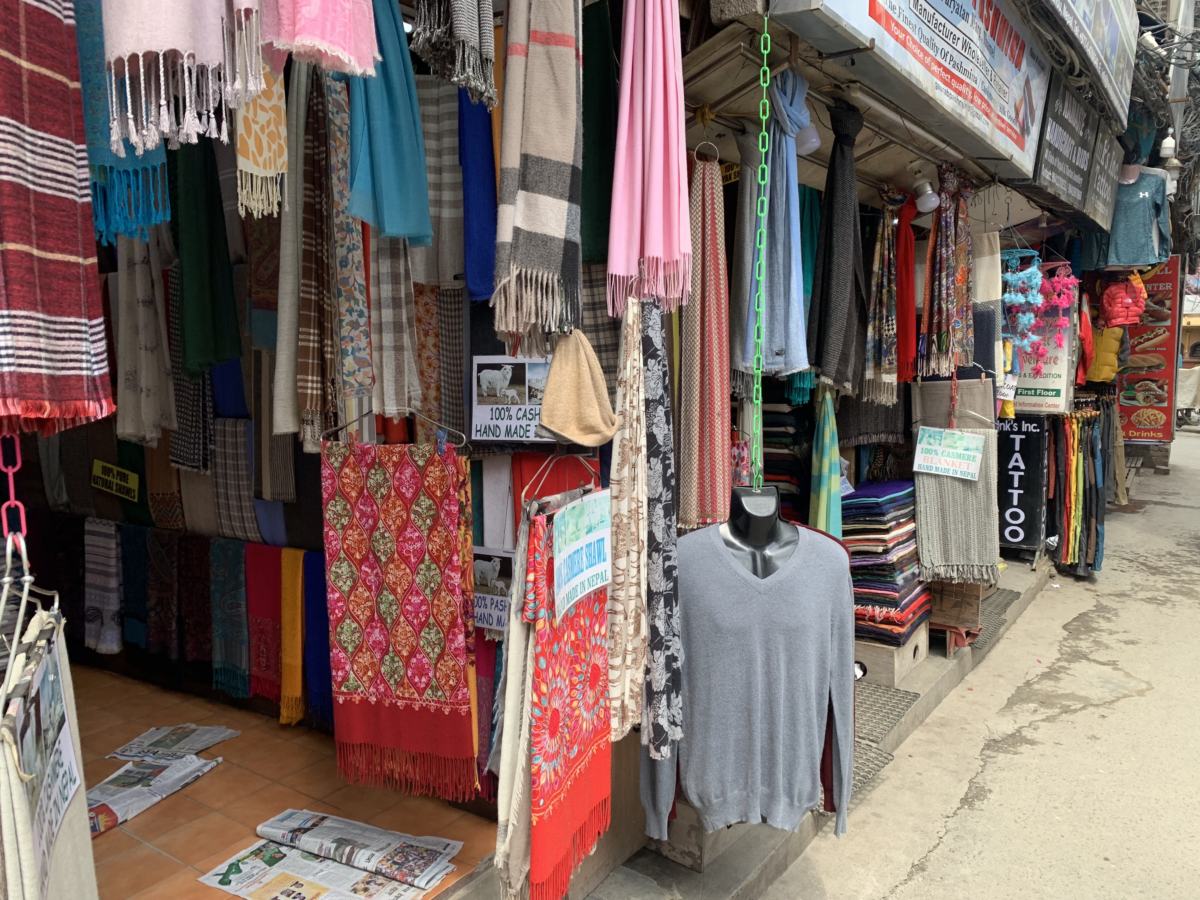 Shopping for Pashmina's in Nepal
Many tourists buy pashminas in Nepal. I think I still have a collection of them from various visits to Kathmandu over the years. They are of great quality and make excellent gifts for friends and family back home. I love that they travel easily and are lightweight.
You can buy them in a variety of colours and patterns, but also be wary of the differences in quality. Some pashminas are just made of normal wool and cotton blends, and are usually the cheapest and are essentially just scarfs.
They are still really nice, and you will get a lot of wear out of them when you are back home, especially for those living in colder climates. I loved mine when I was living in London for a winter!
The more expensive pashminas are the ring pashmina. They are called this because it is said they can be pulled through a wedding band as the quality is so high. The shop keepers love to demonstrate this if they have ring pashminas in stock. so be sure to ask, even if you aren't intending to splurge on one.
Expect to pay 100-300rs for a cheaper scarf type of pashmina, and 500-1000rs for a high-quality pashmina. As always, barter and haggle the price down!
Buying hiking gear in Thamel
Thamel has plenty of hiking gear shops dotted around. Because there are so many hikers coming through Kathmandu to do various treks in high season, there are lots of hiking stores to sell the items they may have forgotten, or couldn't be bothered bringing in their luggage.
If this sounds like you, head to Thamel and pop into any of the hiking goods shops to get current prices. I hear these fluctuate in the high season due to demand. I am here in the low season now, so prices may be considerably different.
Expect to find plenty of North Face gear, it's claimed to be genuine, but, I'll leave that for you to decide. Most shops stock a decent range of winter thermals for men and women, with some stocking kids sizes too. Hiking shoes and sticks are also common.
If you have really big feet, I'd suggest bringing your own shoes and breaking them in first! You may struggle to find your size.
The best things to buy here are wet weather gear and thermals for your hike. It's all reasonably priced and it's easy to find items that fit you. The poles are also good to buy on this side of your travels too. So you don't have to worry about checking them into your flight.

Read more: The best books to read to inspire your adventures to the Himalayas and Mt Everest.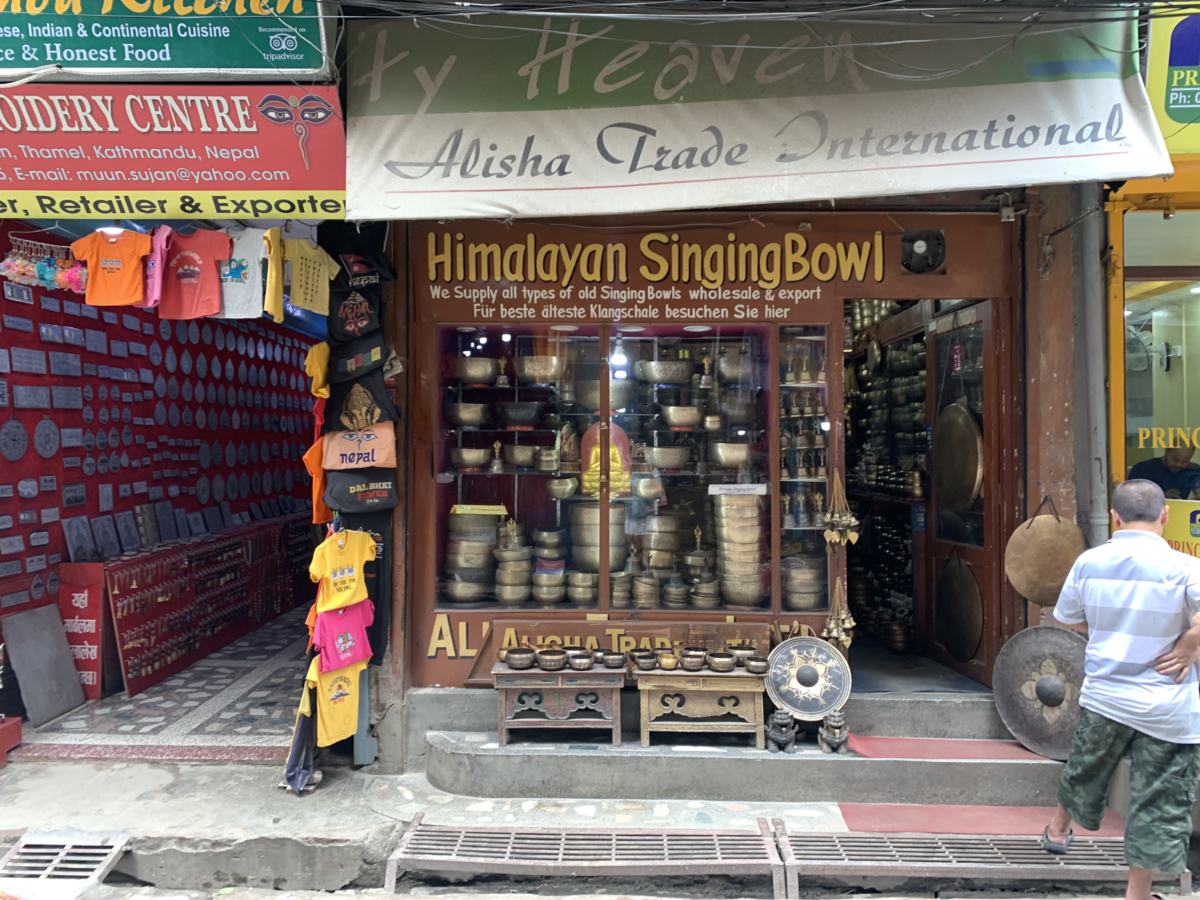 Singing bowls
These metal bowls are found all over Thamel and of course in other parts of Nepal. They are actually Tibetian in origin and are made for meditation. I actually have a couple of these from my first trip to Nepal over 10 years ago. I've never used them for meditation, but I use them as an ornamental piece.
The bowls are generally made of 7 different alloys and metals. Some of these include mercury, copper, iron, tin and lead.
To make them 'sing" tap the side of the bowl, and slowly move the wooden dowle around the outside of the bowl. It will create a rhythmic hallow noise.
The singing bowl sellers will show you how it works and explain the metals in each singing bowl they have in stock.
These bowls vary considerably in price depending on the seller and the size and quality of the bowl. As always, barter hard especially if you are buying multiple singing bowls. Expect to pay 1000rs upwards.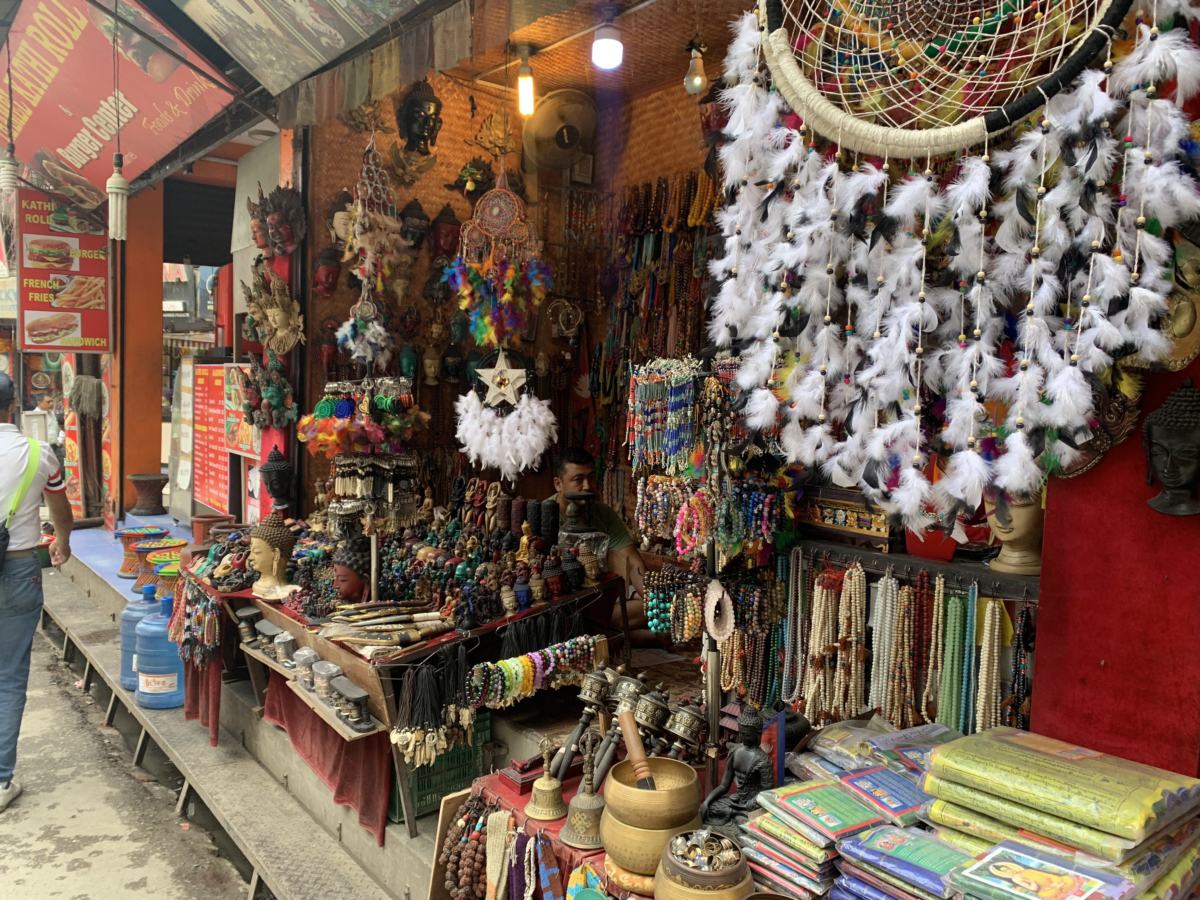 Tourist souvenirs in Kathmandu
There are plenty of different types of little bits and pieces you can buy across Nepal as souvenirs. Many shops around the country offer various trinkets, hand-beaded necklaces and prayer flags.
These shops are everywhere and they are also a great way to spend up the last of your Nepali currency before you leave the country. Keep in mind you cannot take Nepali money out of the country. So these little stalls are great to spend your last 200rs at.
Buy prayer flags for 100-300rs or small beaded bracelets and prayer beads for around the same price. You may find some small wooden carvings with Newari designs.
Be careful buying these if you live in countries like Australia and New Zealand, as they may not be allowed through customs.
Shopping in Nepal will give you a fun insight into the way of life, not just for Nepali people, but also the Tibetans who live here and work the stalls. This is why you see so many Tibetan art pieces to buy.
Tibetan Thangka Paintings
The art shops you see around Kathmandu usually specialise in a Tibetan style of painting called Thangka. These are often beautiful mandala style round paintings with a repetitive pattern and Buddhist motifs.
Some will literally have the om mani made hum script written hundreds of times in very small painted brush strokes and others will be more visually appealing with different colours and designs.
The paintings are priced according to the size and skill level of the artist. Some of the famous monk's thangka paintings will sell for thousands of dollars, while in Thamel, you can pick up apprentice monk paintings for as little as 500rs.
The paintings I have bought over the years have all been acrylic on paper, and I have rolled them to travel them home.
Ikea had a perfect sized frame that I have used in the past to frame it like I would other artwork.
But you may be more interested in getting the traditional framing done while you are in Nepal. Just ask the store holder and they can arrange this for you. The frame will be made from strips of Tibetan fabric and allow the picture to hang. It gives it a more authentic feel if that is what you are after.
Shopping in Nepal is a fun experience and you can buy many things. What was your favourite purchase?