If you ever want to really get to know a country and get to the nitty-gritty of things, I honestly think you need to learn to cook. And by that, I don't just mean "Put some toppings on a pizza with an Italian" or "Eat fish and chips at the local takeaway with an Englishman"
Get serious about the food, and learn the culture through that.
Spend time with the locals and go shopping for the ingredients.
Stroll through the local markets at peak hours.
Watch how the locals interact with the sellers. For example, note the casual exchange of pleasantries, which no matter what language is spoken can be beautiful. Catch a glimpse of the cheeky jokes they have with the fishmonger or produce lady. The shared smiles and waves and they move between crowded market stalls. It's very cool to observe. I believe that food has always been a big part of understanding cultures.
Cooking and eating, are more than just that. Food is shared, but even before then, the food is grown, nurtured and sold.
Watching people connect through food is always an interesting one for me. The exchange of money for food is such a basic one that has happened for millennia. It crosses all nationalities, religions and regions. No culture exists without this simple exchange.
You don't have to speak the same language, or even know what you are buying to take part. Certainly, it helps if you are being guided by a local.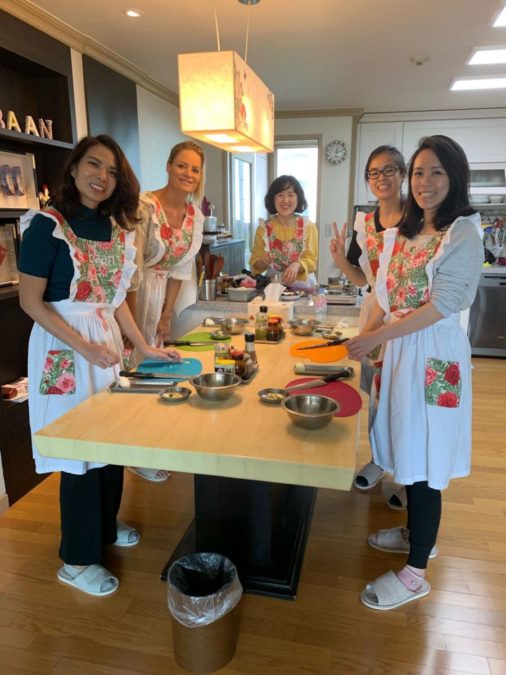 Cooking class in Seoul, South Korea
Anne runs small-group cooking classes from her home in Seoul, South Korea.
Many women around the world are now empowering themselves and their families by running such classes. She advertises online through Airbnb and connects with people from all over the world who are interested in cooking. Through that, she was able to put her kids through school and create a lifestyle for herself that allows her more freedom and time with her family.
As tourists, we are afforded the ability to see life from a different set of eyes. We are able to come down to the grassroots level of local women and partake in normal daily activities. Walking through the markets with Anne was such an experience. She knew many of these local sellers by name, having lived in the neighbourhood for most of her adult life.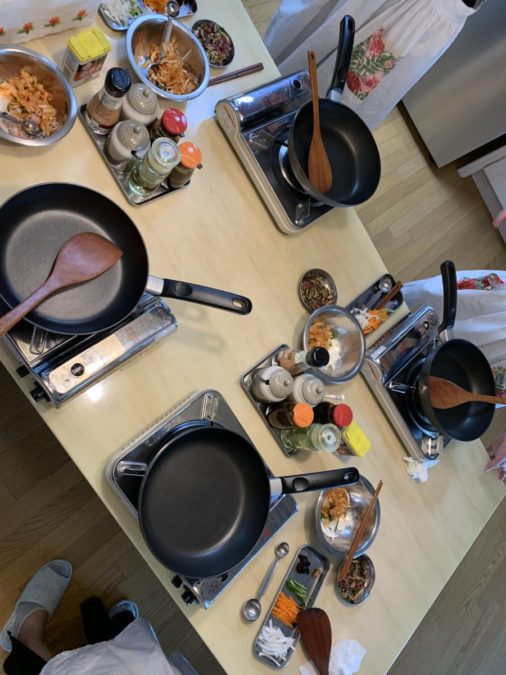 The cooking class
After we had strolled through the markets near Anne's house in Seoul, we came back to her apartment to prepare the dishes. We had 4 dishes on the menu.
Japchae
Kimchi Pancake
Gamjatang
Mul Nangmyeon
Anne spoke us through each one, pointing out unfamiliar ingredients and testing our Korean food knowledge. Her mother helped out with preparing additional side dishes for our lunch, so we had a real feast at the end.
Everything was included. We all had our own little work area complete with clean knives and tools. We didn't have to do any dishes afterwards (always a bonus!) and the atmosphere was very light-hearted.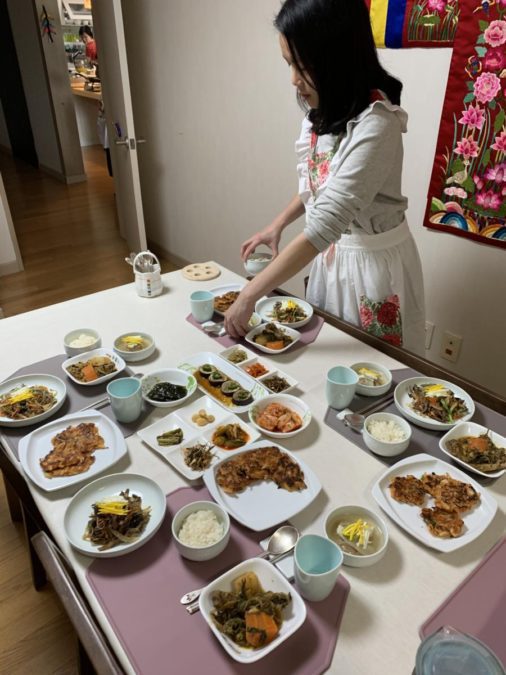 We were able to look around their house a little bit, I mean, we weren't snooping or anything. Of course, Anne explained various items in the sitting room. Many of the wall hangings were hand embroidered by her mother. It was wonderful to see such personal items displayed for us to see.
The cooking class was a great way to chat and ask questions about the daily life of women in Seoul in 2019. A lot has changed in the past generation for South Koreans. Anne was more than happy to answer questions and explain things to us.
A cooking class can be more than just food. It's a connection too.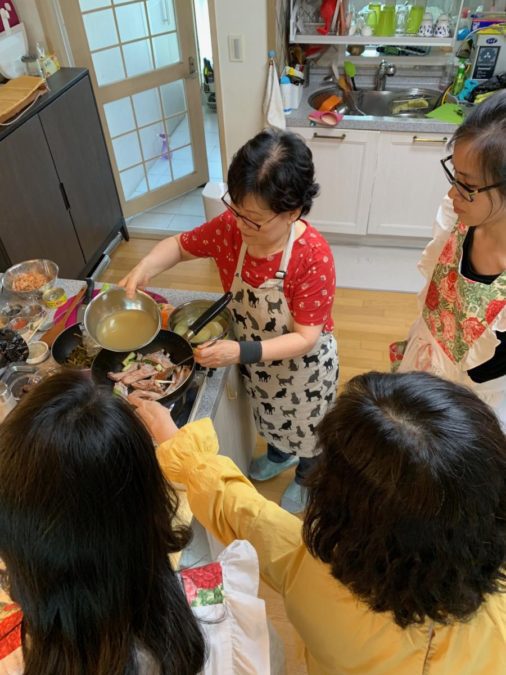 Inclusions
Lunch you cooked with me.
Dessert and tea
Points to note
Request any food you'd like to cook other than the food I mentioned. Let her know of any dietary requirements or allergies
Local market tour included – We'll visit a local alley market to see and hear about Korean food culture.
Transportation included- I can pick you up at Sillim station if you like.
Equipment -Everything is ready.
This is not an affiliated tour. I booked and paid for it in full and I do not receive anything for you clicking the link and booking it yourself.
Another great way to travel around Korea and connect with locals is through cycling the countryside. My friends have a great post here about that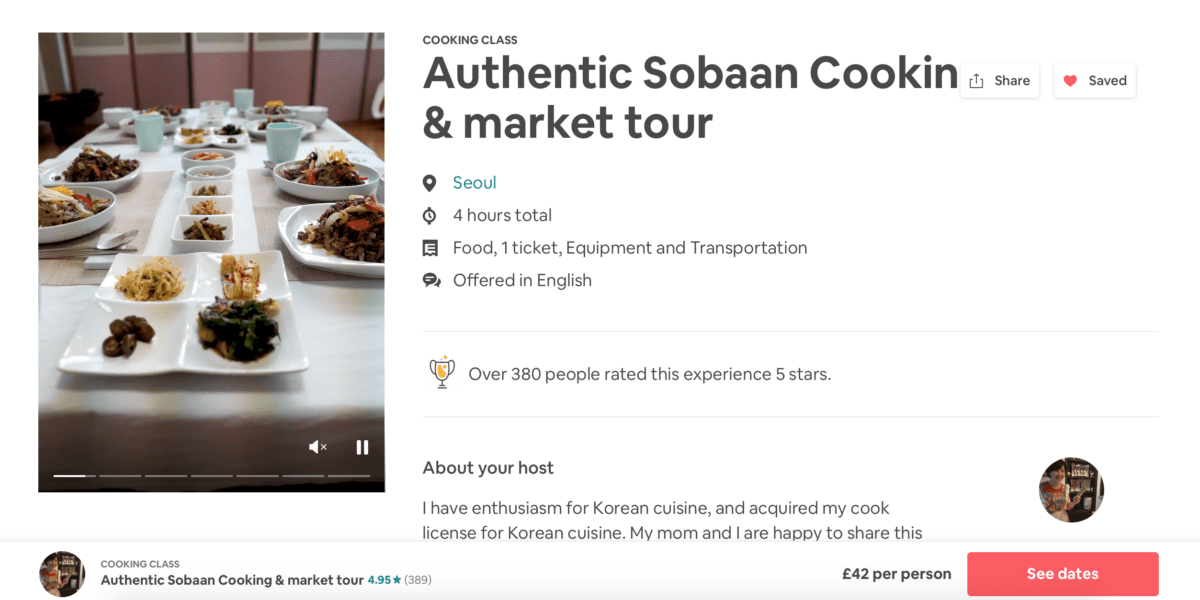 RELATED: Cooking with a Korean Monk from Netflix "Chef's Table"