Gaggan Anand is having another massive year with his recent 4th place in The World's 50 Best Restaurants. He has invested in several other ventures in Bangkok, notably his newest wine bar called WET. It is located right next door to his main Gaggan restaurant down the quiet dark alleyway in the middle of Lumphini, Bangkok.
Bangkok's newest natural wine bar
While WET has only been opened in Bangkok since February, it has already amassed a cult-like following for wine lovers. Not only are the interesting wines all imported from exotic countries such as Slovakia and Serbia, but they are also all winegrowers known personally by the sommelier Vladamir Kojic.
WET is housed in what used to be a run-down massage parlour, and to a certain extent, there is still a nod to this at the entrance. Watch the video to see the quirky public toilets entry, making this one of Bangkok's newest speakeasy-style bars too.
Menu at WET
The menu boasts a progressive Indian flair as you would expect from a Gaggan owned wine bar. One of the most popular dishes is called Prawnstar; tamarind and black pepper prawns. Yum!
There is a cheese selection for those die-hard wine and cheese fans, with the imported European cheese options pairing perfectly with red or white wine.
You could make an event of coming to WET for dinner and not going to Gaggan the same night. They have full-sized dishes too such as "sexually charged crab" a pasta dish, and French Piri Piri quail.
Whether you choose to snack or dine here for the evening, your palate will be refreshed with the dishes on offer at WET.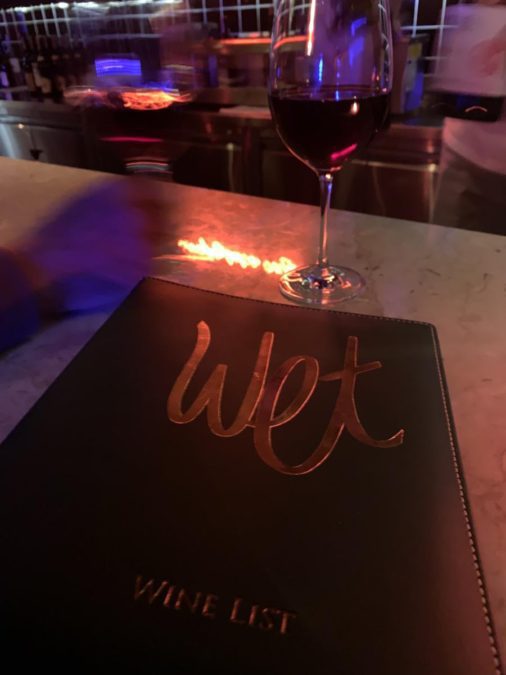 WET's wine list
WET has wines by the glass or if you ask nicely, by the bottle.
By the glass, you have white wines from Slovakia, France, Austria and Germany. Along with a Serbian and Italian Red. There are 2 French sparkling wines to choose from and a nice selection of Japanese Sake.
A glass of wine starts at 450B with 10% service and Government charges added on top. So their wines may not be the cheapest in town, but they sure are delicious.
RELATED: Bangkok cooking class
Bookings not required, yet
You don't need to book, although, if you are a bigger group it would be wise to. The bar is intimate with more 'couple friendly' type tables, so you may want to clarify your group size before arriving.
As WET is new, it tends to just attract the before and after dinner crowd from Gaggan and Gaa. But as Gaggan closes down in the next 12 months, you may see WET rising in popularity.
Where is WET by Anand Gaggan
WET is down the same alleyway as Gaggan, so when you see the sign for Gaggan, keep walking down and it is on your left at the back of the alley.
Show this to your taxi driver: 68/9 Soi Langsuan, ถนน เพลินจิต Lumphini, Bangkok 10330