Cookinn Taiwan is a great little cooking school location in Taipei City. So many people recommended it for learning how to make dumplings in Taipei, which I had to see for myself. So I spent half a day there to see what the fuss was about.
RELATED: Cooking class in Ho Chi Min City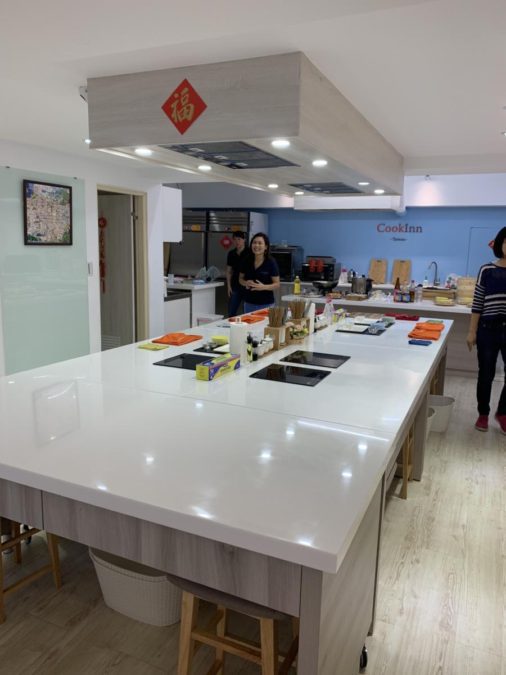 Why make dumplings in Taipei?
Taiwan is home to the famous Soup dumplings, also called Xiao Long Bao. They were made famous thanks to Din Tai Fung but originated in Shanghai. The secret to Din Tai Fung Xiao Long Bao is not just the perfectly balanced taste, but also the distinct 18 pleats it takes to complete a xiao long bao.
Also. Everyone loves dumplings. Right?
Steamed dumplings with a black vinegar and ginger dipping sauce, with a hint of chilli on a cold rainy day, sounds fabulous! It almost makes me wish I was sitting somewhere cold!
Learning to make dumplings in the home of Din Tai Fung seemed appropriate, and I was excited to crack on with the lesson.
The cooking class menu
The set menu for the class I had chosen to join had a great balance of dishes.
Pork xiao long bao
Braised beef noodle soup
Taiwanese smashed cucumber salad
Bubble milk tea
Before class started, there was a short market tour at a local market. We were able to ask questions about unfamiliar ingredients. The chef also explained some things to us as we walked. We stopped at a small local stand selling pancakes where we were able to sample some free of charge. So that was a really nice touch.
They do have a vegetarian class for those that don't eat meat. But if you're looking for some great vegetarian street food options in Taiwan, click here.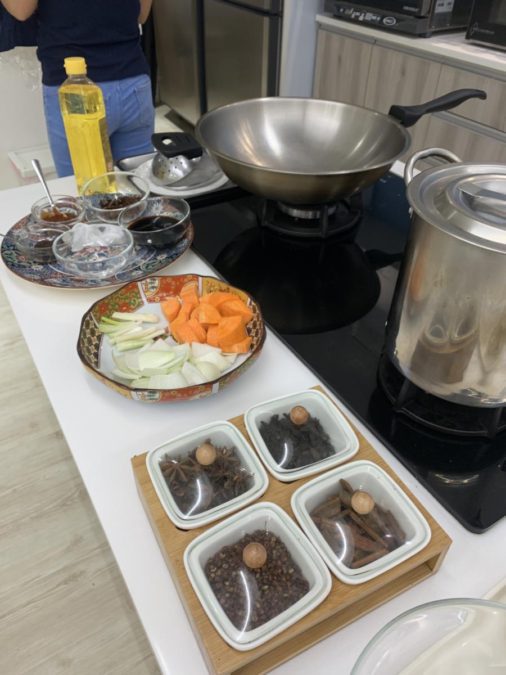 Class times and prices
Classes on: Tuesday, Thursday, Saturday, Sunday
Time: 9:30 – 13:00 (Includes lunch obvs)
Price: NTD 2,500/per person
Language: English, Japanese, Chinese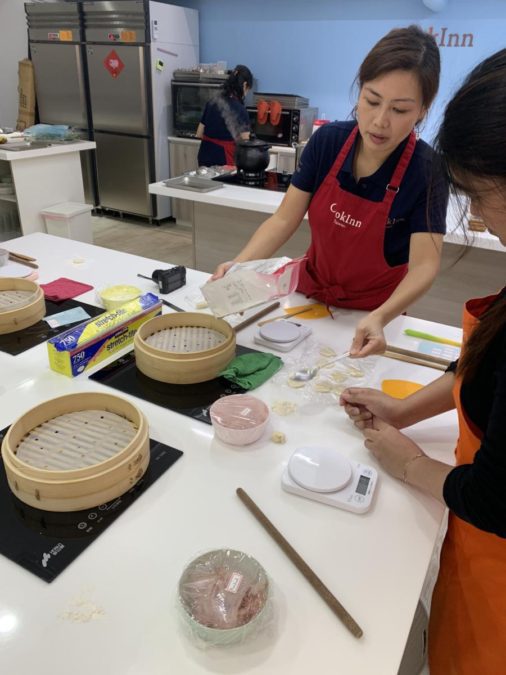 Making the dumplings
The class I booked was in English. At the same time, there was 1 Japanese speaking girl who had her own teacher but worked alongside us. It was good to see how the school handled different languages.
It was also fun hearing everything said in English and Japanese!
The gelatine chicken stock has already been made and measured into the correct chunks. All we had to do was slice it down and mix it with the pork mince and seasoning.
The dumpling wrappers we made by us by hand. I found this part quite rewarding as I am used to buying the wrappers. It was really good to see how they are actually made and find out just how easy it actually is!
The cooking school instructors taught us how to weigh the dough exactly, and how to roll them flat. We were given a ruler to ensure they were the correct size, as per Din Tai Fung's recipes. I found that quite amusing.
Thankfully, we didn't have to do the 18 folds exactly!!
Dumplings for lunch!
Of course, after we made out dumplings it was time to eat them!
We were given a bowl of delicious beef noodle soup, and we had plated up our cucumber salad. Of course, I ordered a beer to wash it all down with too 😉
You should definitely learn to make dumplings in Taipei next time you are passing through. The class is fun and easy, and the dumplings are delicious! Book direct with CookInn.