With a cooking class by Netflix "Chefs Table" monk chef Jeong Kwan.
A Temple Stay at Baekyangsa temple in Jangseong-gun, South Korea should be at the top of your travel bucket list.
If it's not, read on to find out why.
If it is, read on to learn more so you can book it and make it a reality!
Jeong Kwan is a monk chef best known for her feature on the Netflix tv show Chefs Table, season 3.
When I heard it was possible to visit the temple in South Korea for a 2-day temple stay and learn to cook from her, I had to do it.
I was meant to stay in Korea for 3 days. But, once I realised a trip to Baekyangsa temple to cook with Jeong Kwan was possible, I extended my stay for another 2 weeks!

Booking your temple stay at Baekyangsa temple
Firstly, make sure you book the cooking class with Jeong Kwan as there are two different programmes.
The resting programme
This gives you the opportunity to make a 108 bead necklace. You will still participate in a tea ceremony, and of course, learn more about Buddhism and the culture. You will NOT be cooking with Jeong Kwan if you book this programme.
The cooking with Jeong Kwan programme
You will want to book this for the full experience. It costs 150k won per person.
This includes a 4-hour class and meal with Jeong Kwan in her temple. an overnight stay in a very clean, and modern temple stay room, and the additional meals. Breakfast, and either lunch or dinner. This meal changes depending on which meal you are cooking with Jeong Kwan
You can also just visit Baekyangsa monastery as a day trip
The cost is 2,000Won for a car and 3000 won per person for entrance. You will be able to wander around the ground, pray and hike. There are a few small restaurants to eat at, and shops to buy gifts. But you will NOT be able to see Jeong Kwan cooking on this kind of trip.

Getting to Baekyangsa temple
I have assumed you are coming to the temple to stay from Seoul for these directions.
Rule number 1, is to book your train in advance! Several of the travellers in my group booked too late and couldn't get back to Seoul on Sunday afternoon. To book the train, visit Korail
The temple stay programme leaders recommend the following route.
KTX * from Seoul

♡1.Yong san KTX train station in Seoul – Jung eub KTX train station – Jung eub bus terminal (It is located around Jung eub KTX train station. It takes 10minutes to get here by walking.

from Jung eub bus terminal to Baekyangsa it takes 40 minutes by bus ) – baekyangsa bus stop – 25 minutes on foot -Baekyangsa temple stay office
That's an absolute mission!
I found a hack with the following route. It saved me around 40,000 won in taxis but it did take 45minutes longer on the train itself.
Book your train tickets to Jangseong at 8:32 am from Yongsan.
This particular train time was perfect, the temple stay programme starts at 2 pm, and this train, plus the taxi, gets you into the temple around 1 pm. You can then relax, or wander the grounds freely. Or explore the small town of Jangseong before getting the taxi.
The taxi takes around 15-20minutes, and costs 23k one way. Just in front of the train station if the taxi booth. There is a large blue sign saying Taxi on the right-hand side of the road. Just next to the bank.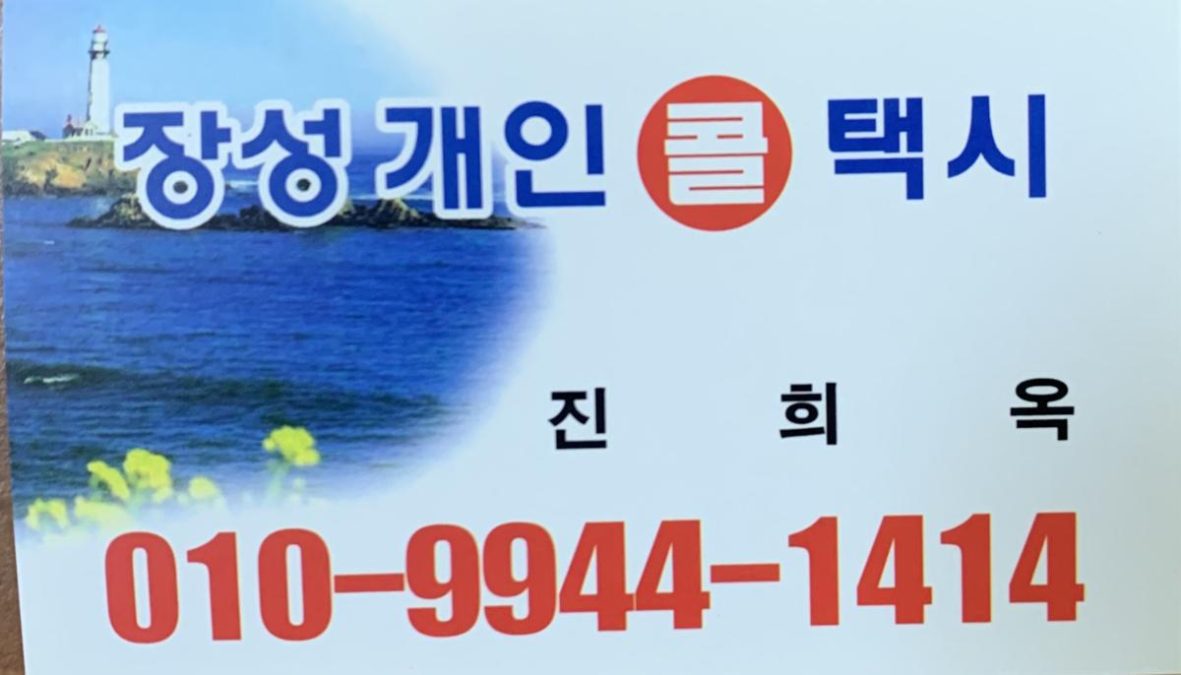 The taxi stand is manned for a few older Korean men. They don't speak English at all but do recognise the English characters for the monastery. It is a popular place to visit, so you shouldn't have too much trouble finding it.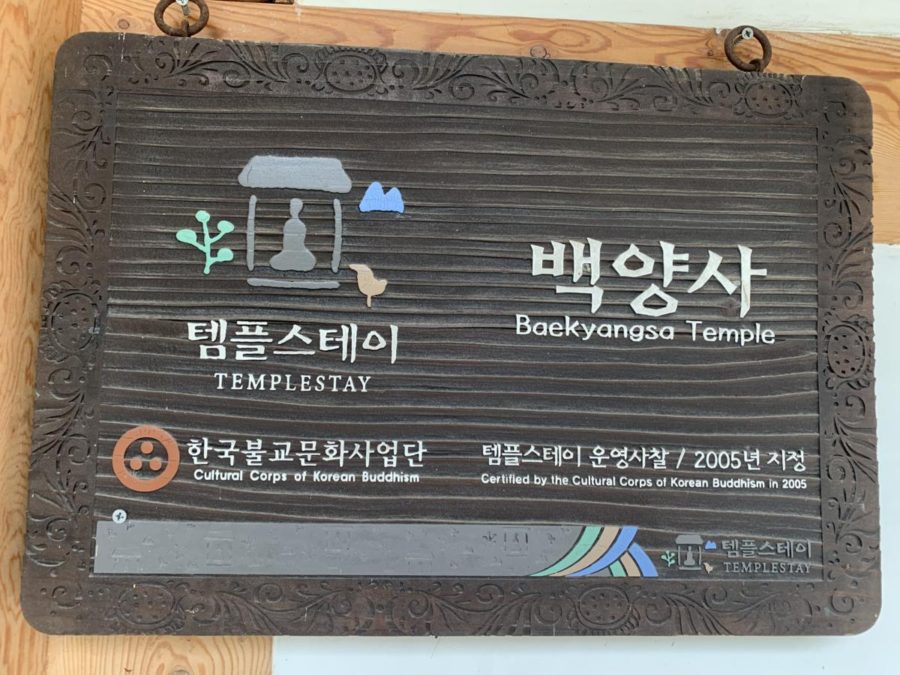 Entering Baekyangsa Temple
The taxi cannot take you to the temple exactly. You will be dropped off around 5 minutes walk away. The walk is easy and suitable for the elderly. It's a nice paved path through the trees and follows a stream.
At the gates, the guard may ask for a 3000won entry fee. Please make sure you explain to him that you have a temple stay, and the fee with be waivered.
From the gates of Baeyangsa, just follow the pathed road until you see a small shop in front of you as the road forks. Turn left and walk over the bridge and past the resting pagoda. You will come to another bridge and fork- take the left turn again and walk up to the gates.
Once you pass the 4 statues (they represent the gods who protect from the 4 cardinal directions, east, west, south, north) you will see a sign for the temple stay the office is to your right. Enter there and let them know you have arrived. Easy.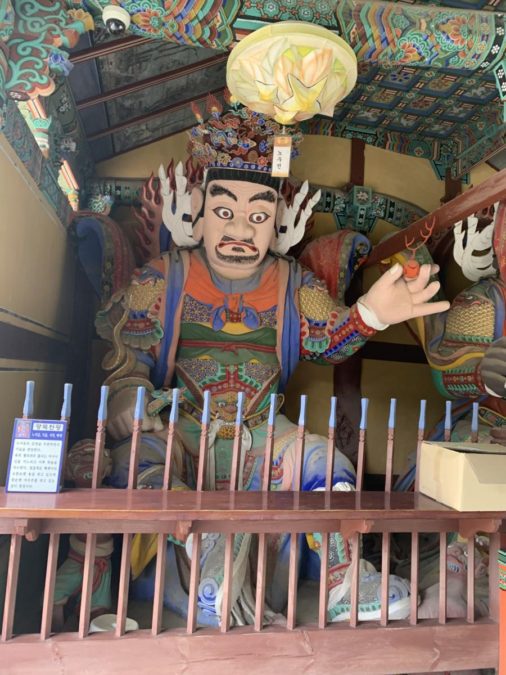 Accommodation at your Temple Stay
You will be separated into male and female rooms with 3 or 4 to a room. Each room is very new and spacious. The rooms are clean, with good lighting, aircon and Korean floor style bedding.
You will find your bottom blanket, top blanket and a pillow folded neatly in the cupboard, or on the bench, depending on your room type.
There are clean modern bathrooms and showers in a communal setting. Obviously separated into male and female! Some rooms do have private bathrooms, as you can see. I'm not sure of the system for getting a private room. But honestly, the shared bathroom was perfectly fine.
The temple stay rooms are located at the back of the property. A nice stream runs past on one side, and there are loads of trees around. It's very calming while only being a short 2-minute walk to the dining hall and main bell tower.
Ok… now this is what you actually wanted to know?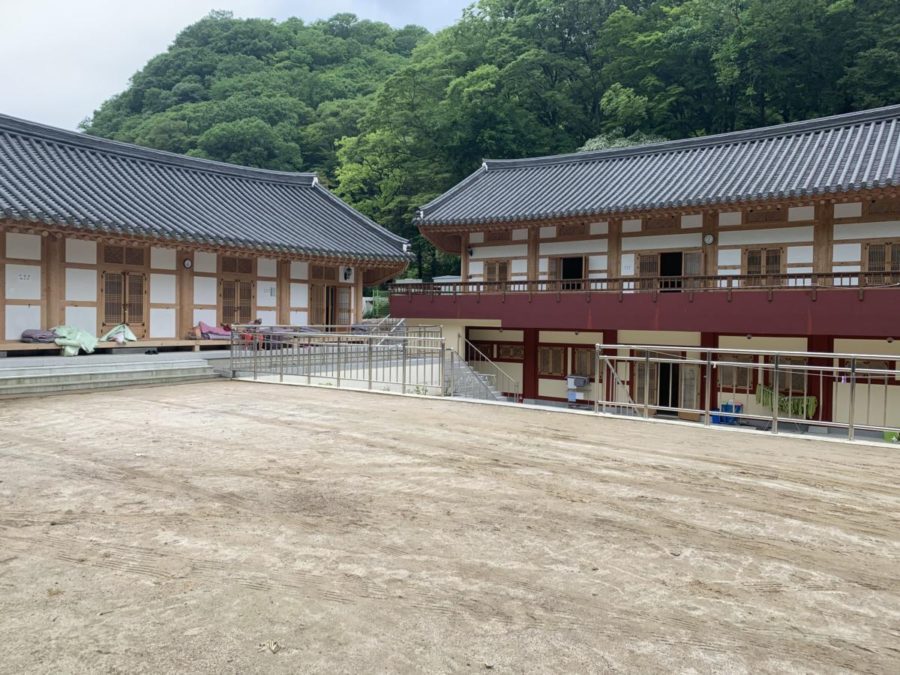 Cooking class with Jeong Kwan
Our lesson started at 4:30 pm on the first day. Normally lessons are held on Sunday morning after prayers. But Jeong Kwan had to leave Sunday to attend a culinary class for a school in Italy.
First, we gave prayers to Buddha at Jeong Kwan's temple, and then we entered her classroom.
I have to be honest. I didn't think she would have been leading the classes. Of course, I had assumed it was going to be another monk who gave the cooking class and Jeong Kwan would just pop her head in and say "Hi". But no, it was the real deal. Jeong Kwan took the lesson from start to finish, all in Korean. Her "sous chef" was an American Korean lady who translated everything throughout the class.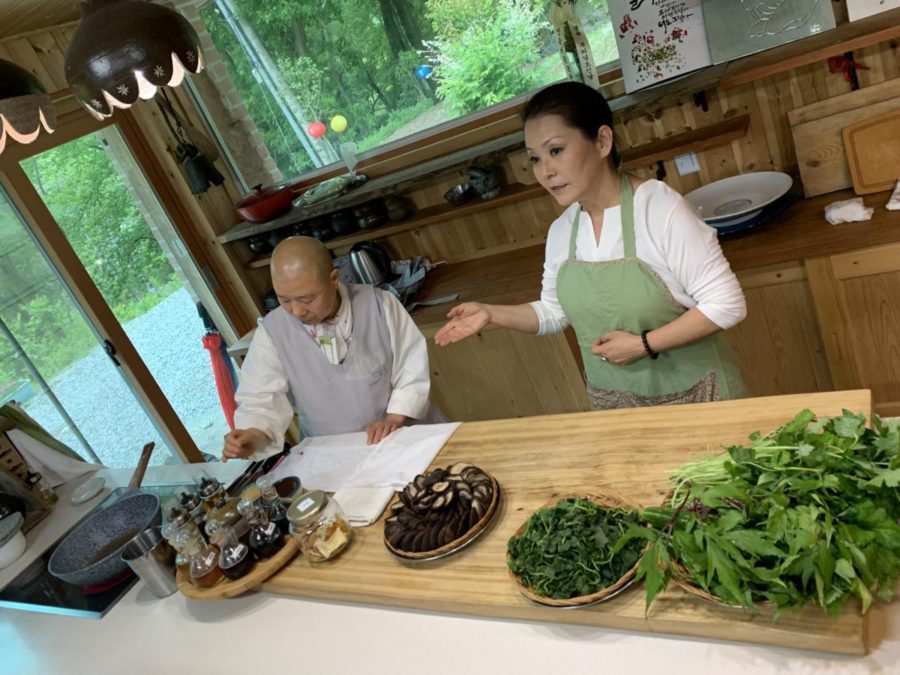 The class finished at around 745pm. We were directed to a side room to plate up our own dinner from the dishes Jeong Kwan had made in front of us just minutes ago. Additionally, there were around 10 other dishes to try.
For further reading on temple food, pick up the book "Wookwan's temple food" on Amazon.
For a more detailed Sunday of what the cooking class with Jeong Kwan was like, click here!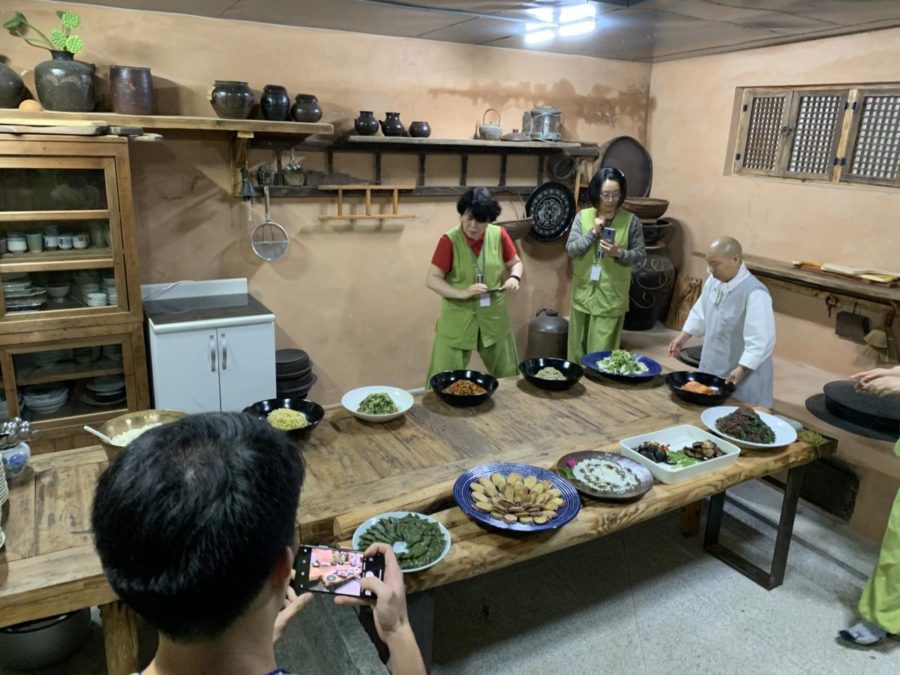 The schedule for the 2 day temple stay
Things to know before you come on a temple stay
Bring socks. And sneakers that are easy to get off and on would be a good idea too. The temple grounds are mostly loose stones and dirt. My footwear was totally inappropriate. As always!
Bring a jumper or jacket, even in summer. The temple is in the mountains so it does get cold. I'm not sure how cold it gets in winter, but I imagine some serious winter gear would be needed.
Never ask a monk why they became a monk.
Don't forget your towel and something to sleep in (also lessons I learnt the hard way)
Do not take photos without asking, especially of the monks.
Be quiet. This temple is the monk's home, so keep your voices hushed at all times.
There is also plenty of temple rules and etiquette which you will be informed about by the monk when you arrive.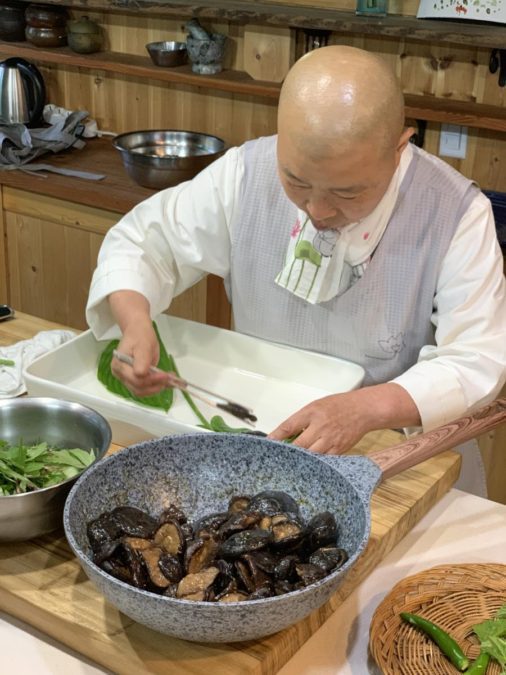 To make your reservation at Baekyangsa for temple stay
Contact Daisy to make your reservation.
At this point in time, the staff are still a bit shady on their English ability. So you may not get much of a reply. Keep trying!
If you have a Korean friend, it might be much easier if they call on your behalf to book it.