Also known as "The Monk Chef" after her role in Netflix's tv series "Chef's Table"
Cooking class with Jeong Kwan at Baekyangsa Temple
On entering the classroom, Jeong Kwan bowed, smiled broadly and cracked a joke in Korean. She laughed and had an incredibly relaxed vibe. Standing at barely 5ft tall, she easily commanded a room full of eager and enthusiastic students. All of us had been compelled to visit Jeong Kwan and Baesyangsa temple after watching her on the Netflix show "Chefs table"
Netflix had really catapulted Baekyangsa temple and Jeong Kwan in recent years. It aired in February 2017. At that time, it was extremely rare for a tourist to have made their way onto the ground of the monastery.
Within 3 months, the monks noticed more and more foreigners showing an interest in the temple, and in particular, Jeong Kwan, the Monk Chef. When they finally asked why tourists were visiting, they were slightly shocked. None of them had actually seen the show and didn't know what Netflix was. I guess they thought nothing would come from the previous cameraman's visit. How wrong they were!
Jeong Kwan's background
Jeong Kwan currently lives and teaches out of the Chunjinam Hermitage in Baekyongsa Temple. Located in the Southern part of South Korea. She has been a nun since she was 19 and uses food to spread her Dharma.
She cooks for fellow nuns and monks while also running a weekly cooking class for temple stay visitors. Her food is strictly vegan and also follows the Buddhist rule of not including onion or garlic in any dishes. She makes all of her own sauces, syrups and pickles.
What was made in the cooking class with Jeong Kwan
Firstly, no two classes are the same. So what we had made for us, will be totally different when you attend your cooking class with Jeong Kwan.
This is because in Korea there are 24 seasons for harvesting produce. Many things are picked and eaten only at certain times. This is to bring out the very best of the flavours.
Shiitake mushroom dish
The first dish she spoke to us about was an infamous Shiitake mushroom dish. You can see someone else's video of a similar dish she made with Oyster mushrooms at a previous class.
The recipe was vague, and as Jeong Kwan cooks from the heart, I'm sure it's never the same taste exactly each time she makes it either.
She simmered shiitake mushrooms in homemade soy sauce, persimmon vinegar and oil for around 20 minutes. Then she added some homemade rice syrup and cooked it for an additional 10-15 minutes.
The dish was finished with sesame oil and toasted sesame seeds along with dry rind from the 500-year-old tangerine plant outside the classroom.
Now days, there is a rule of no video in the cooking classes so we will have to make do with other people's footage.
Japchae noodles dish
The next dish in the cooking class with Jeong Kawn was japchae noodles. These noodles are popular all over South Korea. They are literally found on every street corner in Seoul in various forms. Some are made with vegetables and others with meat. But they are all made with sweet potato noodles gently stir-fried. It seems every time I was served this around the country, they were served lukewarm or even cold as part of banchan.
Jeong Kwan's version was made with sweet potato noodles that had also been soaked in her homemade blackberry syrup. This gave them a much richer and darker colour than usual. Because it was a vegan dish, she stuck to steamed greens and it was finished with sesame oil.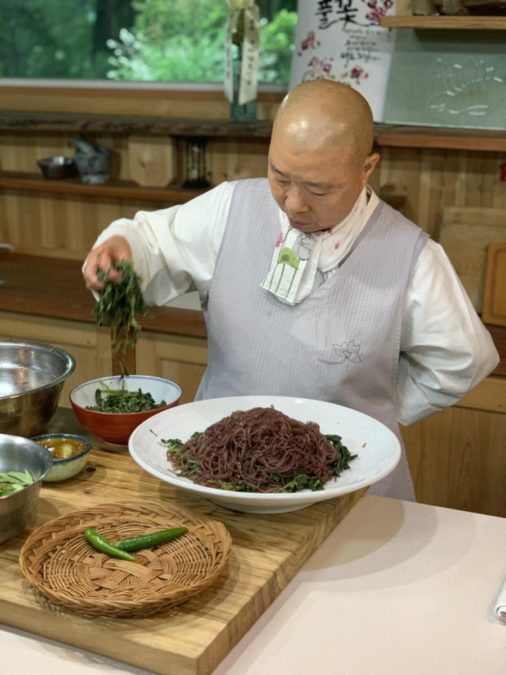 Jeong Kwan's fresh garden salad
The last dish we watched being made as part of the cooking class with Jeong Kwan was a fresh leafy garden salad.
She sliced cucumbers thinly and tossed them with fresh greens from the garden. Halfway through making it, she remembered that she also had some Korean melons, so she ran out to get them to add. The sweetness of the melons gave the dish something special.
Her dressing was a mix of persimmon vinegar, oil, and good quality salt. While it was a simple dish, the flavours really popped. It was herby, yet sweet, with a slight bitterness from the unusual greens.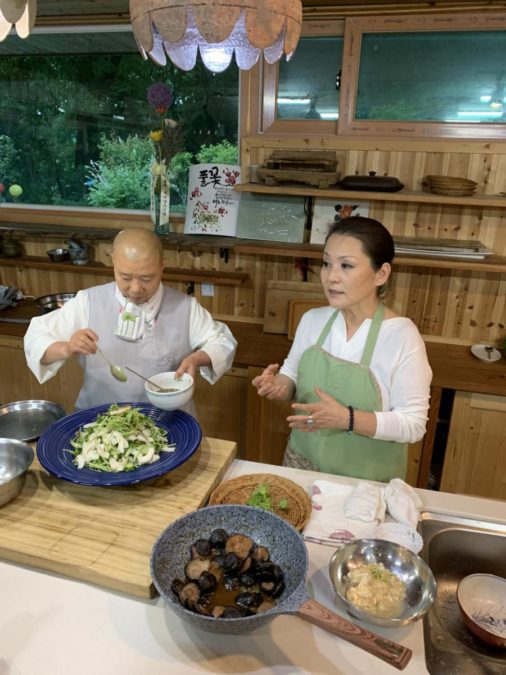 Thought's on the cooking class
While it's not so much of a hands-on cooking class as you would otherwise have when travelling. The cooking class with Jeong Kwan is a philosophy lesson and horticultural class rolled into one. It is a cooking demonstration held by a woman who doesn't consider herself a chef. She doesn't push regimented cooking ideas as fine dining chefs would.
At times she would laugh at how uneven her cutting was of the cucumber. She would shrug and say it doesn't matter. What matters is the dish at the end and the love and care that goes into it.
Her attitude was refreshing to see.
The first 45 minutes or so of the class was an informal chat with everyone. We all stood up and introduced ourselves, and explained where we were from and what we did for a job. Many people expressed their immense gratitude for being able to attend the class. I was star shocked and probably just made a bit of a goose of myself. But it was a lovely touch.
She genuinely seemed interested to have us share something about ourselves with her. The translator said her classes always start with these chats, as it's a way for Jeong Kwan to gauge the energy of the room and read our personalities. She then tweaks the dishes accordingly.
If you want to book your own temple stay experience and attend a cooking class with Jeong Kwan from Chef's table, check out my post here.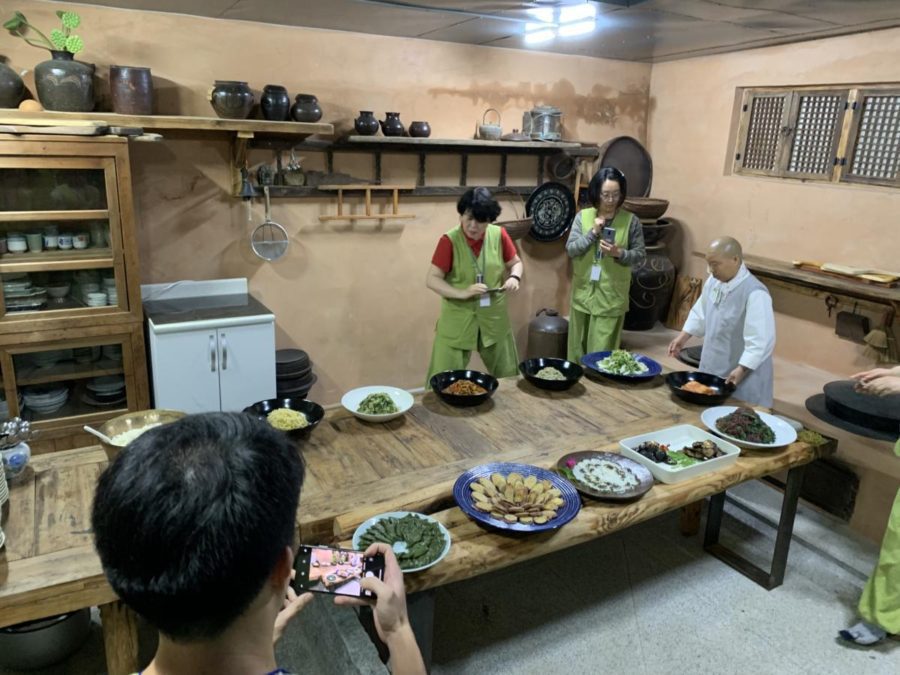 While you are in Korea, you should also consider doing this epic Gwangjang markets food tour with Mike.