Xiao Long Bao is known all over the world as soup dumplings. They are those delicious parcels of wrappers and meat with a small amount of "soup" when you bite into them.
Din Tai Fung in Taiwan is particularly famous for theirs. Each soup dumpling has 18 perfect little folds to create the dumpling. They are all steamed so the meat cooks inside, and the soup melts into a delicious two-bite dumpling.
You must be careful when eating these dumplings, as the soup can be very hot inside. Unlike other dumplings eaten in one gulp, these are best eaten with a spoon, and in two bites to help some of the hot steam escape.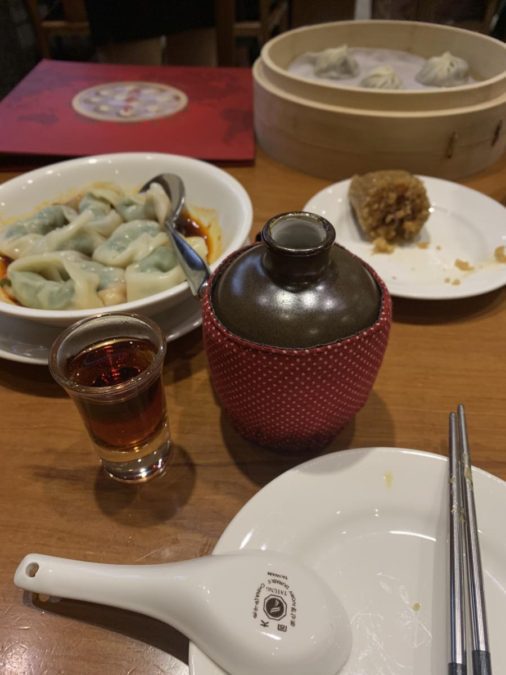 Din Tai Fung in Taiwan vs other locations
Real Xiao Long Bao aficionados will argue that the only place you should eat these dumplings is in Taiwan, and more specifically, the 101 building.
Due to the waiting time at the 101, I opted to eat at the Fuxing Branch. I doubt there is too much difference in the location. But if you want to save time, I do recommend looking at other branches to eat at.
I have eaten Din Tai Fung in Singapore, London and Australia. Every time it has been a great experience, but as any food purist will tell you, it is always better in the country of origin. In this case, Taiwan.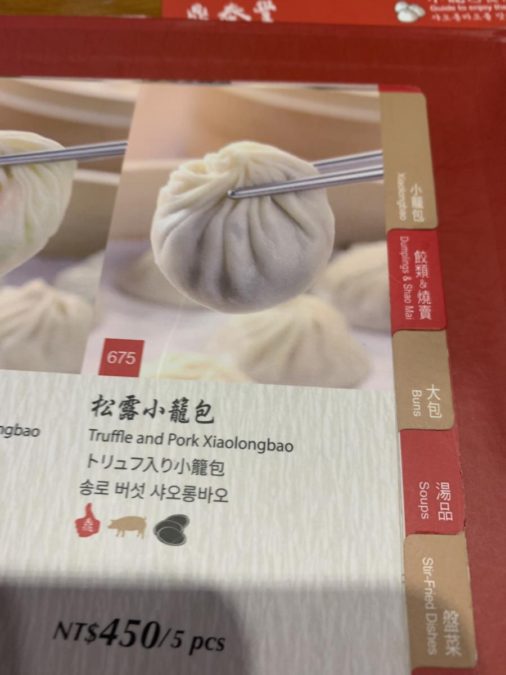 The menu at Din Tai Fung in Taiwan
I was surprised to see so many options on the menu in the Taiwan branch. There were plenty of options for vegetarians too which was nice to see. Some of the stand out vegetarian dishes included truffle and mushroom soup and steamed vegetarian mushroom dumplings.
Meat lovers rejoice. The options are endless for you! Many of the dumplings are pork or seafood. And there is a range of noodle soups and fried rice with beef, chicken and shrimp.
The dessert menu is interesting. Expect an array of dishes that you wouldn't usually call "dessert" back home. Taro xiaolongbao and steamed red bean cake for example. Curiously, they offer a chocolate steamed bun and chocolate xiaolongbao. Which is a little more in line with a western palette.
Here is the entire menu of Din Tai Fung in Taiwan in PDF format, including prices.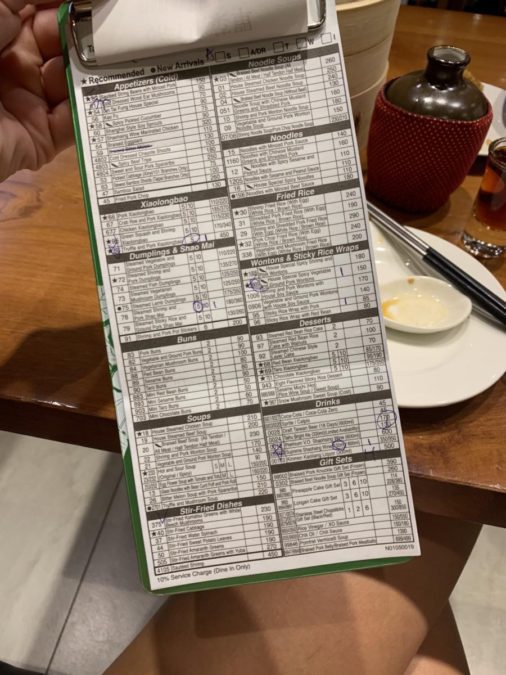 Tips for a faster service at Din Tai Fung in Taiwan
No one likes to wait a long time for their meals, and certainly not sit at the door waiting for a number to be called. This is common practice in many Asian cities as they battle long wait times and overbooking.
Tip number 1
Get there early. Cut your wait time in half by getting in before the main lunch or dinner rush. The restaurant is generally open by 6 pm, get there then. If you wait until 8 or 9 pm, expect to spend an additional 20 minutes to an hour waiting.
Tip number 2
Dine alone if you have to. Some restaurants have a solo dining area which allows you to skip the crowds and eat at the "bar". If this option is available, you can sometimes even arrive in peak dining hours and still get a spot.
Tip number 3
Book online first! It's so easy, and the website is in English. You will not only secure your time but you will also skip the queue. This also allows for dining at peak times, so long as you can plan in advance. If you are a bigger group, you should always book online, or call ahead.
RELATED: Learn to make your own soup dumplings while you are in Taiwan at the Cookinn cooking school in Taipei.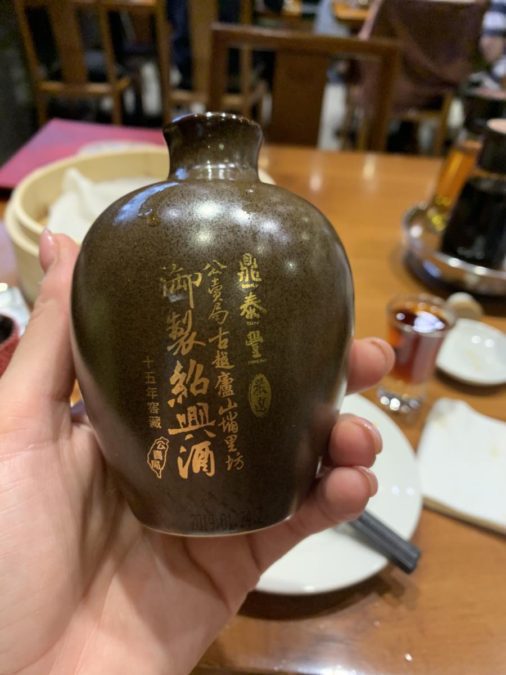 The history of Din Tai Fung in Taiwan
I love the history of this place.
Mr. Yang Bing-Yi and his wife founded the store as a dumpling shop in the 1970s. But the story before this happened is quite interesting.
Previously he was an immigrant from Shanghai who had worked hard for a local oil company delivering cooking oils. He went on to take charge of bookkeeping and managing the shop's inventory.
When that business fell on hard times, Mr Yang Bing-Yi decided to open his own oil supplying shop with his wife. Out of respect for his previous employer, he named is Din Tai Fung. Taking part of Din Mei Oils, the name of their supplier, and Heng Tai Fung, the shop where Yang Bing-Yi got his first job.
A famous calligrapher called Yu You-Ren wrote the shop's main signage. The sign is still hanging near the front entrance to the original Din Tai Fung in Xinyi.
It would be another 20 years before Din Tai Fung would be selling soup dumplings as we know them now. In the 1970s cooking oil was being sold in tins which meant sales of delivered oil went down. In order to save their business and their livelihood, the soup dumpling took front and centre stage. Din Tai Fung's xiaolongbao quickly became very popular and 30 years on, the brand is in 15 countries worldwide.