I spent hours asking locals in Seoul where the BEST rooftop bar in Seoul was. Literally, none of them could point me in the right direction. It was frustrating.
Some of the hotel concierges would say the name of a bar in Myeong-dong and point us in the right direction. However, while walking there we would google it, and see it was only on the 6th floor or something ridiculous. We were looking for more than that.
With a population of around 10 million people, we expected Seoul to have a considerable rooftop bar scene. It is home to many tall and wonderfully designed buildings after all.
How we found the BEST rooftop bar in Seoul
By chance, just as we were about to give up on our search for the BEST rooftop bar in Seoul, we looked up. To one side of Myeong-dong is the YTN Seoul Tower. Jokingly, it was decided that we would go up and drink a bottle of soju from the 7-11 when we got up there.
It turns out, there was a bar up there the whole time!!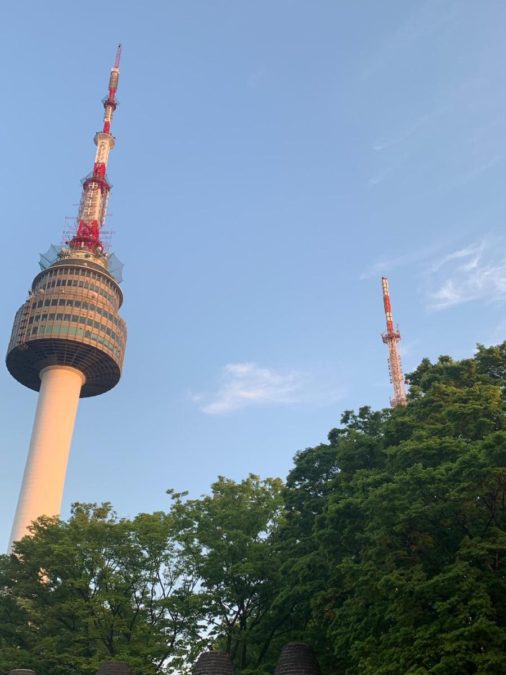 Getting to the bar at YTN Seoul Tower
Getting up to the base of the tower is easy. We opted for the cable car as it was more fun. But of course, you can hike, take public transport or self-drive up there too.
Allow yourself 30 minutes to an hour for the cable car from the bottom of the hill. Maybe more on weekends.
The cable car costs just 9,500W for a return adult ticket, or 7,000W if you opt for a 1-way ticket. Child tickets are 6,500W and 4,000W respectively.
The cable car is open 365 days a year from 10 am until 11 pm. Sometimes these hours are extended, so just check when you get there.
Also noted, the cable car is wheelchair accessible… but if you do drink too much at the "rooftop" bar, we can't guarantee they will provide you with a wheelchair to get back down in 😉
The roof top bar at YTN Seoul Tower
We are calling it a rooftop bar, but in fact, the bar at the N Town in Seoul is actually located on the 2nd floor of the N Plaza, at the Roof Terrace.
To find your way to the bar, just follow the crowds of people wanting to put their padlocks on the "locks of love" fence.
The bar serves draft beer and basic Korean snacks. Literally, everyone was drinking beer while watching the sunset. Definitely get there early to nab yourself a good table at the front of the bar. It can get busy after sunset with all of the couples coming up in the evenings to watch the city's lights come on.
The locks of Love
While this might be about the rooftop bar, let's be honest. A drunken activity on the way out is always fun. Grab yourself a lock from the shop on your left as you leave. For around 7,000W you can buy a lock to lock onto the fence. If you can find space!
It's all in good fun, but hey, if you happen to be with the love of your life, why not!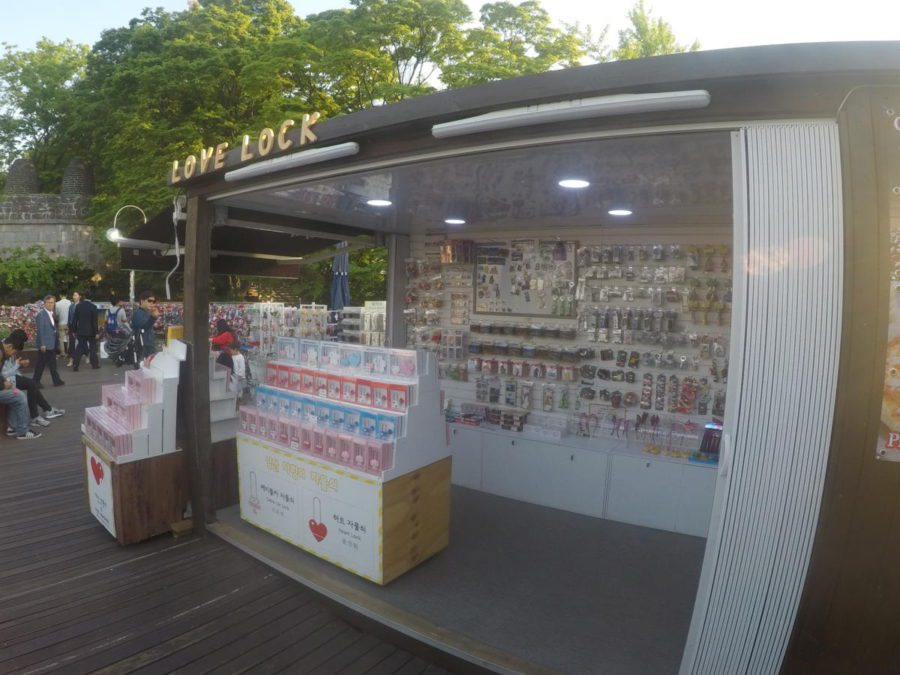 Floors and amenities
Plaza P0/B1 (Lobby): Entrance to Observatory, Information Desk, Alive Museum, Cafe, Children's Theater, Nursing room
Plaza P1 – Ticket booth, Food Court, Light Garden, Grass Terrace, Souvenir Shop, Characters & Photos
Plaza P2 – Restaurant, Roof Terrace, Cafe
Tower T1 – Korean Restaurant "Hancook"
Tower T2 – Analogue Observatory, The Wishing Pond, Sky Restroom, Sky Coffee, Photo Studio
Tower T3 – Digital Observatory, Shocking Edge and Digital High-powered Telescope , Gift shop
Tower T5 – A revolving restaurant
For more activities to do in Seoul and South Korea, check out my other posts:
Food and drinking tour in Gwangjong markets
How to book a Korean Buddhist temple stay
And if you are hungry after all of that beer drinking, check out THIS link to find more popular cafes in Seoul from a true expert!!