Eat and drink on a Gwangjang markets food tour with Mike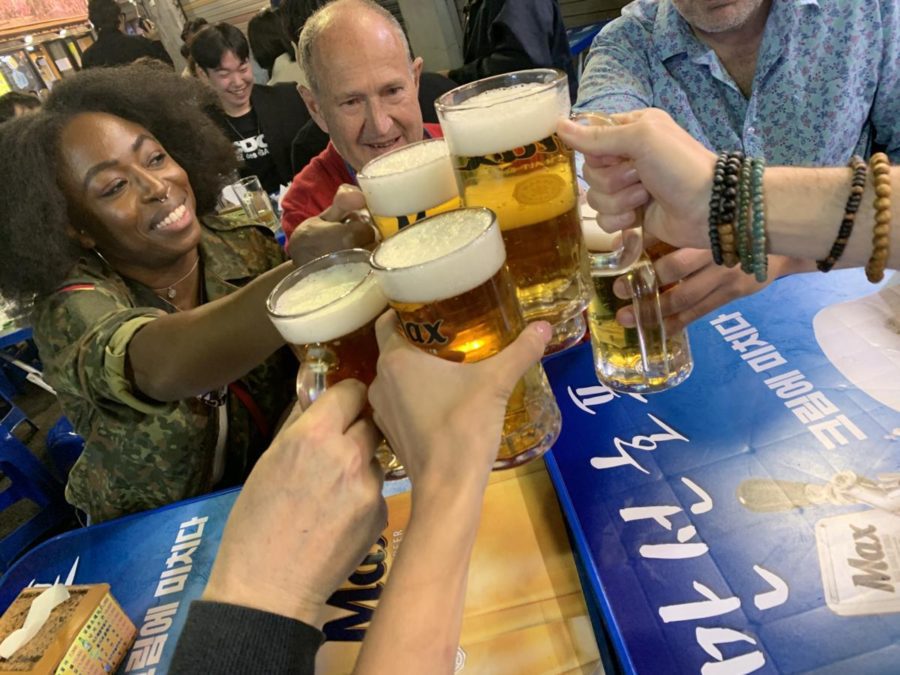 Have you just arrived in Seoul, South Korea? Are you planning your vacation to Seoul? Are you just thinking about visiting Seoul?
Either way, the first thing you need to be doing is booking yourself on one of Mike's tours. Gwangjang markets food tour should be the first thing you book when you are planning a trip to Korea.
Mike is an American Korean, and he knows a thing or two about Korean food. Having previously worked as a chef in Seoul, he knows all too well what it is that draws foreigners here from the four corners of the globe.
Korean food. All of it. Now!!!
And in particular, street food.
The kind with plastic chairs and a smoky charcoal haze around them, Stuck bang in the middle of bustling market space. With kid's clothes being sold on one side, and dried squid on the other. Perhaps with your back up against an electronics store that has already closed for the evening.
Mike steps in to help wayward tourists find their feet on the hectic Korean street food scene. He doesn't just hustle you from one stall to the next waiting with his hand out for kickbacks.
No, he takes you to the places he knows you will want to eat at. And not for profit, but to share the story.
He will take you on an epic Gwangjang markets food tour lasting several hours. Afterwards, the group can carry on drinking, as we did until 4 am, but that's another story.
Mike's Gwangjang markets food tour starts at the entrance of the markets at 6:30 pm. This is just before the crowds of locals and tourists descend for their nightly dinner.
For this reason, we hit the most popular stall first.
Cho Yonsoon Korean Noodles
From Netflix Street Food, Season 1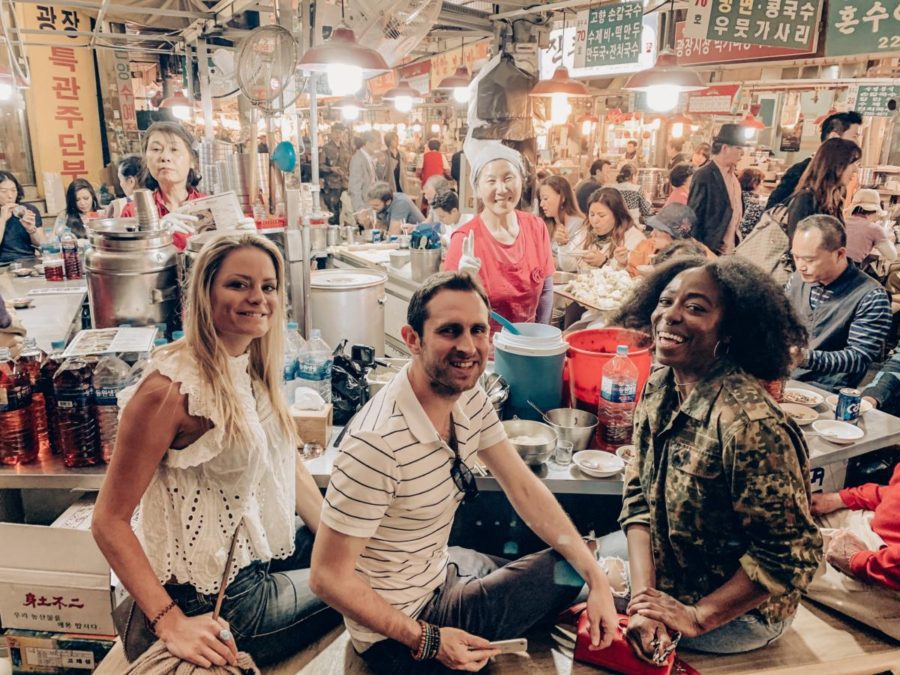 Cho Yonsoon has a hand-cut noodle stall in Gwangjang markets. She was recently the main stall holder shown on the Netflix tv show "Street Food"
It's clear to see she is a popular choice for locals and foreigners alike. Her stall has a near-constant waiting line now. But Mike, being a nightly presence with his crew gets a little bit of special treatment.
We get in early, so we don't disrupt the busiest time. This gives us a bit more space around the table and we don't feel rushed to move on so much. Cho Yonsoon is also kind enough to allow Mike's group to split dishes. Instead of everyone having to buy entire dishes, we are able to buy a sample of each dish and share them amongst the group. Saving everyone money, and room in our tummies for the next 5 or so places we stop at to eat.
The menu is simple. Noodles, or dumplings. Soup, or no soup.
We shared the hand-cut and stretched noodle soups, and meat and kimchi dumplings. It was all absolutely delicious, but I highly suggest you refrain from eating too much at the first stop.
You have many more to go on this Gwangjang markets food tour with Mike.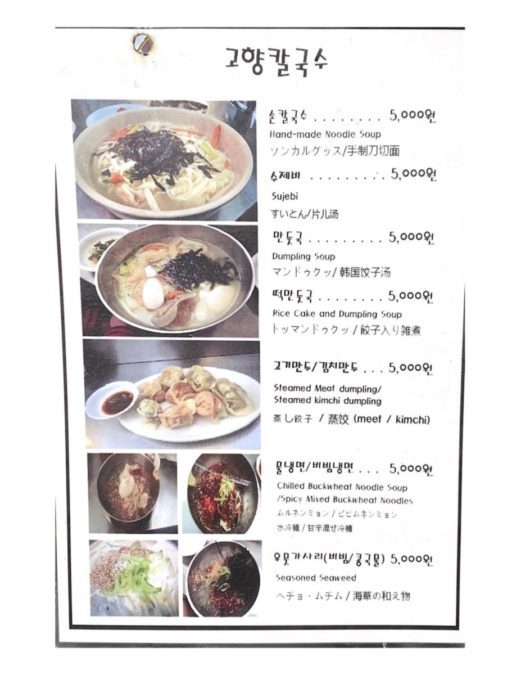 Gunsook Jung- soy marinated crab and banchan
Also from Netflix "Street food" season 1
Gunsook Jung's family have been operating this food stall for over 80 years. She was featured on the Netflix show "Street Food" too but is less welcoming of the fame the show has bought.
She very graciously lets Mike's tour group try any of her Korean banchan. These are all different marinated side dishes that usually accompany Korean meals. You may recognise some of them from eating at Korean bbq places, but many are very local.
Her famous soy-marinated crab was delicious. We also chowed down on some marinated garlic cloves and various other types of pickles.
Mike has done a great job explaining all of the dishes and answering our questions. Many of the banchan items were unrecognisable to us, so it was great having that guidance.
Stop number 3 on the Gwangjang markets food tour- Mung bean pancake
This particular store wasn't featured on the Netflix show "Street Food" but we were shown the one that was. The reason we ate here is because of space. Unfortunately, the "famous" one, is just a street cart, and we were a thirsty bunch.
We needed to sit down, relax and have makgeolli. This is a Korean milky rice beverage drunk out of small bowls. We drank a bottle of makgeolli and tasted the delicious mung bean pancakes.
I have a feeling Mike just wanted us to drink more because he knew what was in store for us at the next place….
Eating live baby octopus and beef tartare
Mike certainly knows how to keep his guests entertained while on a Gwangjang markets food tour!! At the start of the tour, he explained this dish…
"So, who is going to eat the live octopus dish? You know, we chop the tentacles and mix it with raw beef and egg. You place it on your tongue and the tentacles suck on your mouth. It's delicious."
Needless to say, many of the more "normal" people in the group shook their heads, unsold. But a pack mentality is an interesting thing… within seconds of the dish being placed on the table, every single person on the tour had tried it.
Even the vegan.
I'm not even kidding.
Would you be interested in eating live octopus in Seoul yourself?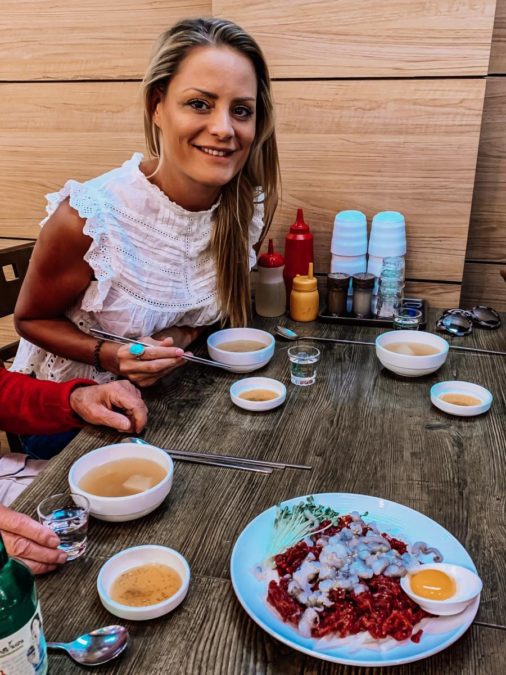 It was during the live octopus dish that Mike bought out the big guns.
Soju Tasting.
He had 2 different types of soju for us to try. One was a cheap version costing around 1800won at the 7-11. The other is a premium soju for around 7000won.
He showed us how to drink them, and gave us tips on proper Korean drinking etiquette. Then with formalities out of the way, we were on to playing drinking games until the bottles were finished and the restaurant staff were starting to clean up around us.
The Gwangjang markets food tour was coming to an end, but the tour continued on.
Scenic views over Seoul
We left Gwangjang markets as they were closing down for the evening, and followed Mike outside. He leads us through many more alleyways and laneways around Seoul. Eventually stopping at a building and entering. I can't tell you where this is, because it's one of the secrets to Mike's tour. For that reason, I won't even show you a photo of the view, you just have to trust me!
It was great! From the top, we could see old and new Seoul. There wasn't anyone else up there, even though the space was made for viewing the city. Mike reminds everyone to buy a beer or soju before we make our way up, so you can enjoy the view.
On the way to the next spot, we drop into a local street-side tented "restaurant" for the last food dish of the evening. They had some interesting food options, so make sure you save some room. I didn't unfortunately.
The unknown drinking alley
The last stop on this Seoul drinking and street food tour was an amazing surprise. While walking through the now quiet streets we almost thought there could be no more. It was getting late, and everything seemed closed around us.
We were led down another laneway to a place we certainly wouldn't have found on our own. It opened up into a bustling square full of uni students drinking beer and eating Korean fried snack food. Beers were all on tap, and the vibe was electric.
There was not a single tourist in sight! #winning
How to book this Gwangjang markets food tour
Book your epic drinking tour with Itseoulgood.com , but let Mike know I sent ya! This is NOT an affiliate link and I have not been paid for or compensated in any way for providing this blog post. I just loved the tour so much, I wanted to make sure no one misses out on it!
If the Airbnb booking page you get to doesn't look like this, and it's not run by Mike, you are in the wrong place! Closeout and go to his website directly.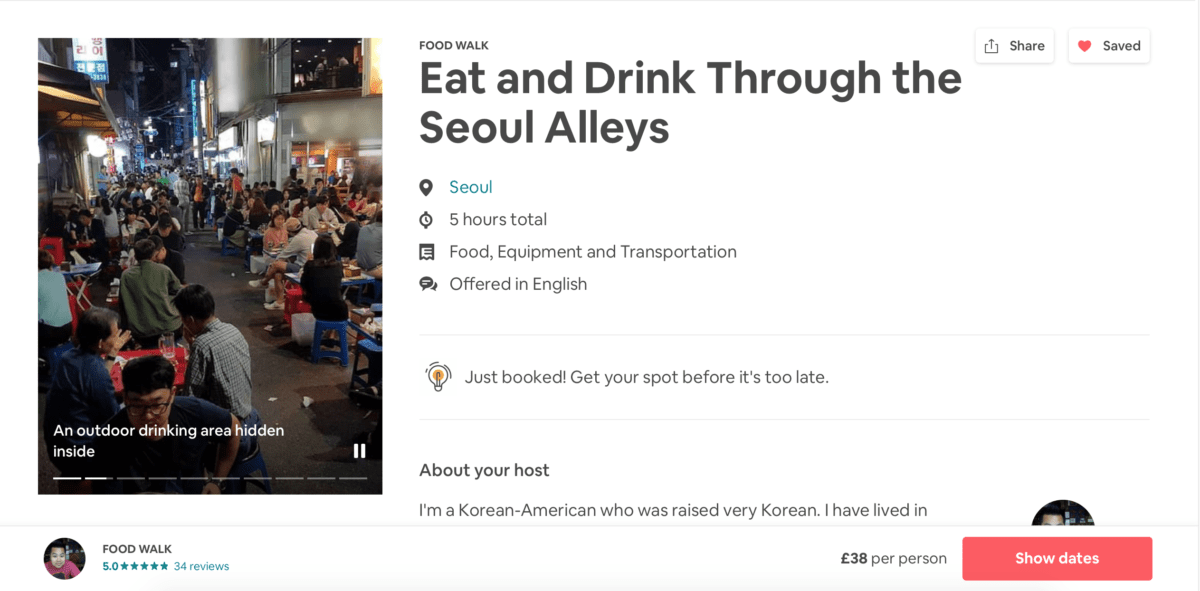 If you have an interest in food…
While you are in Korea you should make time for a temple stay.
This one includes a cooking class with another Netflix tv star- Jeong Kwan, the monk chef. She was made famous after appearing on Chefs Table, season 3. Read about my experience, and how you can book into the class too.