Coffee shops in Kathmandu are popping up everywhere now. While the locals are more in tune with drinking Chia, tea, at home, they are taking to drinking coffee when they catch up with friends.
As a consequence, many of the hippest places in Thamel now have expensive coffee machines and full barista trained staff.
Don't expect these cafes to just be full of cashed-up tourists, everyone from the old to the young are enjoying coffee in Thamel now. Prices for a cup of good coffee are around the $1.50- $2 mark but expect to pay more for flavourings or almond or soy milk.
Coffee shops in Kathmandu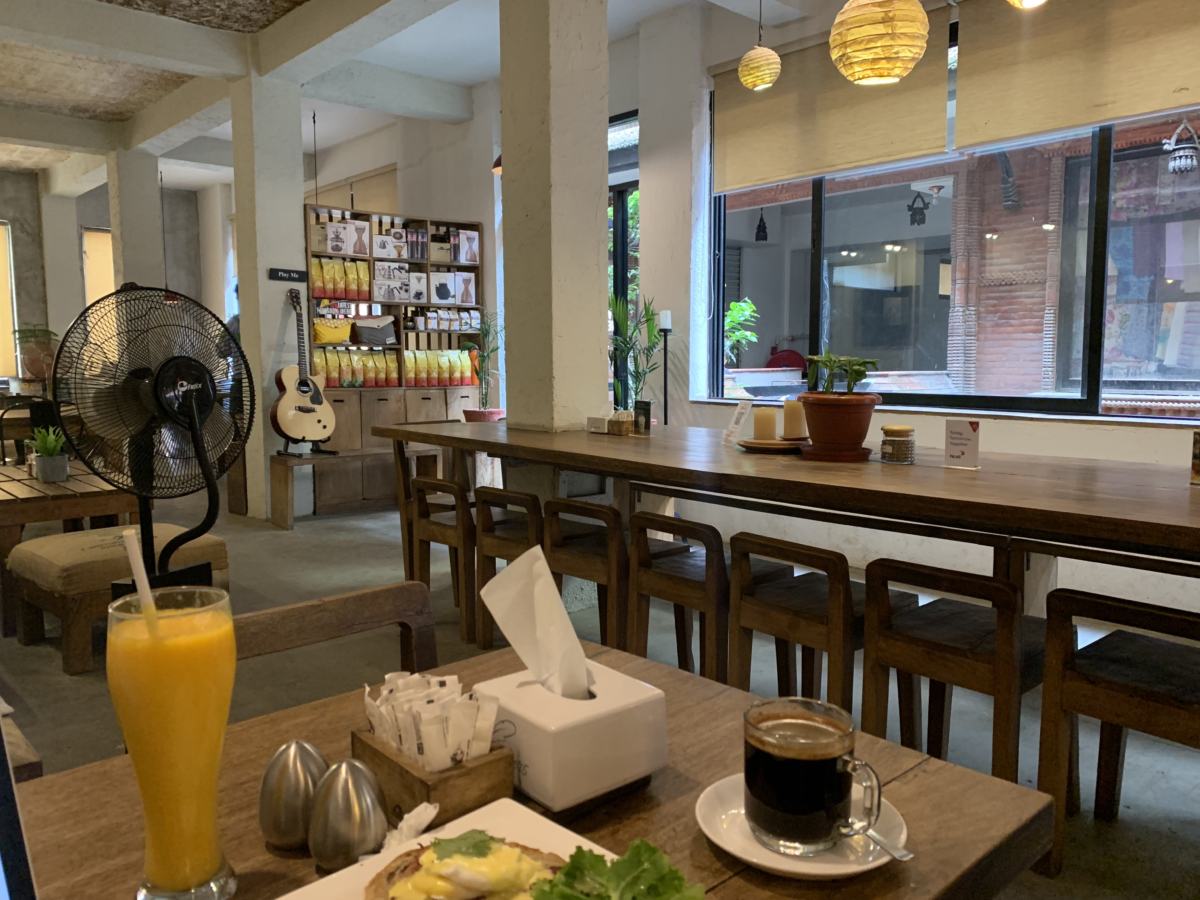 The Himalayan Java Thamel branch
The Himalayan java coffee brand is the Starbucks of Nepal. Boasting over 20 branches in Nepal alone, with most in Kathmandu and 1 in Pokhara and Chitwan, they have also recently expanded their brand internationally. The franchised stores are now available in Bangkok, Canada and the US.
The branch in Thamel is my usual go-to spot because of the location. However, the branches out in Bodnath and Lazampat are also really excellent and offer the same wonderful service and facilities.
Himalayan java coffee has an extensive coffee menu and a great, but simple, cafe-style food menu. Choose from items such as eggs benedict and pancakes for breakfast or for something heavier steak sandwiches and paninis are available on the all-day menu.
Coffee beans used at Himalayan java coffee Thamel are all owned by them.
You can also purchase bags of beans to take home along with other imported coffee items such as stainless coffee cups and mugs. If you are lucky, you can grab a bag of coffee grinds free of charge for your garden from the front counter.
Himalayan java coffee Thamel is well equipped for anyone looking to work online while in Thamel. Almost every table has its own wall plug. The internet is free for 90 minutes. It also tends to be quite reliable. This is of my favourite coffee shops in Kathmandu.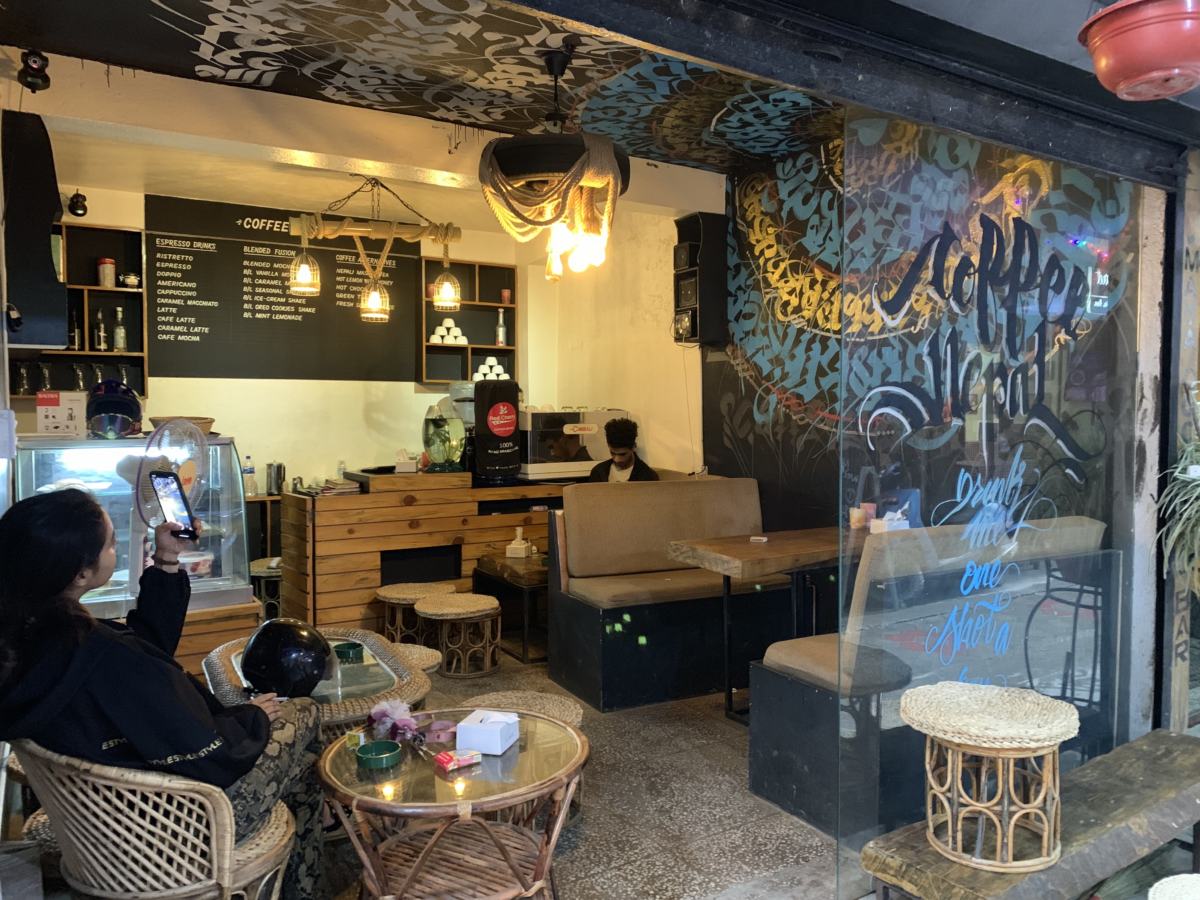 Coffee Nepal
This small little pop up looking coffee shop is just down the alleyway near the supermarket in Thamel. While it looks like a hipster's paradise, it actually offers really good quality coffee at a decent price.
There was also a small swarm of locals sipping americano and lattes when I walked past but it seems to be just a bit out of the way for tourists to navigate. This is a good thing- pop by and have a chat with the staff, they will appreciate the chat in English. Don't be afraid of the location, there are some great little businesses down that alleyway including a German sausage takeaway place and a funky bar called Roots.
Random coffee guy
I stumbled across this coffee place on the outskirts of Thamel and had to stop. They make gravitational coffee with freshly ground coffee beans. It's a small cafe, with just 1 table, but the coffee cups are takeaway and most people I saw were drinking them while sitting on the step out the front.
Because there was no street sign, I was unsure about the company. The man serving me said it was a branch of Rhino Coffee. I attempted to find the main cafe while I was in Kathmandu but never did find it. I feel like this branch has only just opened up, so you may be seeing more about it in future months as they get off the ground.
This might be one of the hardest coffee shops in Kathmandu to find, but fingers crossed it's still there when you do.
A coffee was 120rs and took about 3 minutes to make.
French Bakery
Just along from the coffee guy is the French Bakery. It's a great little cafe with a nice breakfast/ brunch menu. They also offer dine-in and takeaway coffee.
The coffee menu includes flavoured iced coffees and all of the hot coffees you would expect.
They may not have a lot of seating, so get in early if you want to spend some time there.
It is also perfect for vegans, diabetics and gluten-free diners, ask to see the special menu.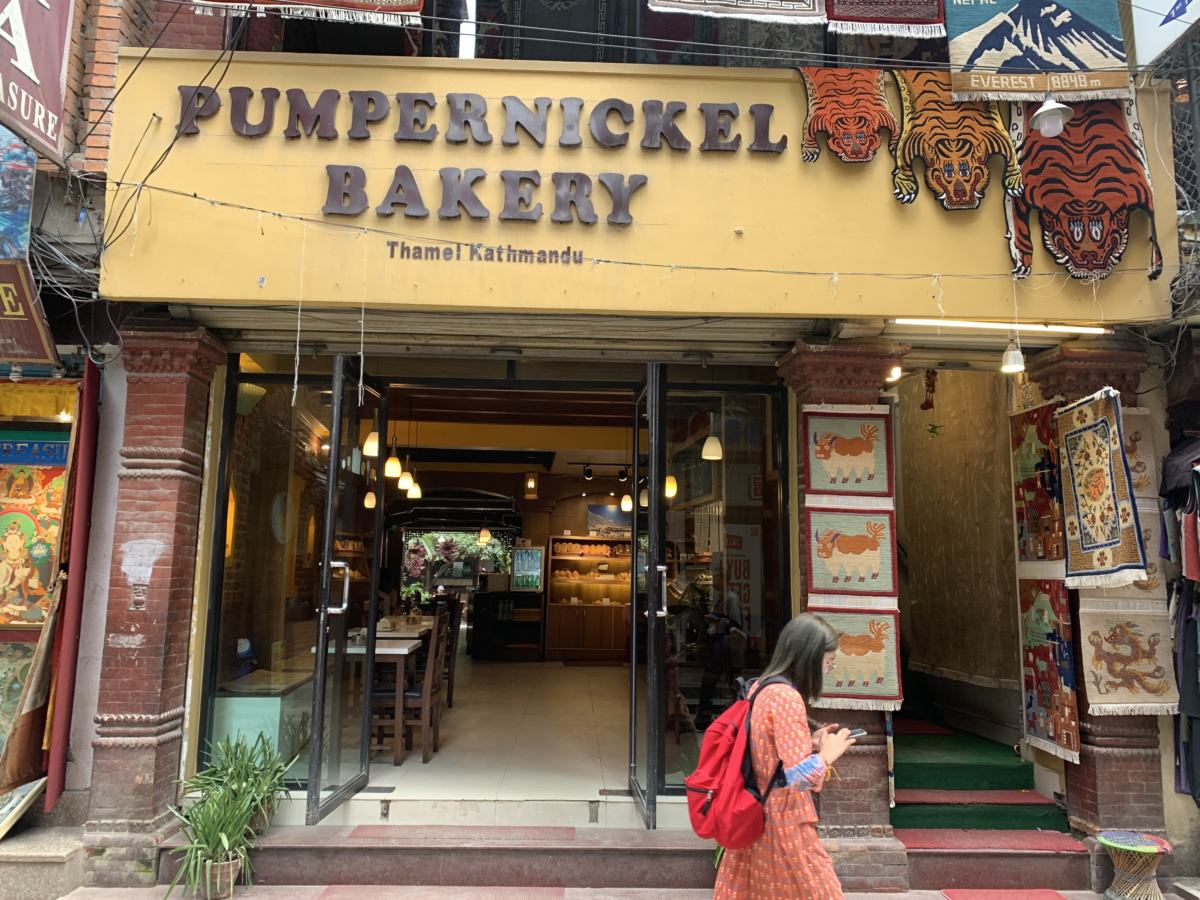 Pumpernickel bakery
Pumpernickel is another bakery and coffee house that has been in Thamel for years. 35 years to be exact!
It has expanded considerably since the smaller store when I first came to Nepal, which can only attest to its popularity.
Pumpernickel offers a selection of daily fresh bread and pastries such as croissants and cakes and of course, pumpernickel bread.
The coffee is delicious and they offer the standard selection of hot and cold versions of coffee. Make sure you try their Marsala tea if you get the chance too.
Walkthrough the cafe to the back part for a bit of peace and quiet. There are a few plugs for anyone wanting to work with their laptop.
Pop by here in the late evening just before they close for half-priced bread if you are on a budget in Nepal.
Where have you found the best coffee in Thamel?
Hipster cafes are all the rage now too, check out these great little spots while you are in Kathmandu