This Driving to the Chocolate Hills guide will make visiting the Chocolate Hills in Bohol Philippines easier, cheaper and faster when you do it alone. Don't book a van tour unless you are a big group, or you like being cramped for long periods of time in a hot car.
If you are travelling solo or in a small group of one or two, getting yourself to the Chocolate Hills in Bohol is easy with this self-drive guide
Driving to the Chocolate Hills is easy with this guide
Getting there if you are staying on Panglao island.
Hire a scooter from your hostel, or somewhere nearby. Just ask at your reception, if they don't rent them out, someone they know will. I paid 350Ps per day for mine at Bohol Coco backpackers.
Make sure you load it up with petrol before you set off too, sometimes they are returned almost empty, and no one wants to break down on their way to the chocolate hills!
Follow this map. It's simple. once you get over the bridge to Taglabaran, just turn right and continue until you see a turn-off on the left for the Chocolate Hills.
Along the way…
Along the way, you will pass through the manmade forest which is quite a sight. There are plenty of spots to pull over if you want to grab a photo, so drive slow.
There is also a tarsier sanctuary. The entrance fee is a reasonable 60pp, and the stop is a great halfway point for you to stretch your legs. Honestly, it was an odd place to visit, and something I wouldn't do again. The tarsiers were all sitting in the trees looking a bit sad, maybe that's how they usually look?
But I did hear stories afterwards about them being drugged to stay awake during the day. Tarsiers are nocturnal animals, so it must be hard keeping them up all day for tourists to take pictures of them.
The last 5-10kms of driving to the chocolate hills are the most spectacular. The winding forest roads give way to rice terraces and stilt houses. It's absolutely stunning. Again, you might want to drive slowly here so you can pull over and take photos. The roads are reasonably quiet, so you will feel safe stopping.
Follow the signs to the chocolate hills, it's well signposted and they are used to hundreds of self-drive tourists each day.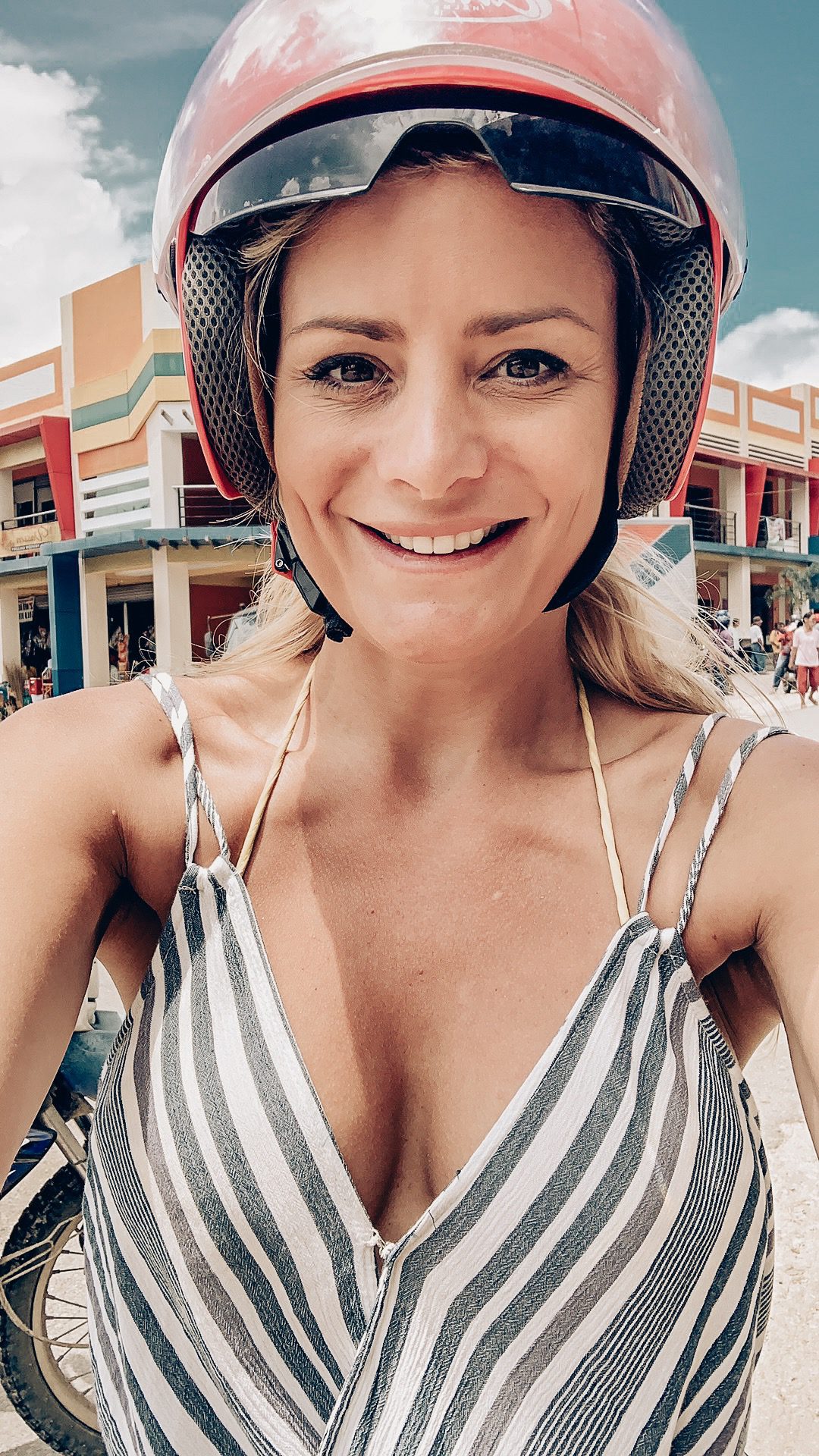 Entrance fee for The Chocolate Hills
The entrance fee is 50ps for a scooter and a person. You will get given a paper ticket to show you have paid, but no one ever paid attention to it afterwards and I was never asked for further proof.
The road winds up the side of one of the Chocolate Hills, and traffic can be heavy so be careful of oncoming tourist vans. As you enter, there is a small area for motorbikes and scooters to park. Your helmet is safe to be left here.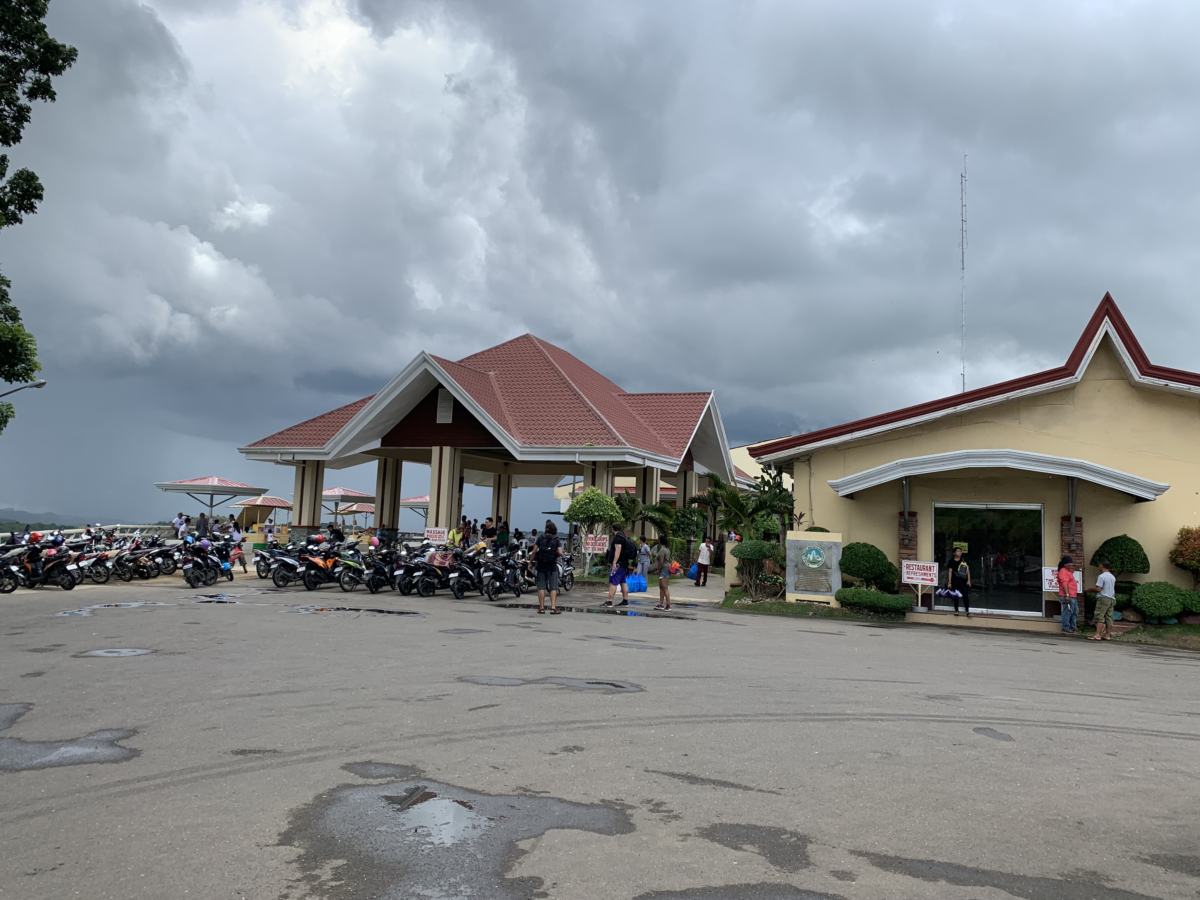 Facilities
The chocolate hills tourist space has a video playing about the chocolate hills inside an open-air building. You can watch a short documentary on how geologists believe the hills were formed thousands of years ago. The video was in English while I was visiting. I'm not sure if it is played in other languages too.
There is also a cafeteria onsite, with air conditioning. The food served looked ok- basic sandwiches and Filipino cuisines such as sisig and adobo were on the menu the day I was there.
Of course, they have reasonably clean bathroom facilities too for you to use.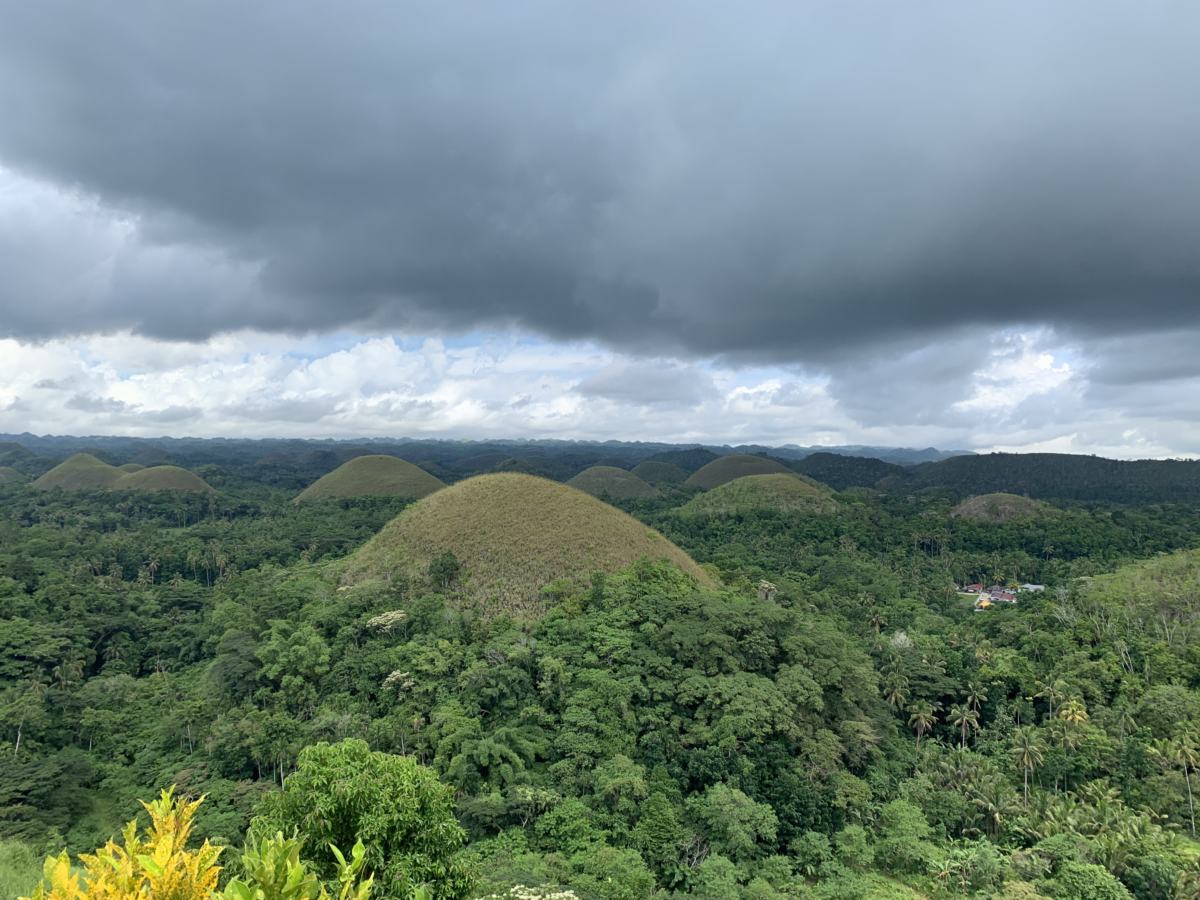 The Chocolate Hills
The hills themselves actually stretch for more than 50 sq km, so what you are able to see from the tourist site is only a small sample.
The best viewpoint to take pictures at the chocolate hills is on the peak just by the car park. There is a concrete staircase leading up the side of the hill, along with small covered stopping points every 10 meters or so. These are necessary especially for families with small children, or the elderly. In my case, I needed to stop in there once because of the rain. And, a bit because I was lazy and unfit. But that's another story.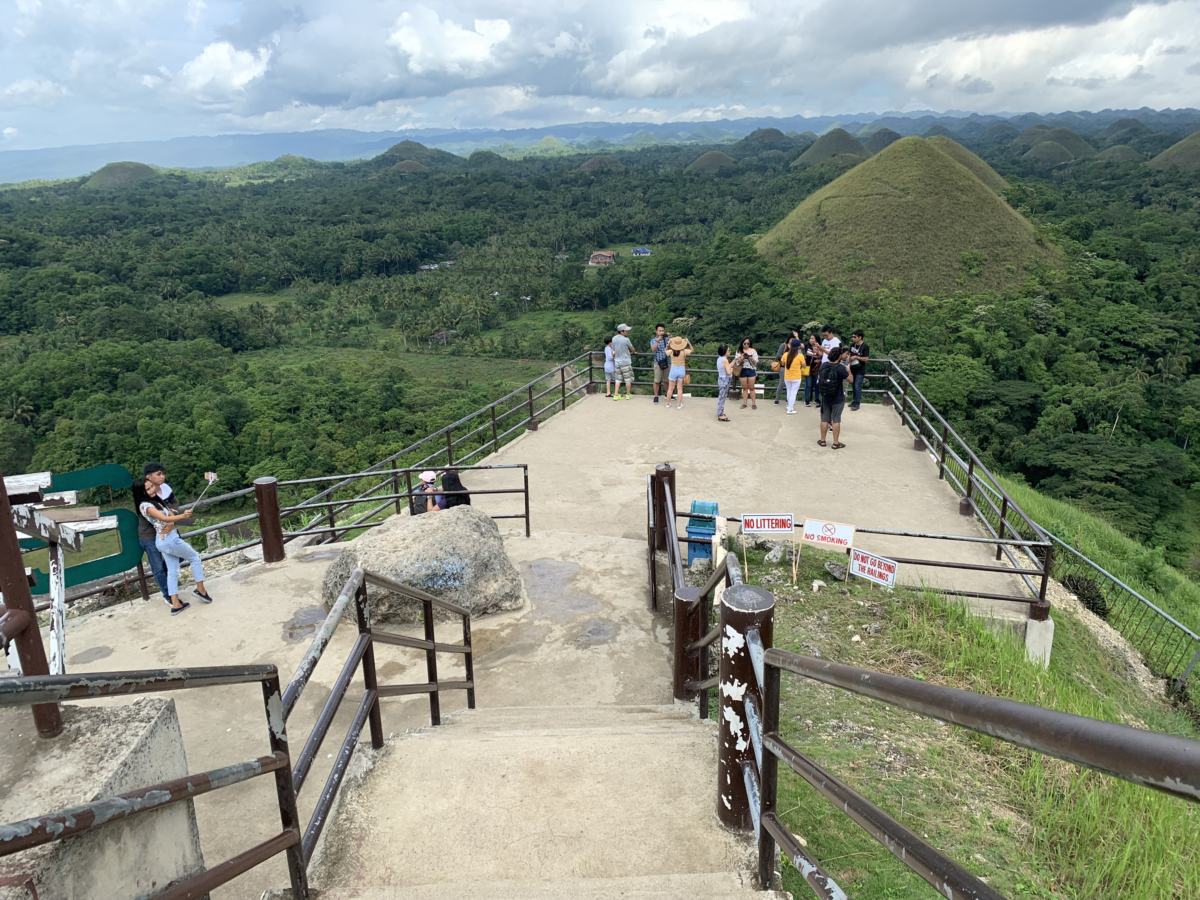 At the peak of the chocolate hill, there is a wide-open area for you to take selfies and group photos. The best shots are taken on the smaller platform, you will see this in front of you as you enter.
There is also a fun "Chocolate hills" sign to the back of the mountain, unfortunately, it is positioned in a way that makes it impossible to get the whole sign in a single shot, so it's a bit redundant.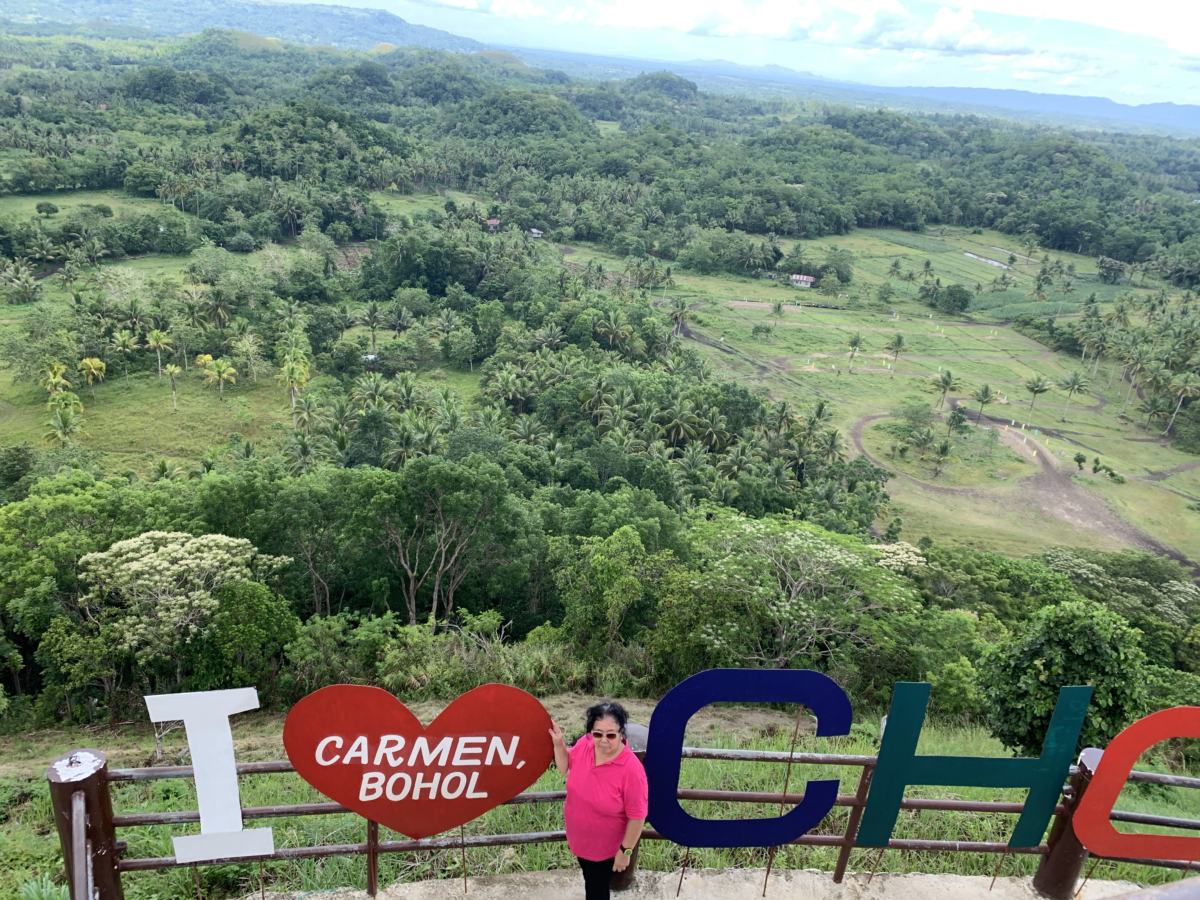 The drive home
The way back is an easy drive, I stopped at a street-side burger place about 20 minutes by scooter on the left. The burgers were fresh and delicious. For around 70 pesos I had a burger with an egg and a bottle of coke. Bargain!
A cheeky hint for self-drivers on scooters- take a towel in the wet season to dry your seat. A two-hour drive on a wet seat with bare legs only ends in a really bad rash.
Hopefully, this self-drive guide to the chocolate hills helps you plan your next vacation while in Panglao, Philippines.
While you are in Manila, check out Ministry of Crab