Air bnb experiences offer a rare insight into Cuba's thriving black market economy. Jorge is the local Cuban economics graduate hosting the tour.
When planning my recent vacation to Havana, Cuba. I wondered how much had changed since my last visit in 2011. I knew ties had been loosened somewhat during the Obama administration but had no idea to what extent. All I could assume was that there was going to be more US products available to purchase. Maybe more foreign investment with other businesses in the tourism sector. But I wasn't sure.
I knew from my years working as a travel agent that tourists could now fly directly from the US to Havana. Varadero, the famous beach resort town also offered direct flights.
Previously, my last visit was very different. We had to enter and exit via Mexico. We risked life and limb on those old Air Cubana planes. Thankfully, many of those planes are now upgraded.
Back then, we were also warned constantly not to tell immigration in the US that we had recently been to Cuba. This was for fear of deportation from the US. Also, we very carefully hid any cigars purchased and removed Cuban packaging from them. Ah, those were the days.
Why do a tour about Cuba's blackmarket economy?
I mean, isn't that a bit "weird". After all, it's meant to be a vacation, not an economics lesson?
Sure, the thought of doing a tour that focuses on Cuba's black market economy might sound weird to some. And I get that. But consider this. The Cuban population sustains itself through an interesting set of economic principles. Most of which, are created by the people for the people.
Interestingly, they are also run alongside opposition government policies. Many government officials and employees are even a part of this system, as it gives them a way to boost their income. It might not be legal per se, but…
"I pretend that I work and the government pretends that they are paying me"
As a tourist in this economy, it can be important to understand why Cubans operate this way. It will potentially help you make further decisions about how you spend your money while you are there. Also, it will help you understand the Cuban/American trade policies. Which will come in handy next time you are asked about them in a pub quiz.
Over 2600 people have booked the tour to learn more about Cuba's black market economy.
So, you are in good hands.
Jorge met us at a local park and walked with us through the streets of Havana chatting casually and candidly about Cuban day to day life. He doesn't sugarcoat or sensationalize anything, which was refreshing. It was all very real. Very honest.
He told us a few of the basics of Cuban day to day life.
Around 80% of Cubans work for the state
Most of them earning an average of 767Pesos per month
This is *about* $30USD, per month
Free education is available to all citizens
And free healthcare
ALMOST everyone has a side hustle!
The cuban side hustle
Of course, Cubans cannot feasibly live on $30 a month. If you glance around, you will see local Cubans with smartphones, branded clothing and other imported items.
The way that they get access to these sorts of things is through their side hustle. In Cuba, this is called "Searching".
Jorge and his Airbnb experience tour on Cuba's back market economy are also considered as a type of "search". Basically, anything Cubans do to earn some side money is considered a "search". Through operating tours such as this one, Jorge is able to earn foreign currency.
What happens on Jorge's Havana tour?
You will be led around quiet Havana streets while Jorge tells you about daily life. He speaks about the situation with supermarkets in Cuba. This might help you understand why your local Casa Particular doesn't have eggs or bread on offer. Or why your mojito has no mint. It will help you appreciate how much the locals are trying to make your Cuban experience great, even though they are struggling themselves.
Jorge will answer any questions you have. He seemed happy to answer even the toughest questions about daily life and politics. This alone made the tour more insightful than I expected.
He explained how the offline internet works in Cuba and showed it to us on his phone. It was interesting to see this whole other side of Cuba, that you would otherwise not know about. Jorge was a smart guy who tried his best to engage the tour group and enticed us to ask questions.
After the walking part of the tour, we were led to Grandmother's house, a small apartment overlooking the capital building. She also spoke to us, while Jorge translated. It was really insightful hearing both sides of the communist coin. The side who are happy for it, and the side who disagreed that it made Cuba a better place.
How to book
If you are interested in booking onto Jorge's tour, check out Airbnb experiences and book it here.
This is NOT an affiliate link and I have not been paid for or compensated in any way for providing this blog post. I just loved the tour so much, I wanted to make sure no one misses out on it!
If the page you get to doesn't look like this, and it's not run by Jorge, you are in the wrong place! Closeout and find the right one!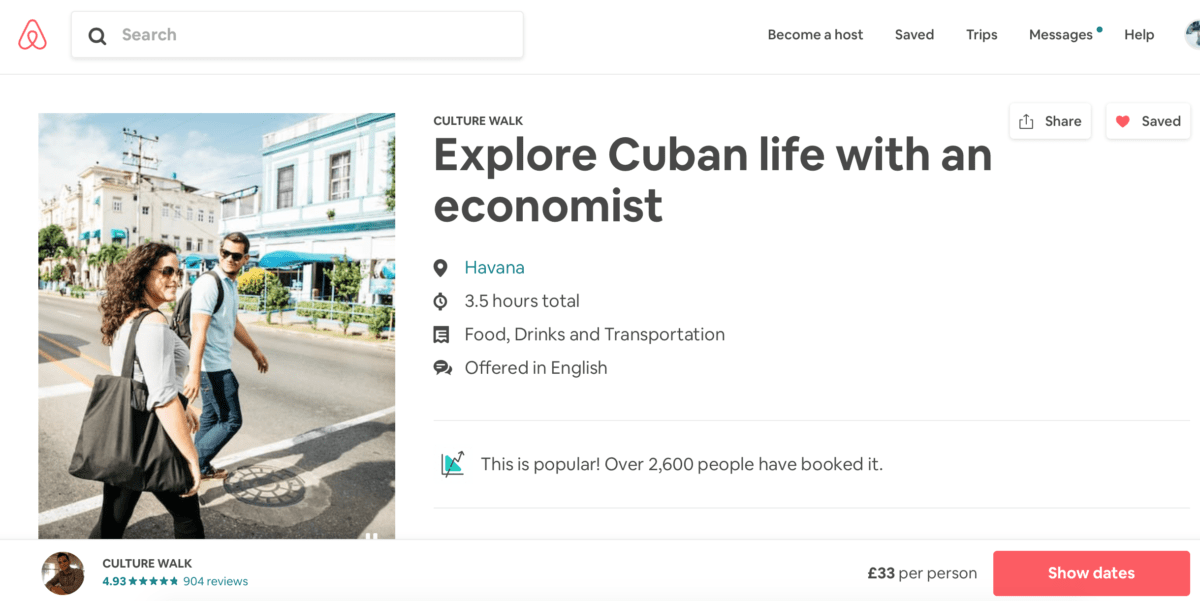 Interested in reading more about Cuba? Here are more blog posts I have written about my time in Cuba in 2019
3 Things to do in Viñales, Cuba for under $10
Dinner at the best paladar in Havana, Cuba