You may have heard of this once-thriving city, Agdam located in Azerbaijan. It is now part of the disputed region of Nagorno-Karabakh. A ghost town. Visiting Nagorno-Karabakh is not high on the average tourist list, however, I think you may have heard of it before.
Scenes of the city were broadcast into millions of homes around the world on the news every night. Perhaps, while you sat watching tv after a long day of work back in the 90s. Maybe you were doing your homework and glanced up.
I did. I was 9 years old when the scenes of thousands of people fleeing the recently bombed city flashed on my screen. While I didn't understand then what was happening, some 20 years later I would find myself in that very city of Agdam. Complete with a clapped out Volvo station wagon and 30 or so other friends.
Is it possible to visit Nagorno-Karabakh today?
Yes, and, no.
Here's how you can drive through an official no man's land. Complete with bombs dropping daily and an army present, and survive to talk about it. No guarantees, this was just my experience. Enter at your own risk.
I am now banned from being granted an Azerbaijan visa for my exploits, but that's half the fun!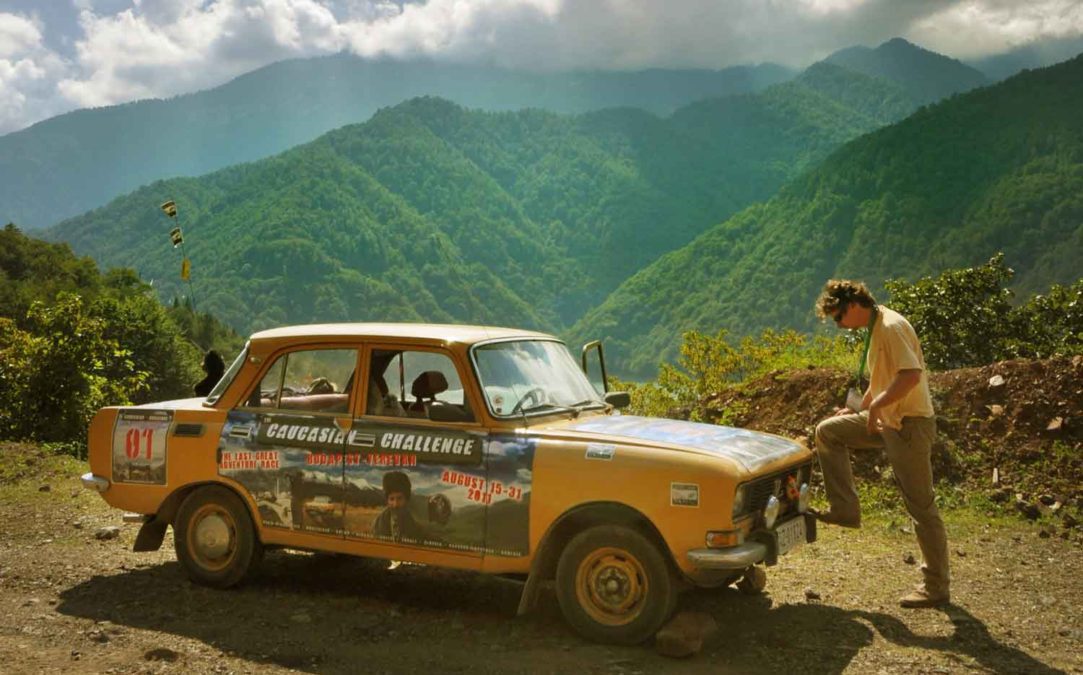 The easiest way to drive to Agdam
I entered the Caucasian Challenge in the summer of 2011. A friendly rally of cars, motorbikes and a handful of international drivers. We were from around the world. With a common goal of racing from Budapest, Hungary to Yerevan Armenia over 10 days.
Twenty or so cars took part in the rally to Yerevan, stopping in Agdam. We all paid the 550 Euro entrance fee and bought our vehicles.
The drive from Budapest to Yerevan took use through the Caucasus beforehand, weaving through countries like Albania, Montenegro and Croatia.
If you happen to have time to stop in Montenegro, here's a handy list of things to do. Enjoy! And if you have some time to spare while in Split, Croatia, check these out.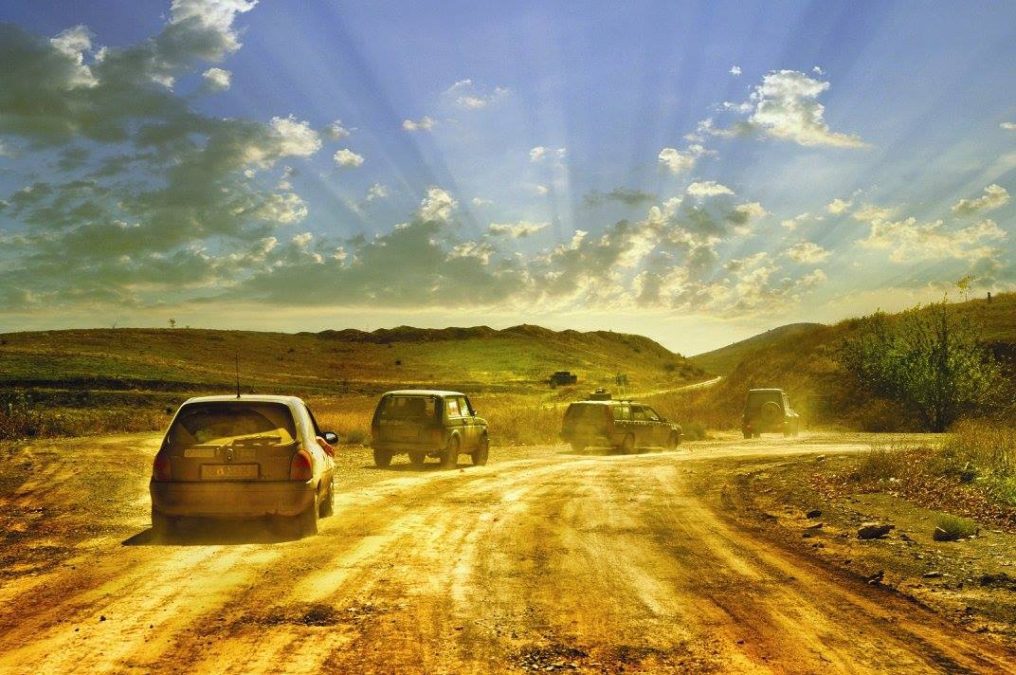 The best cars to drive through a no mans land in
My weapon of choice? A 1993 Volvo 850.
I called it a "dad car", for the very reason it was THE family wagon of choice for generations of road tripping holiday-makers before me. It was trusty. A true never fail vehicle. I was also a car that doesn't stand out too much, it was understated. Part of me doubts many families would consider a leisurely drive with the kids through a bomb zone in their Volvo though.
Other cars chosen by rally members included beat-up Russian built moskivich sedans. A few Suzuki Jimmy's along with bigger 4×4 overlanders. A few came on well-equipped motorbikes.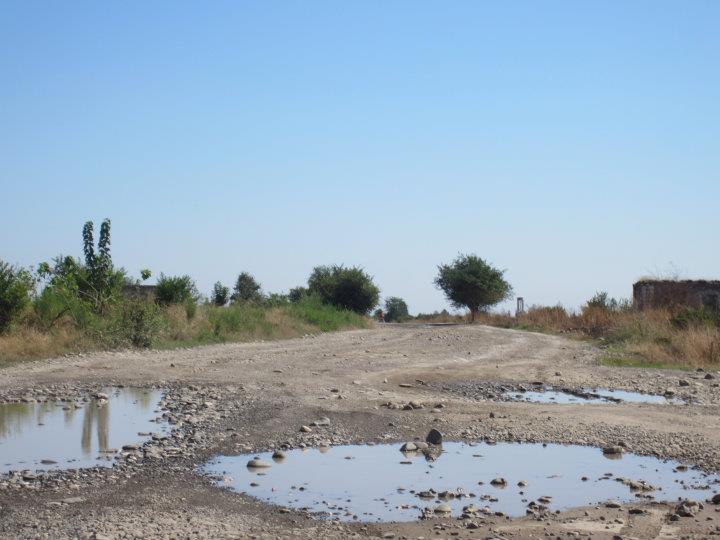 What is Agdam?
Agdam is now a breakaway city-state that is not legally recognised as its own country by either Armenia or Azerbaijan. They issue their own visas and fly their own flag. It's a region that is otherwise landlocked by these two countries. Their only tourists must arrive by private vehicle, somewhat illegally, or hike, also, illegally.
Actually. I have a feeling travelling to Agdam is illegal… Visiting Nagorno-Karabakh is also sort of frowned upon sadly.
Ignore that fact and this just makes it a true destination of thrill-seekers, adventurous road trippers and zombie movie lovers.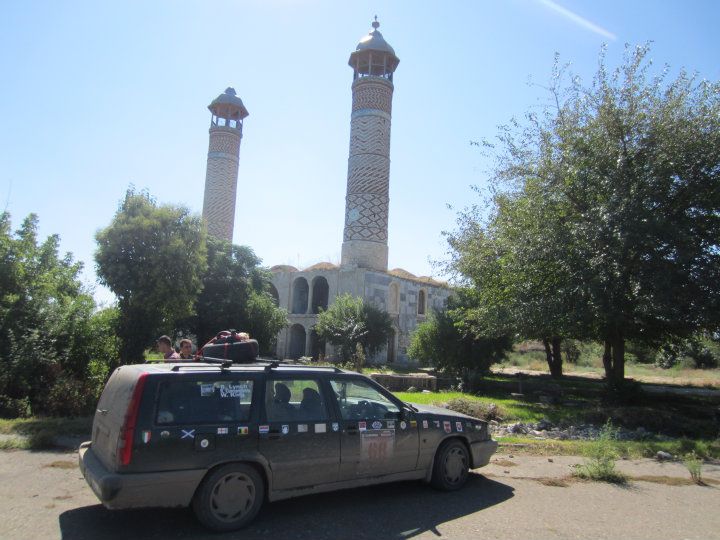 Entering Agdam through Stepanakert
Visiting Nagorno-Karabakh was an interesting process. Entering Stepanakert the main city at the edge of what's left of the city of Agdam was easy. Getting a visa to legally enter an illegal city was also surprisingly easy. Driving through Agdam however, was decidedly more difficult.
Finding a city whose name does not adorn a sign post is still simple. Just drive down the main road and turn off at the only main intersection in town, once you start noticing the bomb marks in the ground.
Soon your car will drive past crumbling buildings, broken fences and the remnants of a city no longer standing. The potholes on the road are a sure sign people don't actively live among the ruins. We spotted several locals squatting in the bombed houses. A couple of local taxis were randomly driving around. I'm not sure what they were doing, but I doubt they were there to collect anyone. I spied, rather sadly, one lone man visiting a cemetery within the city.
Other than that, we were alone.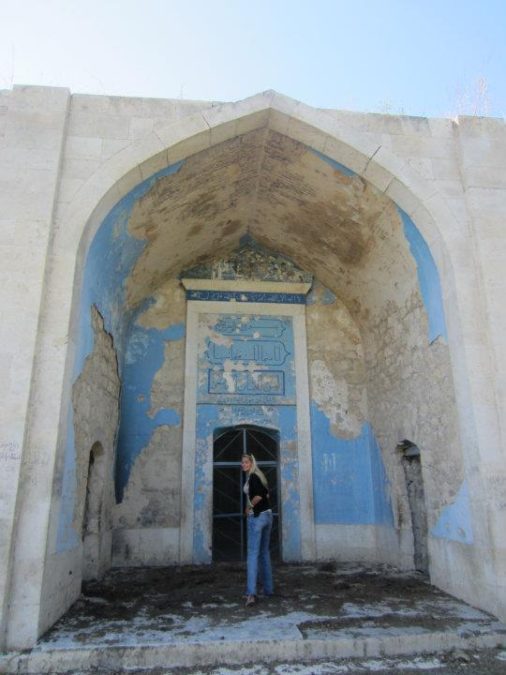 The tourist sights of the disputed region of Nagorno-Karabakh.
It was a desolate and heartbreaking city to drive through. The only building still standing among the ruins of vehicles, schools, houses and hospitals was a mosque, the towering minarets are now home to pigeons and a few cows. Its azure hued tiles are no longer gleaming but the building ominously still watches over the cityscape.
We pulled in to take a few photos, only to be told to "move on" by a burly army man with guns strapped to his body. I wasn't about to mess with him! We pulled away in the dust-laden Volvo and headed back towards Stepanakert until we noticed he was no longer watching. Of course, I then sharply swung the Volvo back around to head back into the thick of it.
I wasn't about to let some army brat tell me what to do! Visiting Nagorno-Karabakh and Agdam was firmly on my bucket list and I wasn't going to back down that easily.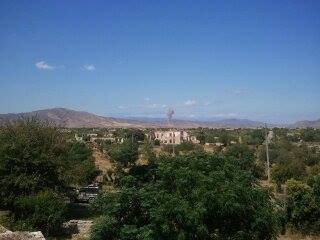 We passed many bomb craters and too many busted up buildings to count. The scariest part was knowing the military are still bombing the city today. One of the other team members managed to capture a shot of a mushroom cloud over the city, just past where we were driving too next. Missile testing is commonplace, so be careful… of course, given you are choosing to enter an illegal city that is part of an illegal country, some would say you are entering at your own risk.
Those people would be right of course.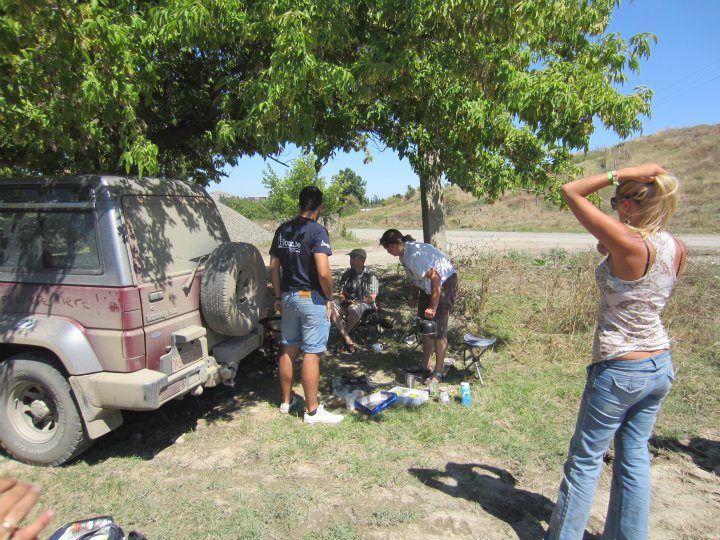 The locals in Agdam
Thanks to the awful low clearance of the station wagon coupled with the disastrous roads and the bombing practice ground we ran into problems as we crossed the other side of Agdam. While still technically in the no-mans-land of Agdam, this was a working township complete with schools, shops and farms.
I'm guessing it is made up of a community of people who survived the bombing in the 90s and moved out of harm's way to set up life again. We hit a pothole, hard. The oil streamed out of the oil pan, and miles from anywhere we pulled over to check the damage.
Of all places to break down, we managed to do it right in front of mechanics! Three guys came out, fixed the car, had some tea, drank some chacha (home-brewed vodka type drink) and sent us on our way, no payment accepted.
The locals of Agdam seemed friendly and kind to travellers. We had no issues, but I have heard the police and army can be a different story.
Driving through a bomb site might not be at the top of everyone's must-do drives, but it was an eye-opener and an amazing experience!! Just make sure you live to tell about it!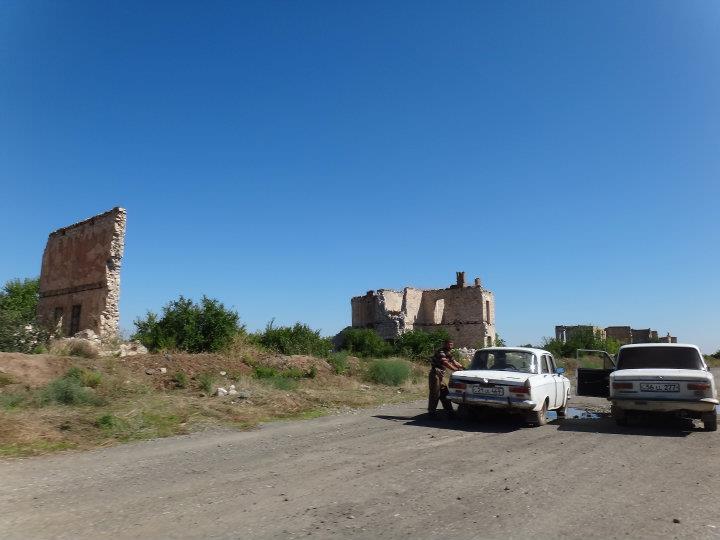 RELATED Driving in Cuba
ALSO SEE: 10 Things to do while in Tbilisi, Georgia And if you are travelling further afield here's some great travel ideas for Tel Aviv