No one would expect a Ho Chi Minh cooking class is where I would get farming inspiration.
Growing up in a rural area of New Zealand, we didn't have many options for what was then considered "international" food. Local restaurants in my small town didn't really exist, the best we had was a bakery selling kiwi mince and cheese pies that were run by a Vietnamese family.
What was great about Drury back then, was the farming. Fields extended out as far as you could see, and most of the families around were farmers of some sort. There were apple orchards, small dairy farms, hydroponic tomato farms and plenty of egg farms. Produce was always great growing up. As kids, we knew what different herbs looked like because our parents grew them in their gardens. We knew exactly when to pick the grapes off the vine for them to taste the sweetest. Everyone lived off the land to varying degrees and life was simple.
But in 2019, I live on a superyacht travelling the world. I order my provisions in, and they all appear like magic, clean and fresh. Some items are wrapped in plastic, others in boxes, but there is never a speck of dirt anywhere. Some items are flown in from thousands of miles away because that particular fruit isn't in season. Seasonality no longer matters, and we can order produce year-round. I hadn't been to a garden in years and I hadn't picked my own fruit or vegetables in even longer.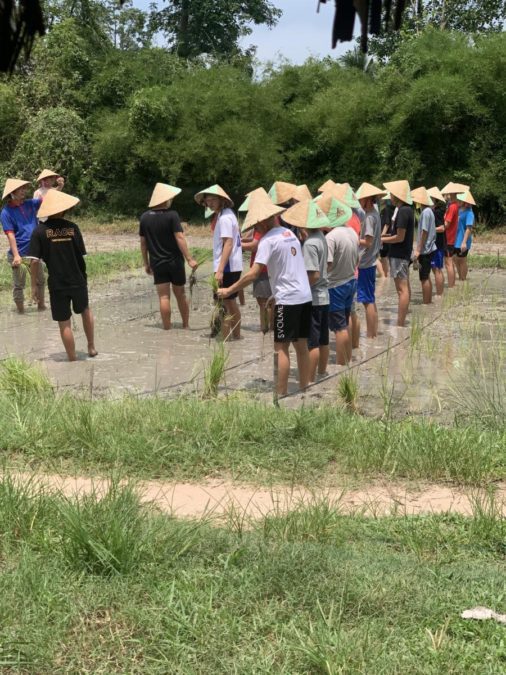 Cu Chi , Ho Chi Minh
Vietnam, despite being home to 97million people ( as of June 2019) somehow maintains a balance between rural and city life quite well. The Ho Chi Min Cooking class is held within the city of HCMC but further out in what is known as Cu Chi. A district about an hour from the centre, Cu Chi is lush and green with plenty of farms providing the city with its produce.
The Ho Chi Minh cooking class provide a free hotel pick up and drop off. I really enjoyed the relaxing drive out to the school, passing the high rise buildings of the inner city and watching the city slowly slip away into smaller houses. Finally, the green fields we visible and we had arrived in Cu Chi.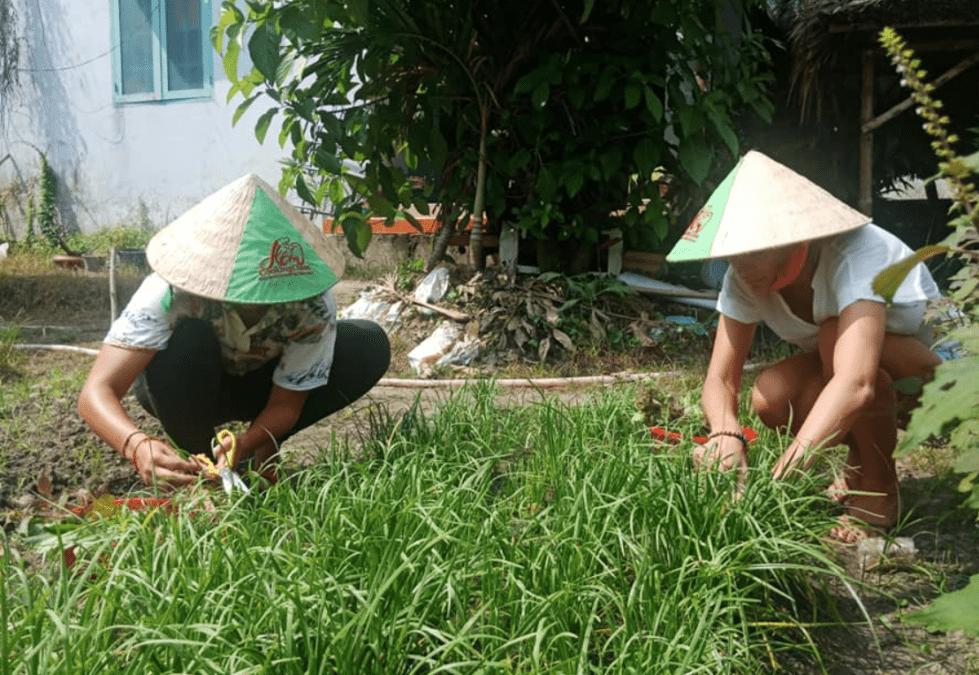 Farm garden tour
I loved that this Ho Chi Minh cooking class included a tour of the garden. It gives guests a chance to be more hands-on with the produce and learn about farming. As we walked around the garden we were able to ask questions about the plants. Exploring the organic farm was a great experience and really reminded me of my childhood. I think any city dweller will enjoy this part of the cooking class.
Wandering around the damp plant beds I did joke about there being snakes, but thankfully, we didn't see any. The chef was leading us and explaining in as much detail as we wanted what each plant was and how it was used in Vietnamese cooking. She also explained how some of the plants are used in traditional medicines in Vietnam.
I loved the hangover cure- simply boil lemongrass and add honey. It sounds like a delicious drink, even without the hangover!!
Ho Chi Minh Cooking Class
Vietnamese food has always been a popular choice for me when I go out to eat. It has such a fresh taste with plenty of delicious green herbs. I love the combinations of sweet and salty with a little bit of sour and chilli. Delicious!
The class I did had the following recipes, but you are able to request particular dishes if you let them know in advance.
Papaya salad with bbq pork
Chicken with chilli and lemongrass in a clay pot
Banana spring rolls
Beef Pho
I loved making the banana spring rolls. It was such an easy dish to make, but it tasted delicious and it was such a fun play on textures. There was the crunch to the peanuts with the mush of the banana all wrapped in a crispy rice paper wrapper. Considering I don't have a sweet tooth, it surprised me how much I enjoyed them.
Learning to make a pho stock was a great experience too. We learnt to put the herb mixture into a cloth bag to help keep the colour of the stock clearer. 8 years as a chef and no one had ever actually explained that to me. I found insights like that really interesting.
The chef teaching the class had been with the school since she finished high school. She was very knowledgeable about the ingredients and the methods of cooking. Her English was fantastic and I honestly believe I learn more from her class than any of the others to date. She was a great teacher and very easy to learn from.
A great way to really experience Ho Cho Minh's food culture is to book a food tour with These Guys they have daily motorbike tours around the city with students.
Contact details to book
To book your Ho Chi Minh cooking class contact Mr Tan, the director, over at www.hochiminhcookingclass.com or email at viettan@hochiminhcookingclass.com
You can book your Ho Chi Minh cooking class online through getyourguide.com or direct with the school.
This is a non sponsored post and there are no affiliate links.

Love cooking classes?! Check out THIS one with Netflix tv star Jeong Kwan, also knowns as the monk chef from Chef's Table.
Are you travelling to Hanoi soon? There is a great cooking class detailed here to check out too!