The Alba Truffle Festival is easily one of the best gastronomic festivals in Italy. It's a bucket list destination for many chefs and foodies around the world. Anyone who likes the decadent black truffle shaved over the top of their pasta, or the strong scent of truffle oil on a pizza, will be fascinated to visit Alba for the Truffle Festival.
Its official title is "International Fair of the white truffle of Alba" Both black and white truffles are celebrated during the festive. Learning why they are vastly different prices is quite interesting, but more on that later.
The white truffle is a prized ingredient that attracts attention and money from locals and visitors alike. Hundreds of thousands of people visit the city to experience its flavour at the Truffle World Market. You can find examples of this ingredient for sale for around €400-500 per pound. White truffles are also popping up in other food settings, such as show cooking, guest dinners, exhibitions, seminars, and tastings.
Alba, Piedmont Region, Italy
It would be difficult to visit the International Fair of the white truffle of Alba without first understanding the region. Alba is a major city in the Piedmont region. Piedmont is considered by many to be one of the greatest culinary regions of the world. It is also known for its wines, mountains with ski resorts in the west and north, and the city of Turin. Located in the North-West corner of Italy, Piedmont is In a geographically interesting position. If you drive over the mountain range in Turin, you end up in either the Swiss Alps, or the French Alps.
The alps, the weather patterns and the soil all combine to create a very fertile region for crops and raising animals. As such, Piedmont also became home to the slow food movement in Italy.
Local specialities
You won't want to miss trying these local specialities while you are in Piedmont.
Castelmagno. This DOP cow's milk cheese has been produced since the Middle Ages
Piedmontese Beef. Also known as Fassona, Piedmontese beef is among Italy's most prized meats
Hazelnuts
White Truffle
Robiola di Roccaverano (soft ripened goat cheese)
Montebore (Allegedly Leonardo da Vinci's favourite cheese)
Grissini (aka breadsticks)
Salsiccia di Bra (Bra Sausage)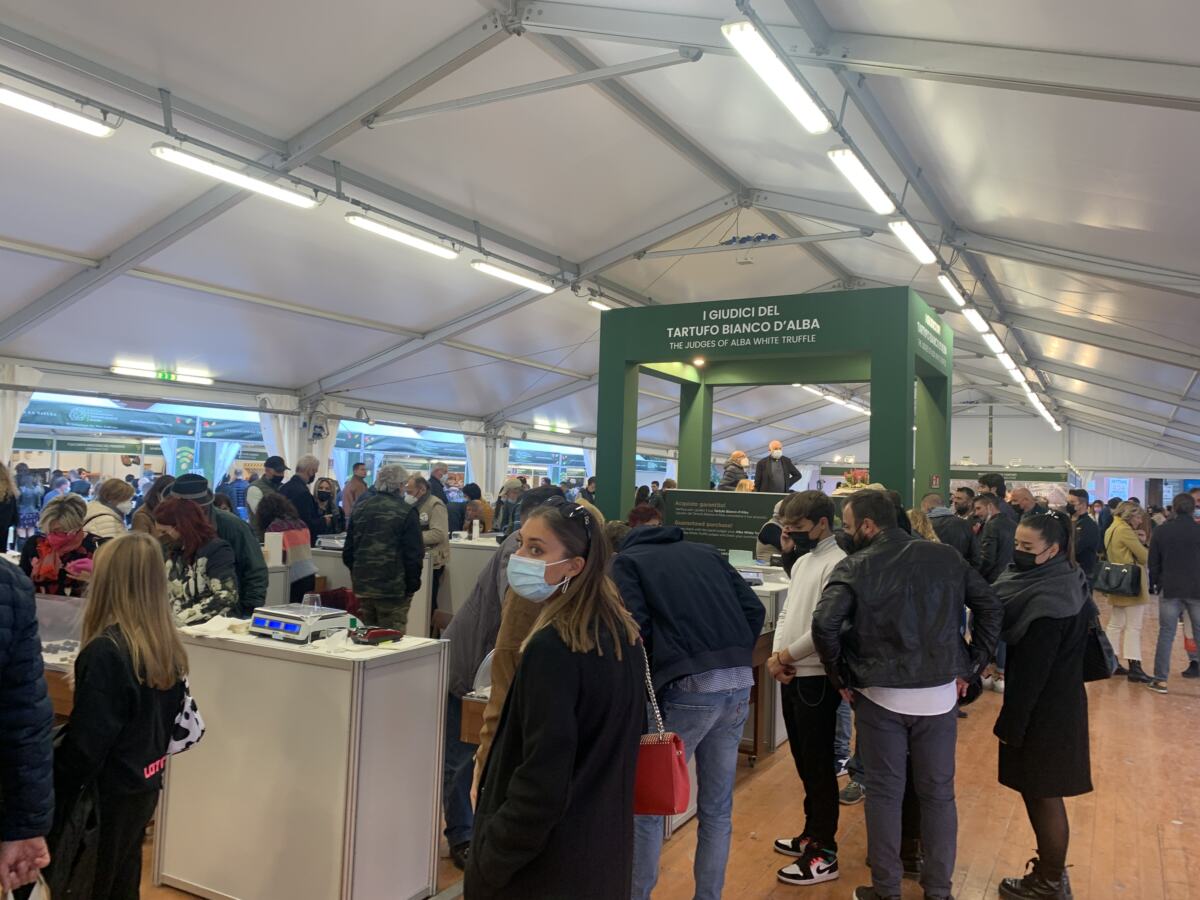 What is the Alba Truffle Festival?
The Alba truffle festival is held in the city of Alba every year from the first week of October, until the end of November. This signifies the start of the white truffle season and is a way for the hunters to sell their truffles direct to market, and also create business relationships.
Famous chefs will have pop up restaurants and dinners and there are workshops and tastings all over the city. Many of the local restaurants will create special truffle menus and serve freshly shaved truffle on pretty much any dish you ask for. The delicious smell lingers in the air around every corner.
Some of the events you can book include tasting workshops, sensory analysis, Fresh Pasta Atelier, winetasting workshops and more.
World Market of the White Truffle of Alba and food and wine review "AlbaQualità"
This is the main market in the centre of Alba is where the festival takes place on weekends. You will see hundreds of people lining up to enter and it is the highlight for many during their time at the festival.
I highly suggest buying your entry ticket to include the wine tasting. This gives you two glasses of wine from the official tasting stand. There you can choose Barolo and Barbera wines to try, which would normally cost €10-€15 a glass at a bar. It's great value! You will also be able to keep the glass to use at all of the other wine stands in the market. There are around 30 small wine producers with stalls, each offering tasting of their wine range.
Most had a wide range of Red wines to choose from (as that is the region's speciality) but there were also some great white and sparking options too. Most of the bottles of wine for sale started at €10 each and Grappa was €30+
Among the wine sellers were plenty of cheese and other small goods being sold. Truffle pasta and Polenta are available for €5 a packet, truffle oil for €10+. There was a variety of fresh cheese and almost everything was available for free tastings.
Expect to spend around 2 hours here, if you are interested in trying the wines. If not, you may find yourself wandering around and leaving quite quickly. Once you have seen the fresh truffles on display, there isn't too much more to do.
World Market address and details
Address: Cortile della Maddalena, Via Vittorio Emanuele II, 19 – Alba
Opening Hours: Saturday and Sunday: 9.30 am – 7.30 pm / Last admission: 7.00 pm
Entrance: Piazza Falcone, Alba
Buy your tickets at the door
Truffle hunting tour
WHITE TRUFFLE HUNTING SEASON from 30th September until 31st January.
BLACK TRUFFLE HUNTING SEASON different types of truffles all year round.
While you are in Alba, and it is truffle hunting season, I highly suggest doing a tour with a local truffle hunter.
We were taken to the outskirts of the city and met with a local hunter and his precious dog for the morning. While the dog foraged and searched for the truffles, the English speaking guide answered our questions and gave us more information on truffles and how the industry works. It was great to get that insight, and as a chef, I learnt a few things, I can imagine any budding foodie would gain a lot from doing it too.
We found several black truffles and a single white truffle, well, the dog found them. It was interesting to see the process. And it was really nice and scenic walking through the hazelnut trees. It is a tour that can easily be enjoyed by people of all ages and abilities, while the path isn't paved, the ground was firm enough and the space clear enough for wheelchair users for example.
You can do these tours year-round, but vising during the white truffle hunting season is a bit more exciting! And don't blame me if you fall in love with the dog too, such a cute little thing!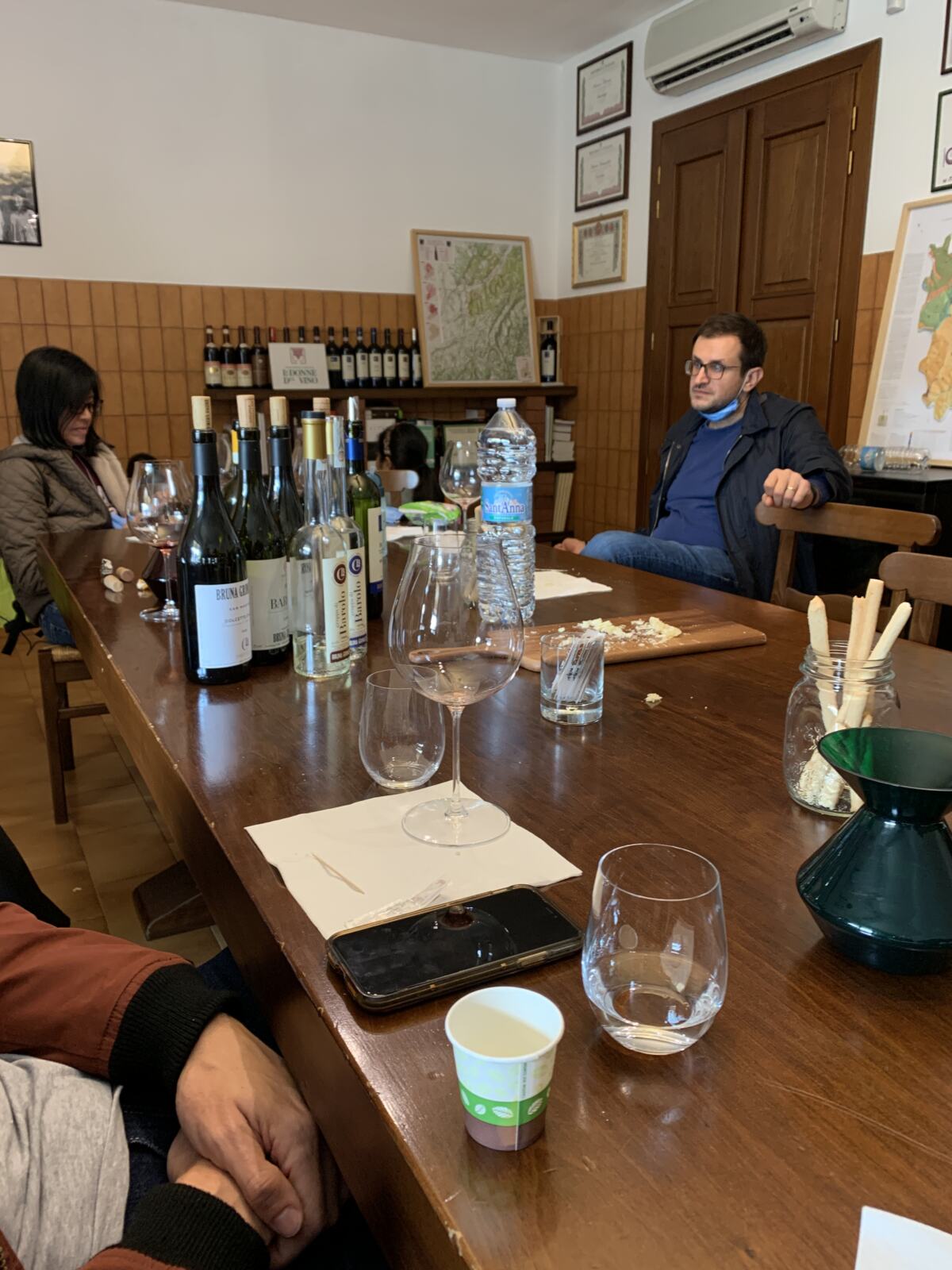 Barolo and Barbaresco wine tasting
This is what someone who knows more about wine than I do, had to say about the difference between Barolo and Barbaresco wines
Barbarescos and Barolos are both made from the Nebbiolo grape, and named for the regions where the grapes are grown. Broadly speaking, Barolos are more dense and tannic versions of Nebbiolo, while Barbarescos are more approachable and graceful.

winespectator.com
Look, honestly, I don't know much about wine, I just drink the stuff. I have done wine tasting all over the world, and I'll keep doing them, because : wine. But honestly, I don't understand that side of the industry. I'm not going to pretend that I do for the sake of this. If you are a hardcore wine fanatic, please check out some well written Barolo and Barbaresco wine sommelier blogs before you come.
For regular wine drinkers like me, please, let me tell you about the wine tasting available in Alba.
Firstly, Every bar in Alba will sell you delicious local wines by the glass. Take advantage of this and create your own wine flight with each meal. If you are lucky to get yourself a table at a restaurant with a knowledgeable waiter, I'm sure they will be happy to explain the basics of each wine. Otherwise, just drink it, and if you like it- great! (see, I told you I'm not good at this sort of thing!)
Wine tasting tours in Alba
I do suggest going on an organised wine tasting tour too. The reason being, one, you get out of Alba for the afternoon and see the countryside of Piedmont. Which is absolutely stunning by the way. Honestly, just as, if not more, beautiful as Tuscany.
Get some fresh air and explore the other little villages around Alba. See the vineyards and walk around, it all just feels a lot nicer to do. I'm all for drinking in wine bars in town, but vineyards in the countryside defiantly have a vibe to them that can't be beat!
Most tours will pick you up and drop you off at your hotel. This means you can buy a few bottles at the vineyard and know they will get home safe. You will usually do an extensive tasting and have a thorough explanation of the soil, grapes and process of the wine in the region.
If you are like me, your brain probably glazed over for that part. Just enjoy the wine.
The just of it is- Barolo wine is absolutely delicious if you like red wine. It is also incredibly expensive in restaurants outside of Europe. So take advantage of that, and try some.
Barbaresco can be even more elusive to find in the US, so again, drink as much of it as you can while you are in the region.
You will also be taught a little about Grappa production and each winery will have some grappa to try. it is not always "legal" per se, so they will explain how that all works. I actually found the grappa side of the business more interesting than the wine. Go figure!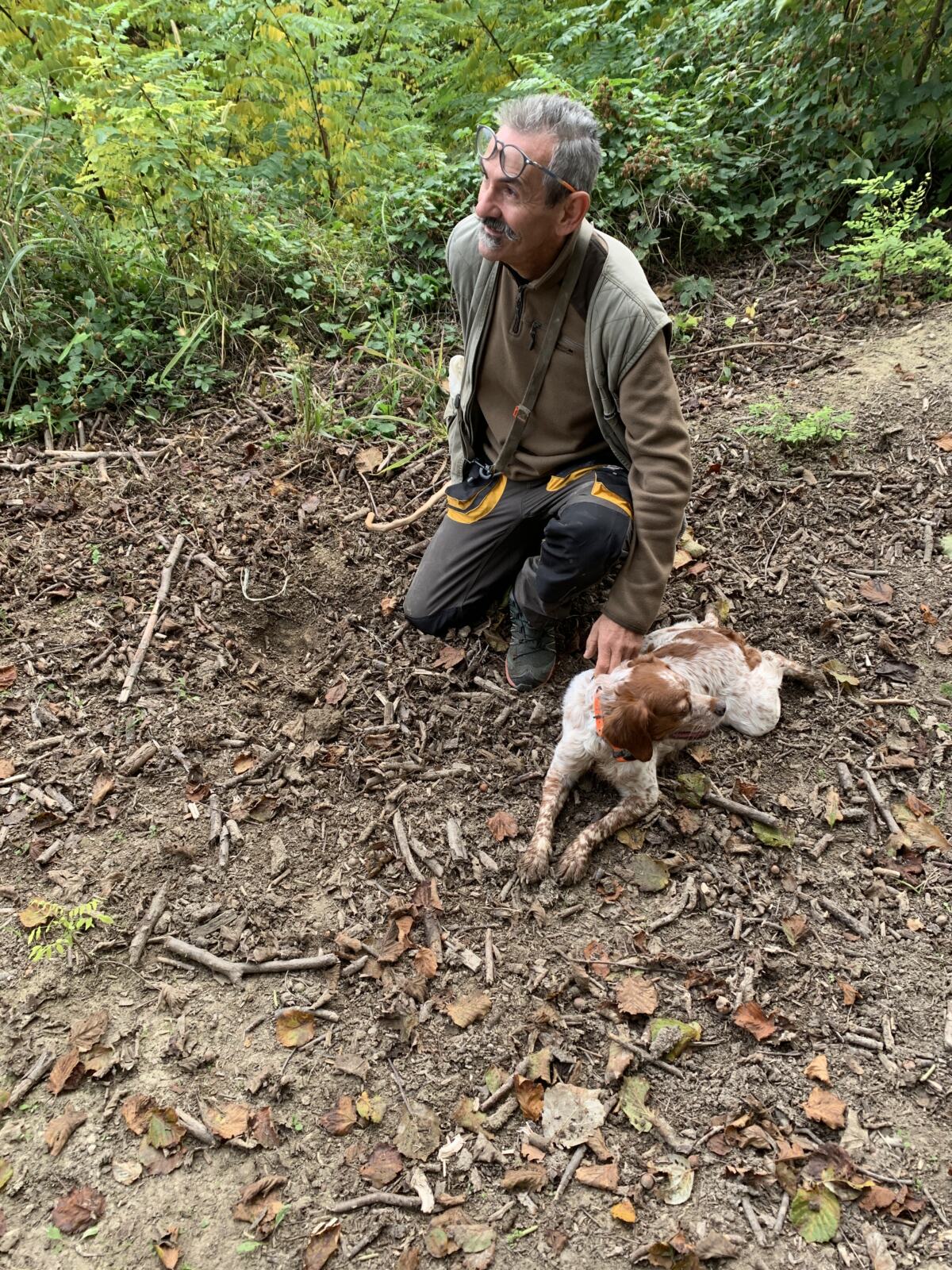 Where to stay in Alba for the Truffle Festival
Ideally, you want to stay in the heart of Alba. For a couple of reasons.
Alba is incredibly pedestrian-friendly. You will walk everywhere, easily.
It is where most of the attractions are
All of the restaurants are there.
At night, you can smell the Nutella factory making hazelnut chocolate spread and it's amazing!
I have to be honest here, options are limited in town. The small space means there are only a few Airbnbs and hotels to choose from, and this is definitely one of those places that you want to book your preferred hotel/Airbnb asap.
The hotels I really love are the VinCafe for those looking for a reasonably priced guesthouse style property. The Albergo San Lorenzo is an alternative 3-star hotel in the city. It also gives you an amazing location if you enjoy wandering the cobblestoned city.
You do have options to stay out in the countryside, which makes for a lovely change and the scenery is stunning.
If you are feeling a bit bougie and looking for something with a bit of Italian opulence, look no further than Hotel Castello di Guarene. Its ornate gold filigree artwork and draped curtains are fit for an Italian Princess!
There are plenty of other properties offering laid back vineyard vibes in the countryside. Dimora San Sebastiano is one such hotel. Complete with a wine cellar and restaurant, it's easy to see why it's a popular choice for visitors to the region.
Hotel advice
But be mindful of the drive into Alba to do anything, and there are fewer facilities out there. I think the greatest thing about being in a food capital of the world, is being able to eat out at different restaurants every day and explore the local cuisine. I just don't think you get that vibe if you self caters in the countryside. If you are here for a short time and want to make the most of it, I highly suggest staying in the old town for at least a night or two.
Other Truffle fairs in the Piedmont region
But it's not all about the International Fair of White Truffles of Alba, there are another 5 important national fairs in the region of Piemonte.
Dates are approximate but typically fall in the same week every year.
There are also 14 regional fairs dedicated to the local truffle stretching from October to December in the following localities.
• Montiglio Monferrato • Odalengo Piccolo • Bergamasco • Mombercelli • Trisobbio • Mondovì • San Damiano d'Asti • Canelli • Asti • Acqui Terme • Vezza d'Alba • Cortazzone • Santo Stefano Belbo • Scagnello