The newly renovated 660 sqm Air France business class lounge in Bangkok services business class passengers from both Air France and KLM airlines, as well as their codeshare partners. The Sky Lounge offers weary travellers a quiet place to relax and recharge between flights or before their next flight.
I passed through here on my way to Vietnam. A friend of mine has a gold business class pass through his air miles and I was able to come into the lounge with him for free. (Note to self, sign up to a frequent flier programme)
We were flying on Vietnam airlines, which gave us access to the Air France/ KLM business class lounge as they have a codeshare agreement and use each other's lounges.
Air France Business class lounge ambience
The lounge was spacious with many quiet areas. There were small booths for those wanting to get work done at a desk space, or for those in larger groups travelling together. Everyone was silent or spoke in hushed tones, just like any other business class lounge. I didn't see any kids running around, but this could also be because of the time of day I was flying.
There are 142 plush armchairs for guests to use, arranged in a variety of ways for different styles of guests. Some are located near the busy food and beverage section, and others are tucked away in an alcove for privacy and quiet.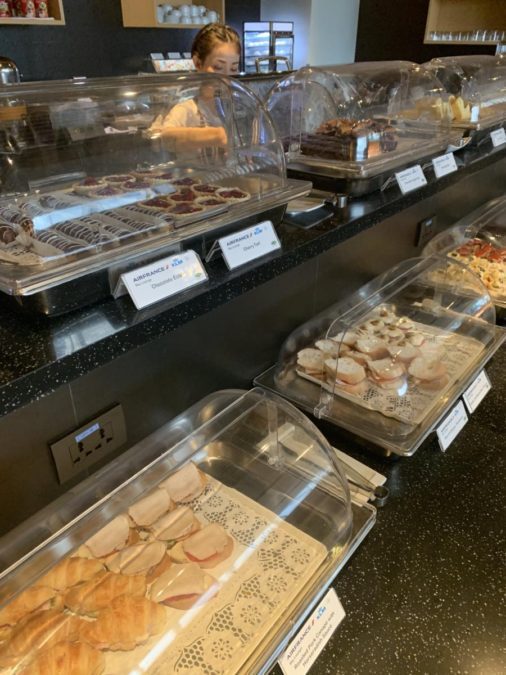 Sky Lounge food and drinks
The buffet is open 24 hours a day, 7 days a week to guests in a self-service fashion. There is a selection of hot dishes, cold desserts and salads, snacks and pastries. Some of the dishes you may see for the lunch and dinner times included sushi, pizza, roasted beef tenderloin and Som Tam, a Thai papaya salad.
There was a great array of food and drinks on offer while I was there. As it was early in the morning, the breakfast buffet was operating. It covered both western and Asian breakfasts.
There was sausages, eggs, cereals and yoghurt along with a simple bread selection and cut fruits. Also on offer was steam bao buns, fried rice, dumplings, noodles and congee. There was a good selection of mini sandwiches already made up as a quick snack. Kids would love that there was a pancake machine and a selection of different cakes and sweet bites.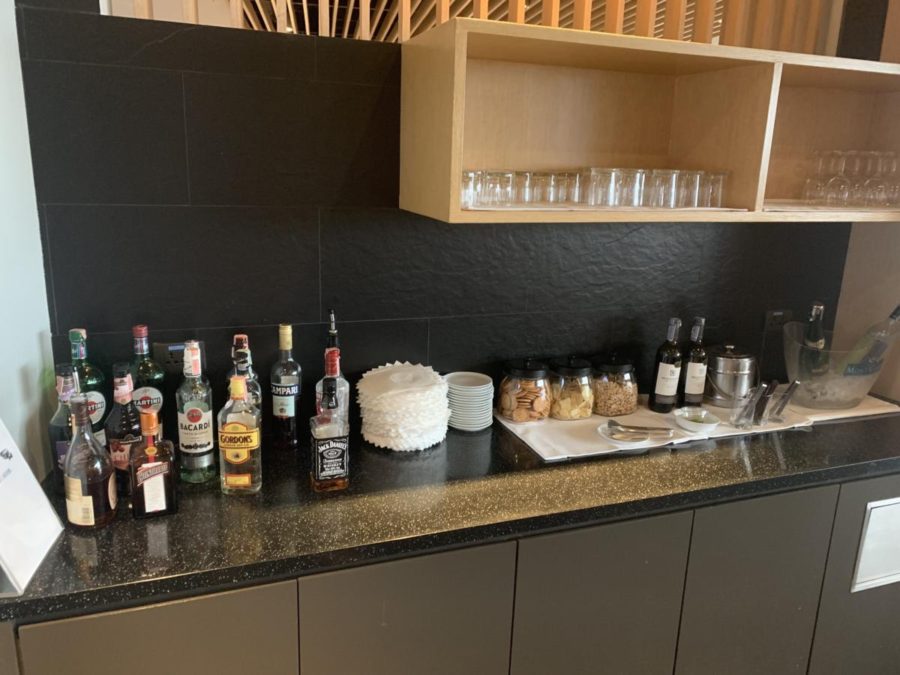 The drink selection was also ok. There was a small spirit station with the basics such as Rum, Whisky, Gin and vodka. And a few of the quirkier brands such as Cointreau, Campari and Martini. The wine selection was delicious, given the Air France influence, with a nice full-bodied red and a crisp white. They had a bottle of sparkling wine opened, which was a nice brut.
There was also has a selection of crackers to enjoy with your drinks. For the non-drinkers spending time in the Sky Lounge, note that there is a wide selection of juices, sodas and water.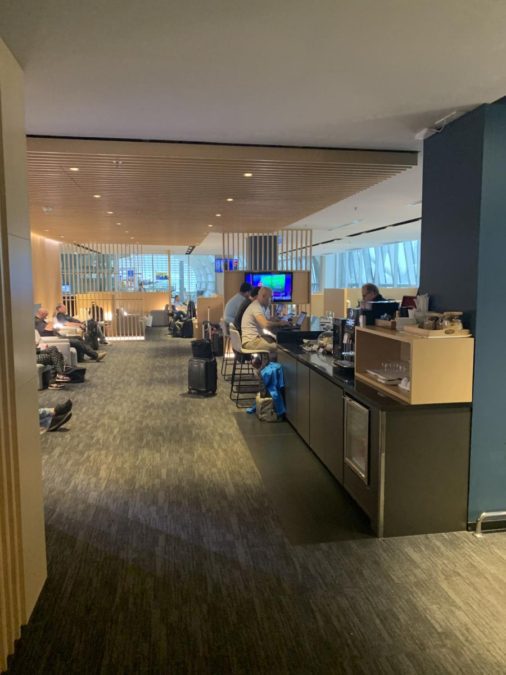 Lounge amenities
There are also five shower rooms for guests who would like to freshen up before a flight. Bath towels, shavers, toothbrushes, and toothpaste are available upon request.
To cater to families, baby-changing stations are available.
To cater to the modern traveller, the lounge offers complimentary high-speed Wi-Fi and electricity sockets at every seat so guests are able to charge their mobile devices.
There are a few massage chairs available for passengers to use, which is a welcome relief after a long flight when you are connecting.
In addition to that, the SkyLounge also stocks an assortment of magazines and newspapers in English, French and Dutch.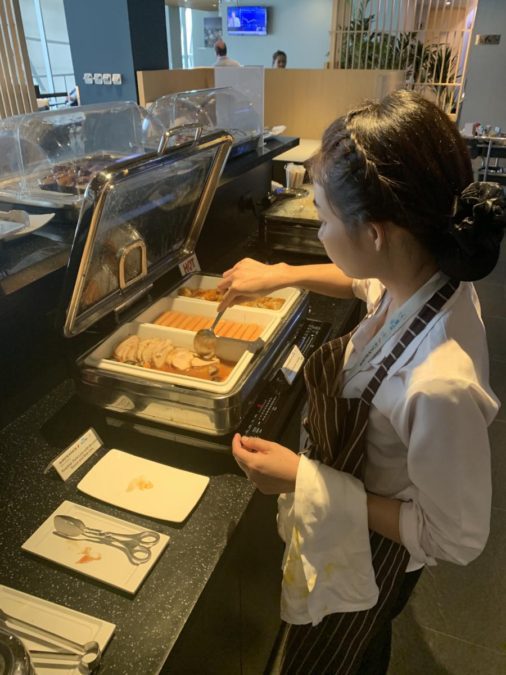 Access for Economy class passangers
In 2017, the lounge started offering paid access for Air France and KLM economy class passengers for 1,000THB (about 30USD) This is a great bonus for travellers who are travelling in economy class but have a long layover.
RELATED: How to fly business class for free!
Priority pass customers
Priority pass customers are allowed to book into the KLM and Air France lounge, Please note that you have a 3-hour time limit.
Location of the Air France Sky Lounge in Bangkok Airport
The lounge is located in the transit area of Bangkok Suvarnabhumi Airport
Airside – International Departures. Concourse F, Level 3, Departure Level, near Gate F2 (West Side).
RELATED: How to spend 24 hours in Paris