Driving in Mozambique is always warned about in travel blogs. People seem scared to drive in Mozambique. I'm going to give you the low down on driving in Mozambique to make your holiday in "Mozam" easier and hassle-free.
How to hire a car in Mozambique
Hiring a car is easy enough if you plan to drive around Mozambique. You can just pick it up and drop off the car at the airport. It gets a little trickier if you intend to drive into Mozambique and out through Malawi or Zimbabwe for example. But it's certainly possible!
We hired a 4×4 from a company based in Johannesburg, South Africa called Bushlore
They supplied us with a fully kitted out 4×4 car with a pickup at the airport in Maputo, and a drop off in Lusaka, Zambia. This gave us the ultimate flexibility with our travel plans. We were able to drive the length (almost) of Mozambique before cutting across to Botswana and zig-zagging back to Lusaka to fly out.
The car hire process was simple. Especially since we were planning the trip last minute! We were met at the airport and given a run-through of the car and how to operate some of the functions.
Because it had a pop-up tent roof and cookers on board, we needed to know how they operate and what to do in the event of a fault. Nothing broke on the 3-week trip, so I can't say too much about how they handled insurance.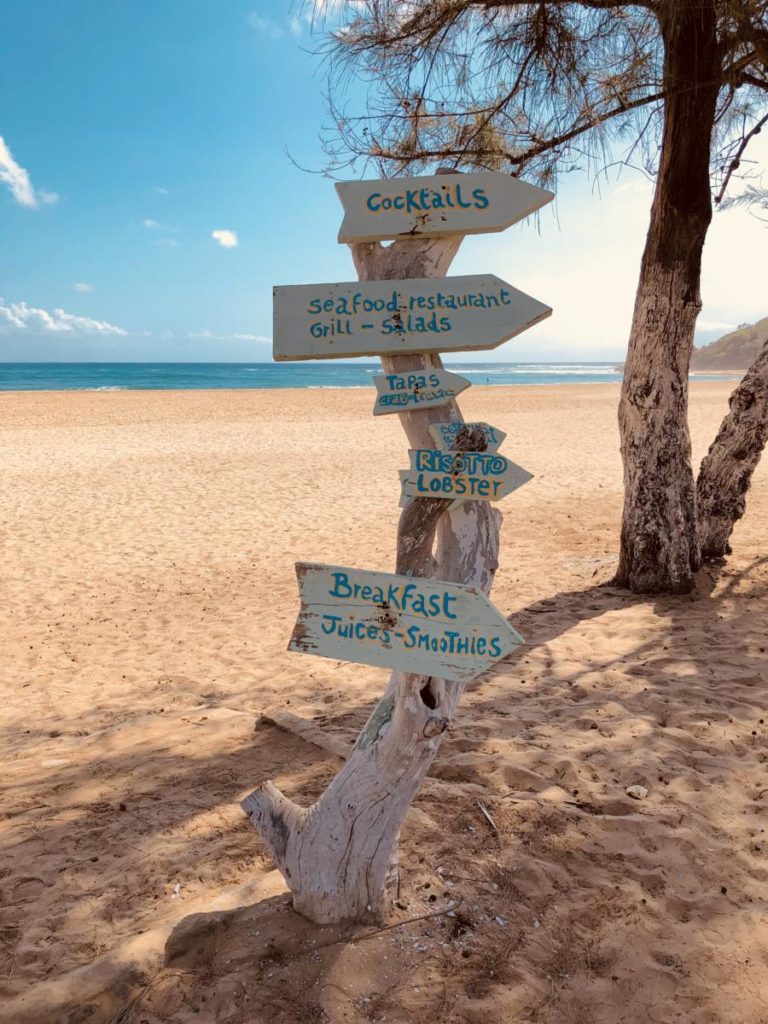 How to decide on your itinerary?
I'm sure most people would plan their road trip through Mozambique with a lot more care and forethought. I don't have those skills. And we booked at the last minute and did pretty much no research. So. Probably best you do some research before arriving… Or you could wing it as we did!
We knew we were flying into Maputo, and we knew we wanted to drive North to Malwai. But that was it. Our first night was spent in a beachside town called Xai-Xai, picked only because of its name.
As we drove the coast of Mozambique we stopped at the gorgeous Tofo beach, Biera, and onwards to Mozambique Island. We exited Mozambique through Malwai and continued on through other parts of Africa.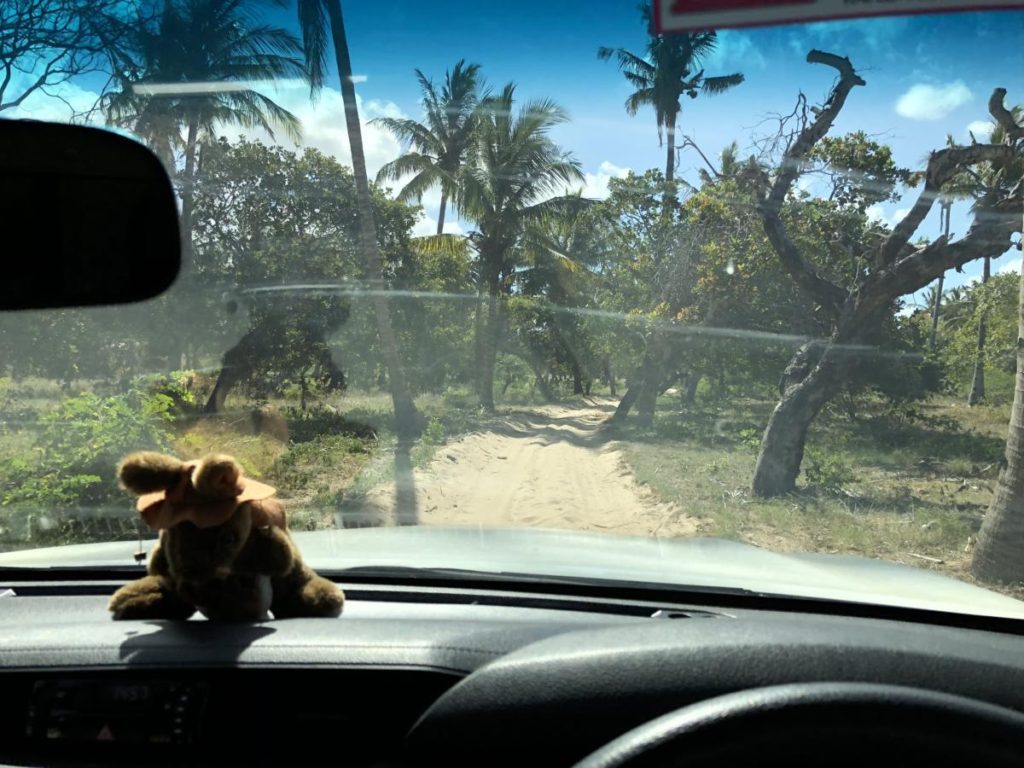 What are the roads like driving in Mozambique?
Driving in Mozambique is relatively easy. The roads are quiet and there are long stretches of straight roads.
The worst road is between Vilankulos and Gorongosa. It is recommended that you don't drive after dark due to the potholes. It also used to be a dangerous road for hijackings and robberies. Only a few years ago there were strict curfews along that stretch of the road preventing traffic due to safety. As of 2018, it seemed safe and I didn't see anything that made me suspicious.
Mozambique traffic police
You will no doubt be pulled over a few times while driving in Mozambique. Traffic police sit by the roadsides to many villages and stop cars passing through. They tend to be pretty chilled out and mostly just want to make sure you aren't speeding. The police are always keen to chat and are friendly to foreigners.
Be wary of your speed at all times. The traffic police WILL pull you over for it, and the fine is the equivalent of around $30. They do have speed guns, so they are being legit when they say you are speeding.
They don't tend to stop and ask for money at any other time, which is good. We also didn't get any other random fines while driving in Mozambique. In our experience, they weren't corrupt.
Other hazards driving around Mozambique
You will need to be wary when driving in Mozambique because of other road hazards. Cows are often hearded down the roads, and chickens run rampant near villages. People also use the road as a footpath, so be careful, especially at night.
While driving on some stretches of road you will see people selling items. Usually pineapples, coconuts or bananas. If you do buy some, they usually sell them for $1 apiece, or even less if they are competitive with their neighbours.
What kind of car is best to drive in Africa?
We found the 4×4 option really good. It gave us high wheel clearance so we could easily navigate the bad roads. We were able to drive on the sand and dirt roads easily and safely.
The biggest issue I had with the hire car was that it was a manual car and not automatic.
The car hire company Bushlore have several different options for hire. You can hire different tent configurations and various levels of luxury. The pop-up tent was great and super easy to operate. It also gave us loads of space within the car too.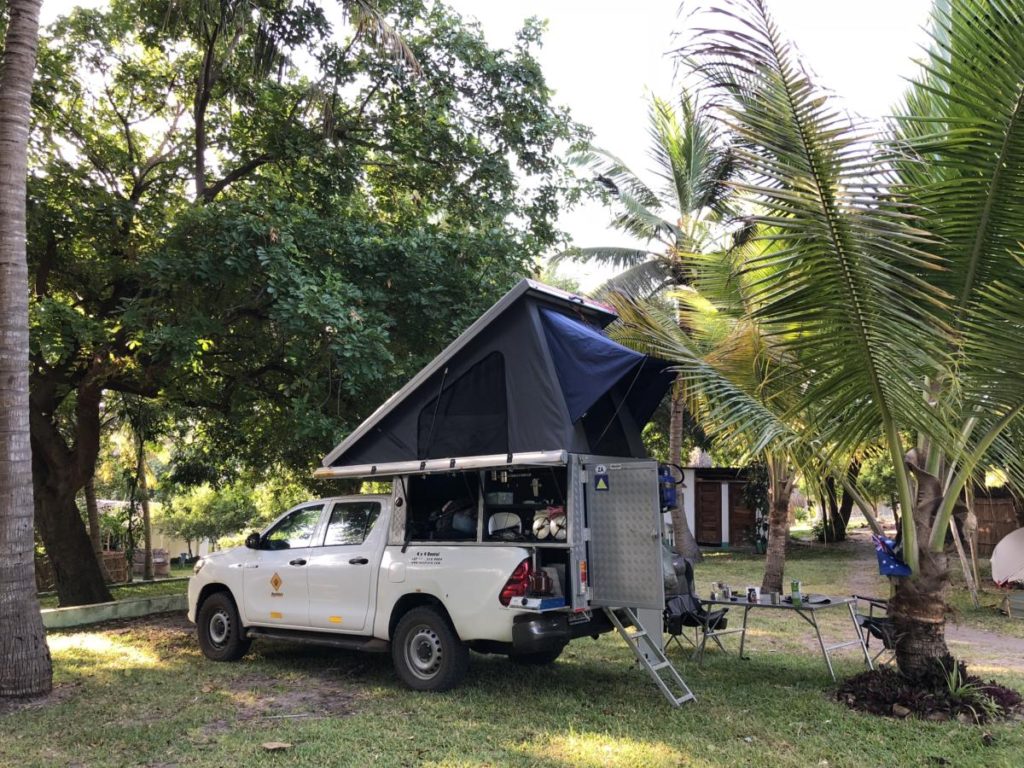 Why you should hire a 4×4 to drive in Africa
A 4×4 rental vehicle well equipped is essential when visiting Botswana, Zambia, Mozambique, Zimbabwe and most other African countries.
The safari equipment we fit on all our cars like 2 spare tyres, high lift jacks and dual batteries allow for safer travel.
You can access remote destinations only accessible by 4×4.
The height of the vehicle ensures better wildlife viewing.
Long range fuel tanks allow greater distances without fuel stops.
4×4 is highly recommended for travel to Namibia and offers a number of advantages when travelling South Africa.
4×4 rental campers offer flexibility and access to more areas. Accommodation availability in high seasons is less problematic.
More route options as gravel roads can be included.
There is more interior space which allows for comfortable travel.
More space for luggage and camera equipment.
Are you planning a driving trip around Africa anytime soon?