Bodean's is a nightmare for vegetarians. Step inside for the most delicious meaty platter this side of the Atlantic, the only vegetable for sale here comes in salty deep-fried potato chip form. That's just how it should be!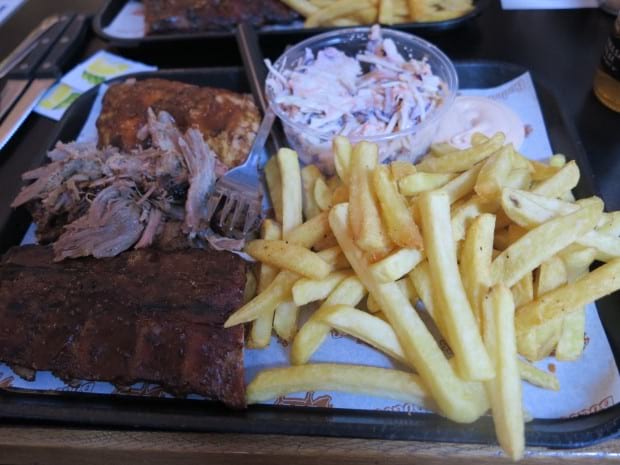 I always order the Baby Back Ribs with Pulled Pork platter. It's oh so delicious with a splash of the Bodeans BBQ sauce. Ok, I lied. I have a HEAPING of BBQ Sauce! The meat on the ribs just fall off at the slightest touch, which is handy because no decent bbq-eating customer should be reaching for the knife and fork. There's just no time. Dig in with fingers and enjoy!
They usually have a £10 daily special, but otherwise, their mains range in price from £10- £18, and are MASSIVE! Best of all, they allow 'doggy bags' to take home whatever is left!
All of their restaurants have a liquor licence, so a couple of pints or glasses of Malbec, and your set to go!
They have 4 locations in London to choose from, this time I went to the Soho one, but my favourite is the one down in Clapham, dark and moody, I think the atmosphere suits the food more 😉
If you are planning to travel around the UK further, hit up Cornwall in the South and try these delicious foods.