Kathmandu has always been home to the trendsetting traveller. The overlanders of the 60s and 70s had freak street and Thamel in a buzz with their eclectic music and opium dens, which gave way to the hippies and hikers of the 90s. We wanted to showcase the next Hipster cafe's in Thamel right now.
We now have a new type of traveller changing the scope of Thamel. The Hipster. Even the Himalayan City was not able to escape the smashed avo, poached eggs eating, soy decaf latte-drinking, electric cigarette smoking youth of 2022.
Here's a round-up of the best hipster cafes in Thamel these days, including an old favourite who has been in Thamel for well over 10 years now.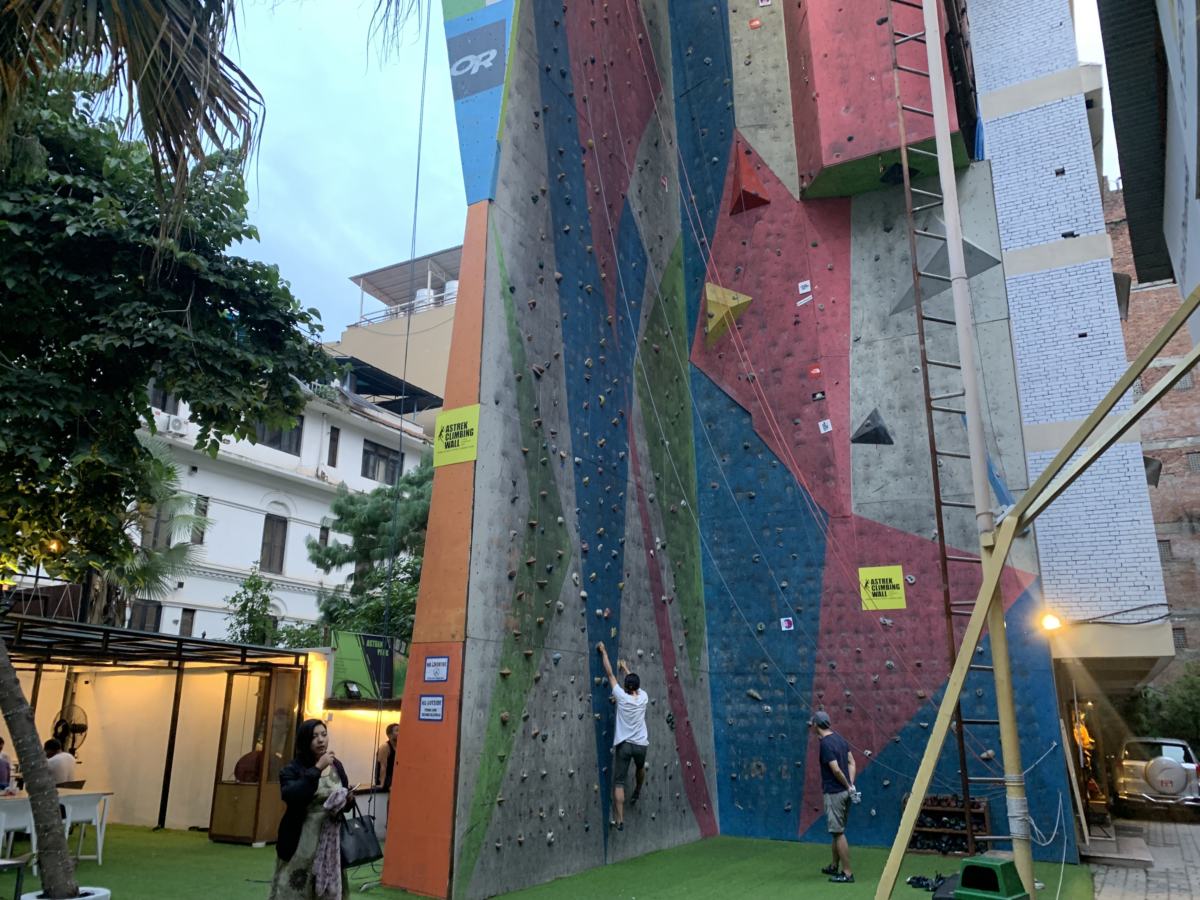 Fitness loving hipsters love Astrek Climbing wall and restaurants
Hipsters love to be healthy, and what better way than to combine their love for rock climbing with a buddha bowl while sitting on a beanbag in the sun. Astrek has been open for a few years and provides the young and fun with a casual outdoor eating space with mezzanine floors and low slung seating outside.
It is set out with many food stalls offering their own menus but ordered from one central waiter who gets each dish from the restaurants.
This makes Astrek perfect for groups of friends who all have different eating styles. You can easily order a BBQ chicken pizza from one stall, a Veg momo from another and a salad and sandwich from another.
There is a full bar including various cocktails, beers, local and imported and soft drinks such as smoothies and tea and coffee.
Prices are reasonable and the bill is easily spilt because you pay for each plate as it comes out. One of my favourite Hipster cafes in Thamel right now.
Craft beer spot- A cafe with no name
Not for profit and craft beer tend to go hand in hand for a hipster in Thamel. A cafe with no name is centrally located in Thamel, and just down a narrow alleyway off the main road. A sign out the front is all you will see to lead you down, so keep an eye out for it opposite the supermarket junction.
The craft beer list here is substantial enough for a city with a small craft beer industry. It seems they stock almost every variety of local craft beers including Khumbu Kholsh. While the menu boasts vegan and gluten-free options- again, one for the hipsters here.
Choose from delights such as tofu burgers, crispy chilly tofu with couscous salad, or basil pesto pasta with feta. Check the specials board as the food changes seasonally too. They tend to not have meat on the menu, but they do have Tuna Mayo Jacket potato and a cheeseboard, so it is not a strictly vegan restaurant.
100% of the profits go towards helping street children in Kathmandu, so you can drink and eat with a conscious mind.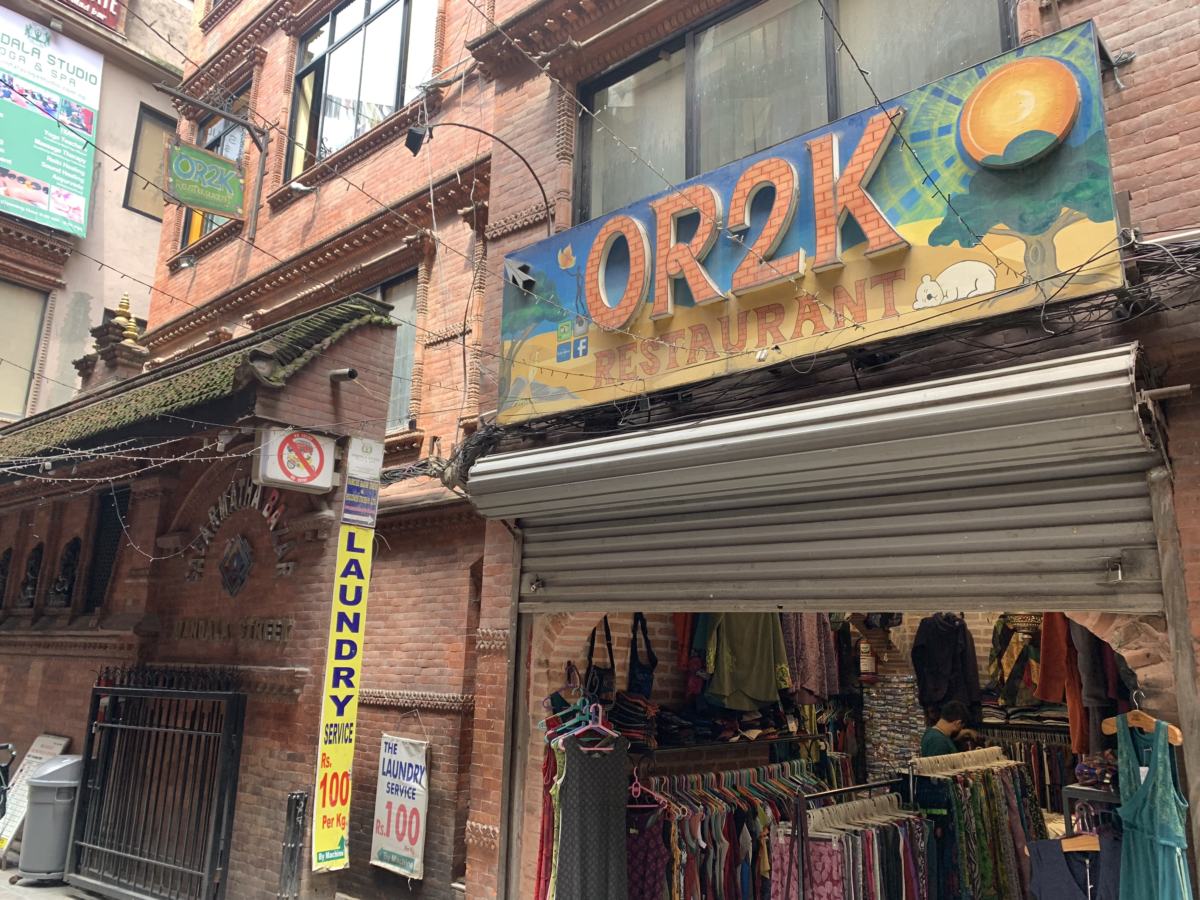 Vegan eats- O2KR. A favourite hipster cafe's in Thamel
O2kr is a mainstay in Thamel, having been open to hipsters before being a hipster was even a thing. This middle eastern eatery has long since been the meeting point for Israeli travellers seeking a slice of home on a plate. It has also been a haven for vegans and anyone craving vegetables after travelling this part of the world for too long.
The interior is casual, with low tables and cushions on the floor, and plenty of power points. o2kr used to be one of the only restaurants with consistent internet and electricity a decade ago, but now it seems most people come here for the food. Ironically, the internet was spotty during my stay this time.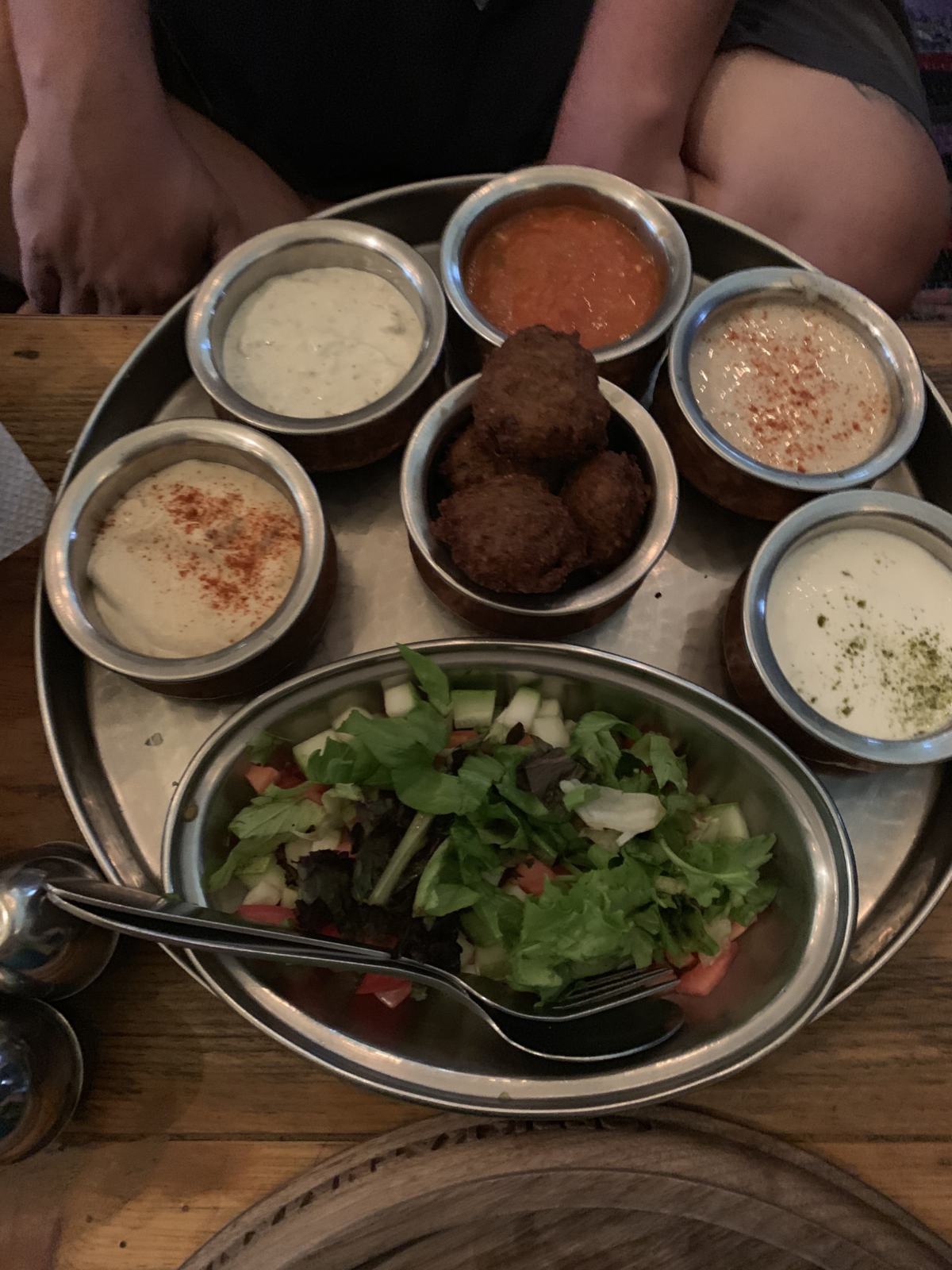 The menu at o2kr is big. 10 or 12 pages big. Your main issue will be deciding what to have as it all sounds delicious. The o2kr falafel platter is one of the most popular dishes on offer. The platter is large enough to share as a snack or eat it on your own as main.
The buddha bowls were a great way to get my salad fix while still filling up with delicious red rice and hummus.
They have a decent beer and wine list too- try the Indian white wine by the glass, you will be pleasantly surprised!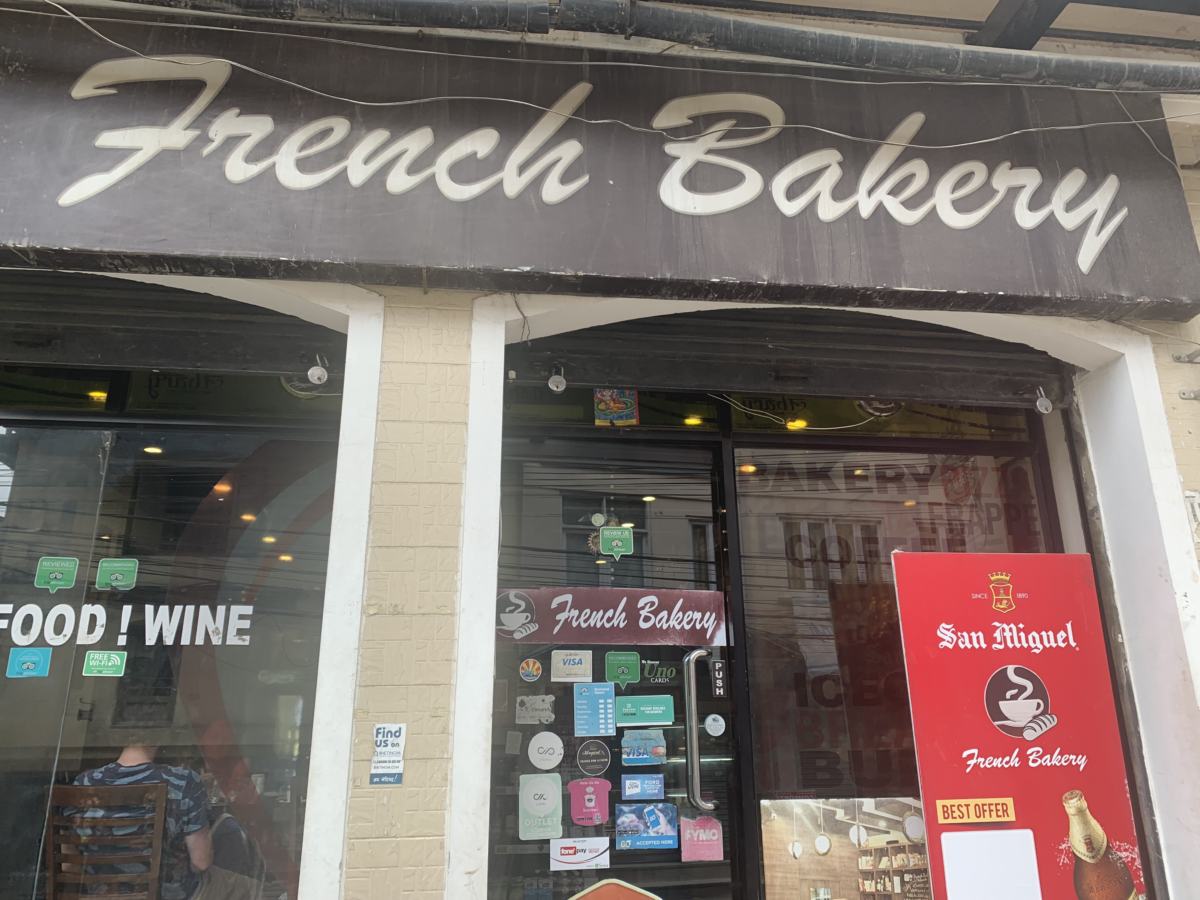 Brunch crowd head to French bakery
Anyone craving simple poached eggs with smashed avocado, or even better, eggs benedict needs to get themselves to this unassuming cafe. The seating area is small, with only 4 or 5 tables, but for now, at least it seems quiet enough as tourists just walk straight past it.
As a travelling chef, I can honestly say, they had the best eggs benedict I have ever had on the road, and it was less than $7.
The staff were lovely and friendly and the service was great. They use a decent coffee machine and offered both hot and iced coffees with sugar syrup. Fruit smoothies and juices are freshly made and well priced. They also stocked local beers if you need to wash down your big breakfast with a Gorkha.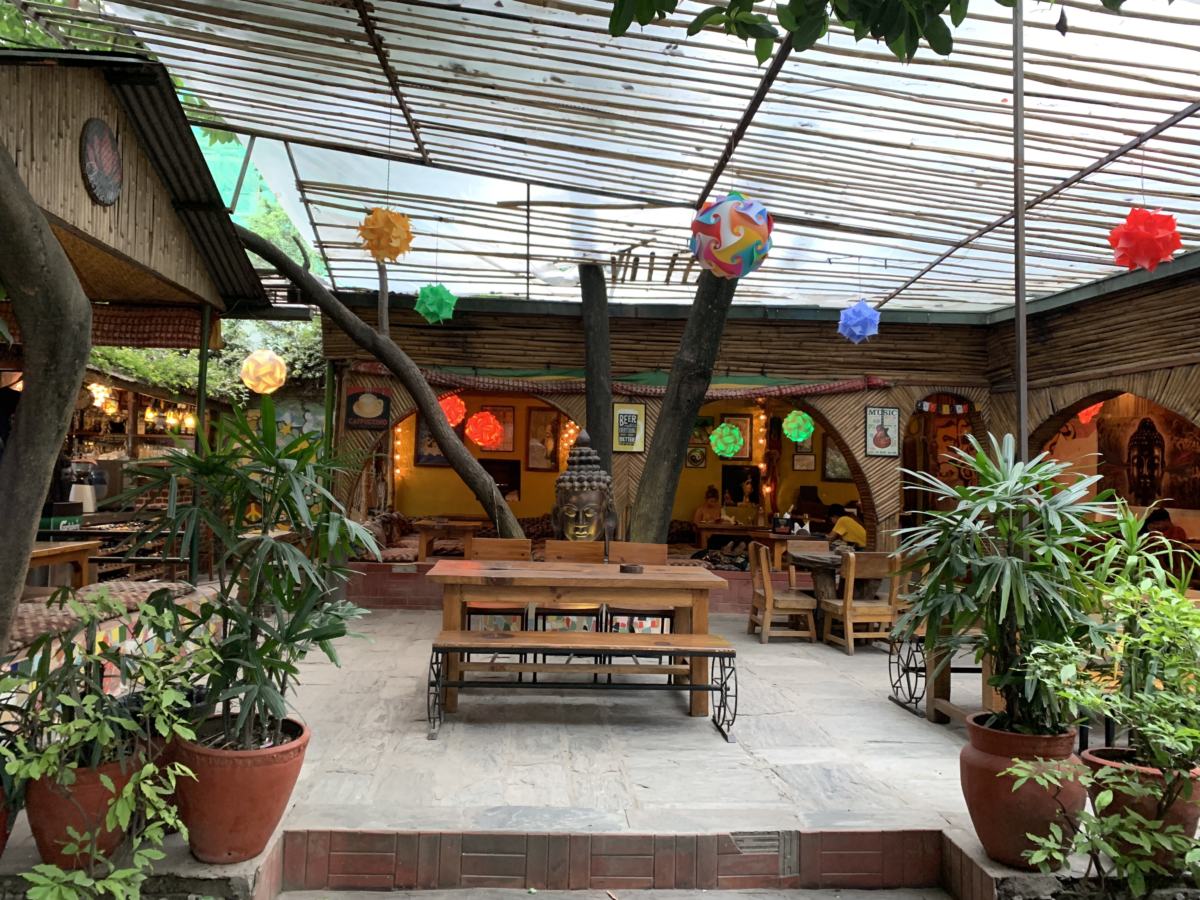 Chilled vibes at Electric Pagoda
For the chilled out traveller, head to the electric pagoda just behind Kathmandu Guesthouse. It offers a quiet garden oasis in the hustle and bustle of Thamel. One of the best Hipster cafes in Thamel for peace and quiet.
The cushioned seating is set up on the stages with low wooden tables, as per most cafes in Nepal. It is comfortable, but worth noting, there are not many power points here if you intend to work.
For those preferring a normal table, these are also available in the garden, however, they are not shaded from the rain.
Stop in here for a quick bite to eat and refresh after shopping in Thamel.
Happy hour is "buy 1 get 1 free" on a range of cocktails.
There is a couple of resident cats roaming the gardens, they didn't seem too bothered by the customers nor did they saunter over for food or attention. Good news for cat haters, but bad news for cat lovers.
Business meetings at Tummo
Tummo isn't strictly for business types, but it has a much more grown-up hipster vibe. The exposed brick walls and wrought iron wine rack lends themselves to being a little more "classier".
The outside tables are perfect for casual business meetings given the space and peaceful area.
It's just downstairs from Himalayan Java cafe in Mandala street which receives very little foot traffic. I was able to take a conference call easily there while sitting outside in the sunshine sipping an Everest beer. There is next to no noise pollution.
The menu is extensive and great for groups. They have options that cover steak, pizzas, pasta, salad, and Nepali food such as thali and chow mein. Be sure to try the deep-fried potato skins with beans and the combo momo platter.
Their resident puppy Mimi, might pop by to say hello, she's gorgeous!

How did you like our Hipster cafe's in Thamel list?
Thamel is growing up and the food is reflecting that slowly. Check out these places on your next trip to Kathmandu and let us know which hipster cafes you loved.
The city is always changing so, expect the unexpected there.
What might be thriving one season could be sold and changed into something completely different next year when you return. There are always new Hipster cafe's in Thamel popping up, so let me know if your favourite spot isn't listed.
Thinking of hiring a scooter while you are in Kathmandu? Check out this handy guide.