Fiji Airways review. Economy class.
Boeing 737, Melbourne to Nadi on Fiji Airways
Seat 29F, window , economy
Business-class seat pitch 48 | width 21 | recline 18 inches
Economy class seat pitch 32 | width 17 | recline 6 inches
I'd flown on Fiji airlines once before when it was still called Air Pacific, so I was interested to see what had changed since my first flight 2 years ago, besides the airline's name and logo. This Fiji Airways review should help you with your next airline booking.
Airport departures in Melbourne
Leaving Melbourne the flight was delayed 30 minutes ( I'll cut them some slack there though, flights are always late out of Melbourne for some reason!) the ground staff were friendly and greeted everyone with "Bula!" Fijian for hello. I certainly felt welcomed with Fiji Airways!
On board
Onboard the lack of entertainment was obvious, with only drop-down screens every 4 rows or so to watch. I would suggest those travelling with kids bring books, ipads, whatever it takes to keep your little ones occupied. Flight time is only 5 hours, but it gets tedious when the main screen is playing something you're not interested in.
Business class
Business-class is similar to Qantas domestic business class- no lay flatbeds or renovated pods. The seating was 2-2 with larger seats and personal entertainment screens. Since I sat in economy class, I am unsure what the meals were like. The business class partition is below, you can see there is not much of a difference between that and the economy.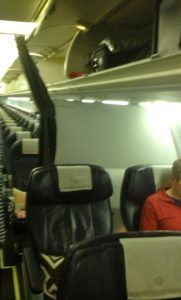 Meal service on board Fiji Airways
Meals in the economy seating were a disaster, on both flights, which I guess means the first flight was not an anomaly. We were given a cardboard box each, which contained a small watery coleslaw, 2 large dry biscuits and a hot "hamburger" as they called it.
It was an English muffin bun, with a slice of American style cheese and an unidentified meat substance. This was the meal given on both flights, even though one was a red-eye flight (no breakfast service) and the other was an early evening flight. It was a little odd, and slightly disappointing.
Thankfully, you can purchase light snacks on board if you want. I generally love aeroplane food, which I know makes me a bit of a freak, but even this didn't pass my test.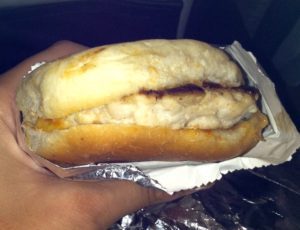 The drinks service was good, with beer and wine on offer along with soft drinks and juices. It's worth noting that the staff were quite happy giving out more than one drink at a time (alcoholics rejoice!) However, if you looking for some harder spirits, you will need to buy these on board at a reasonable price.
Midway through the flight going over, the captain announced one lucky traveller was to wine Valentine's day present. I just happened to be that person! I was given a gorgeous bottle of Taittinger champagne and 2 glasses, it was a lovely gesture, and an amazing idea for an airline to do- It's a first for me in all of my years of flying!
Overall thoughts.
Air Fiji is a good airline, it has a good safety record, and the staff are friendly. They are price competitive and are overall, a good airline to fly to Fiji with.
They include meals, drinks and luggage in the price of a standard ticket, and look, the food was average, but it's only a 5-hour flight from Melbourne, so to be fair, something is better than nothing!
Would I fly Air Fiji airlines Again? Absolutely!!! Would I recommend the airline to a friend? Of course!!
Did you get value from this Fiji Airlines review? If you need more help with your holiday planning to Fiji, make sure you check out these two posts too.
Fiji intercontinental hotel review